Business
Which is the Top Streaming Service in 2022 Netflix, Amazon, or HBO?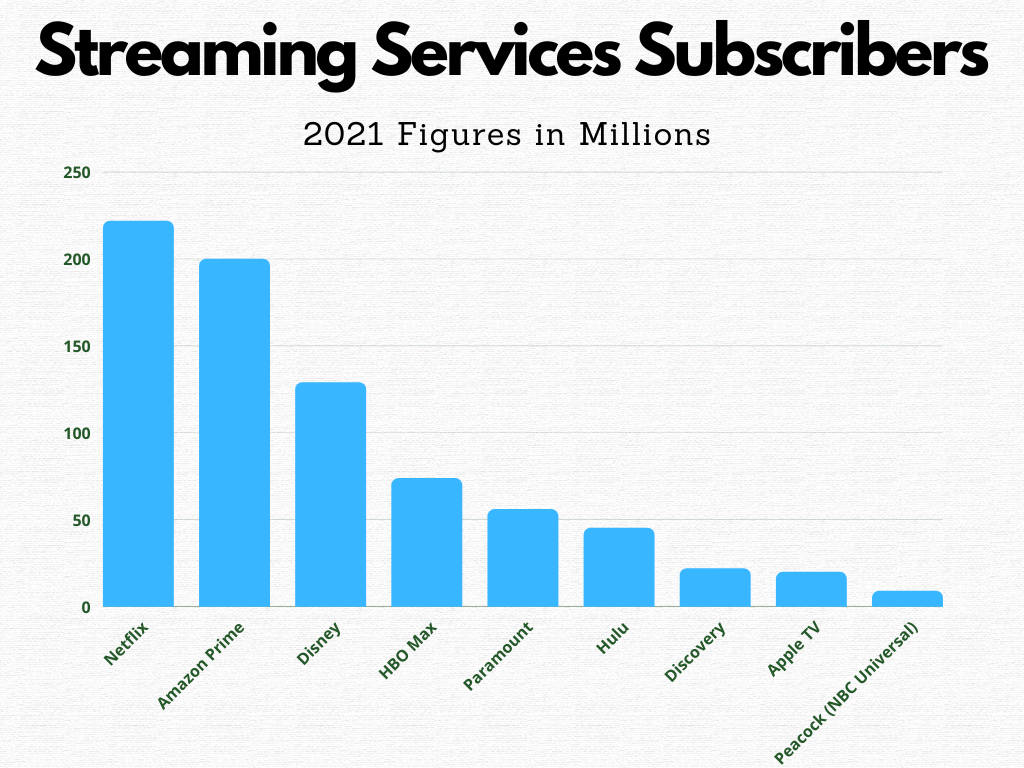 Which is the Top Streaming Service in 2022: Netflix, Amazon, or HBO? Content-streaming goliaths like Netflix and Amazon Prime had an unprecedented increase in their viewership and subscriptions during the Global Health Crisis, while other firms were failing due to a decline in their customer base. By delivering original and fresh content to every subscriber's home, these platforms successfully filled the hole left by shuttered movie theaters.
Streaming Service
The term "streaming" describes the ongoing transfer of audio or video files from the server to the client. Specifically, streaming takes place when users watch TV or listen to podcasts on internet-connected devices. When streaming, the audio, video or other media file that is being played on the client device is really saved elsewhere. Then, a few seconds at a time, it is sent via the internet. Video streaming is the term used when referring to a video file.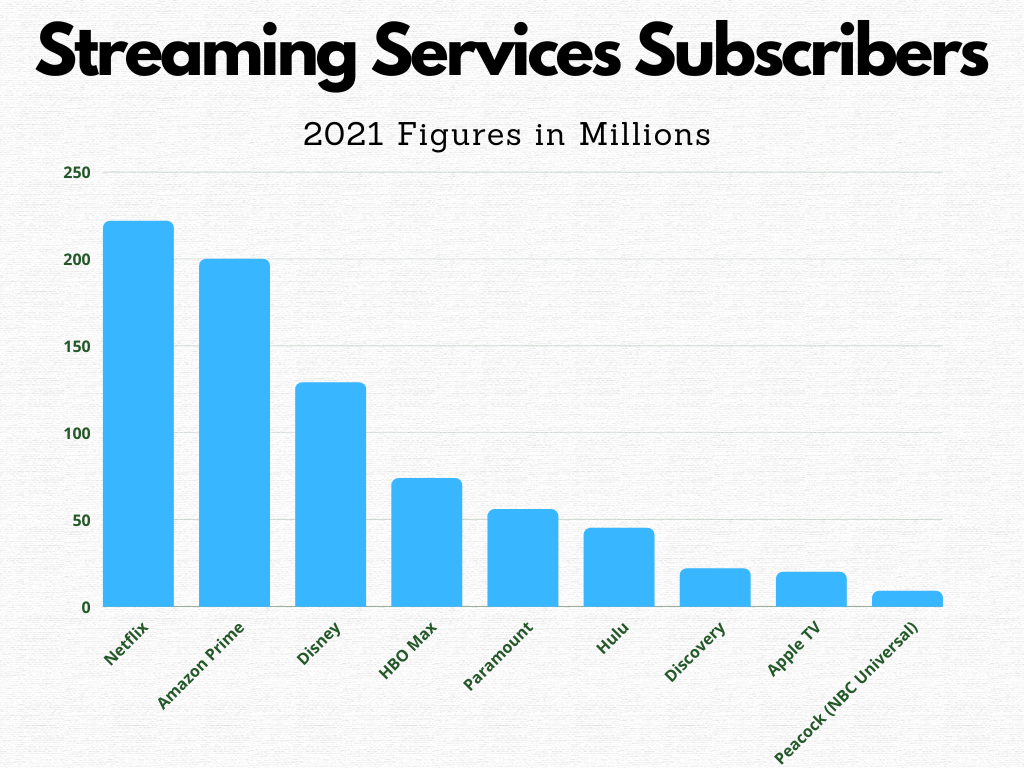 The streaming market is constantly growing as more streaming services become available each year. By 2030, it is anticipated that the streaming market will be worth $330 billion.
Incredibly, 60% of American families and 85% of U.S. households each have at least one paid music streaming subscription.
All major providers have seen an upsurge in subscriptions since the COVID-19 outbreak began. Video streaming businesses have been compelled to spend more money on new content, especially "originals," as a result of COVID and general expansion.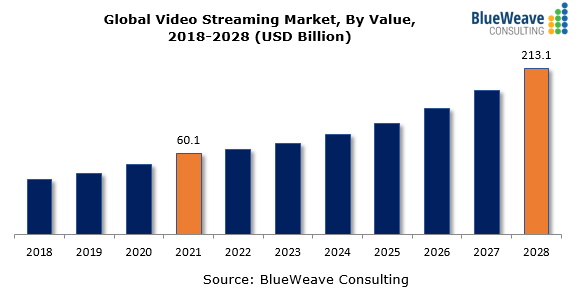 Global Video Streaming Market Growth
Among all the digital devices in use, mobile devices have replaced desktop computers as the main means of viewing internet media. In the past five years, the smartphone market has experienced unprecedented expansion. According to figures from 2020, 5.22 billion people worldwide—more than 60% of the world's population—own smartphones.
The popularity of online videos significantly increases the amount of web traffic. By 2022, it is predicted to make up about 60% of all internet traffic. Additionally, networks, mobile devices that can support multimedia services, improved internet access, and an ecosystem for application development are some of the reasons driving the global video streaming market's market expansion.
AI (Artificial Intelligence) has given a boost to Streaming Services. The streaming sector greatly benefits from artificial intelligence, which helps to regulate unlawful content and prevent copyright violations. Content creators, producers, and others have increasingly adopted AI for streaming different media to control the problems associated with live streaming.
Although there are many advantages to video streaming, bandwidth restrictions and latency problems are some of the difficulties preventing the global video streaming business from expanding. The viewers are prevented from enjoying a fluid streaming experience as a result. Additionally, videos with better resolutions and more bandwidth typically cause a network bandwidth crisis. Source: Blueweave consulting
So, Which is the Top Streaming Service in 2022 Netflix, Amazon, or HBO? There are several players supplying the fragmented video streaming market. Akamai Technologies, Amazon Web Services, Apple, Cisco Systems, Google, Kaltura, Netflix Inc., International Business Machines Corporation (IBM Cloud Video), Wowza Media Systems, Hulu, BM, Brightcove, Panopto, Haivision, Vimeo, VBrick, Polycom, Qumu, Sonic FoundryMediaPlatform, and other leading players are the key players controlling the global video streaming market.
Netflix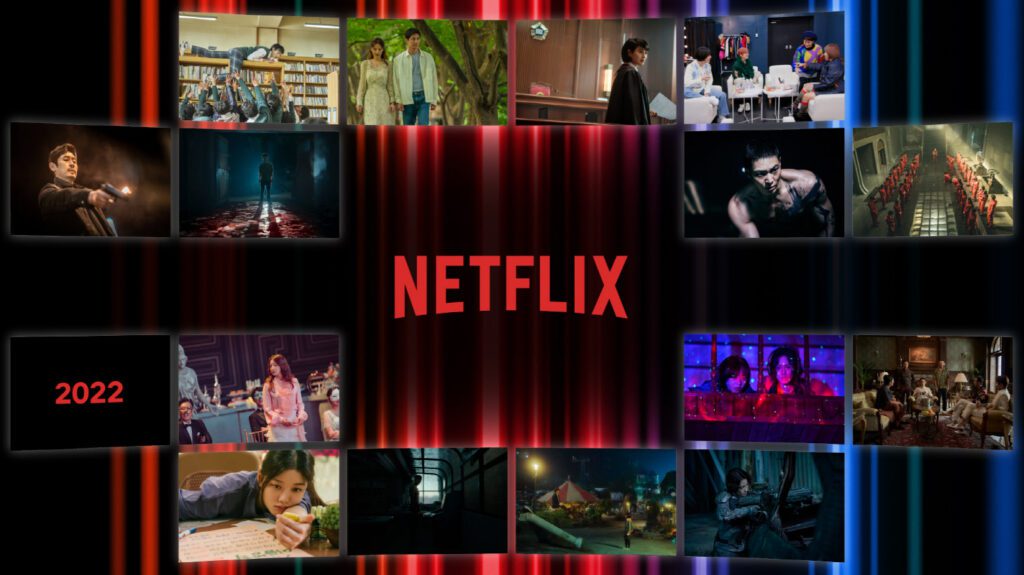 It all began with Netflix, so it makes sense. Nobody could have predicted the revolution in online entertainment streaming that Netflix would initiate when it started presenting licensed content. People became enamored with its offerings and dependent on the service it was offering.
Netflix collaborates with international creators to produce original material, making it a significant player in this field. It has a lot of rivals. The platform still has the advantage because it invented the streaming services that we use and are familiar with today.
Netflix had approximately 220.67 million paid subscribers worldwide as of the second quarter of 2022. This is a drop of almost a million members from the previous quarter. Over 73 million of Netflix's total global members are based in the United States and Canada, making up the majority of its subscriber base.
So the answer to Which is the Top Streaming Service in 2022 Netflix, Amazon, or HBO? is clearly Netflix but closely followed by Amazon Prime
Amazon Prime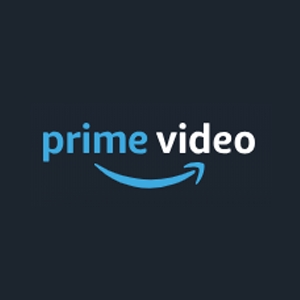 The Best On-Demand Streaming Services of 2022 list has Amazon Prime Video at No. 2 with more than 200 million Prime members globally streaming shows and movies in 2021.
There are many benefits to using this streaming service, which is a perk of having an Amazon Prime membership but may also be used alone. Its superb original TV programs, frequently appear at award events.
It is a fantastic value for its price because it is packaged with other Prime perks. This also keeps fans satisfied. Additionally, you can buy or rent movies through the site if the media you want isn't included in your membership.
Join Amazon Prime – Watch Thousands of Movies & TV Shows Anytime – Start Free Trial Now
Disney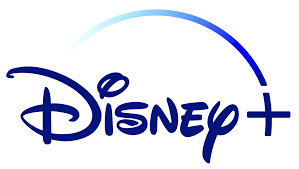 Disney reported 221.1 million total subscriptions worldwide across its streaming services (Disney+, Disney+ Hotstar, Hulu, and ESPN+), which appeared to be a significant milestone.
That initially gives the impression that Netflix, which had 220.7 million total paying members at the end of the second quarter, is currently just behind Disney. Disney objects to comparisons between its subscribers and Netflix. Disney counts households that subscribe to the Disney Bundle, which includes Disney+, Hulu, and ESPN+, as three individual subscriptions when calculating its streaming stats.
The operating loss for the DTC segment grew to $1.06 billion, whereas Netflix reported fiscal second-quarter sales of $7.97 billion and a net income of $1.44 billion. Source: Variety.com
HBO / Discovery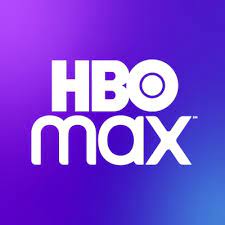 By the end of 2021, there were 73.8 million subscribers to HBO Max worldwide. While HBO Max and its ad-supported version both debuted in May 2020 and June 2021, respectively, linear HBO first went live in 1972.
Discovery, Inc. had 22 million streaming customers at the end of 2021. The total includes all of Discovery's offerings, including global direct-to-consumer goods like GolfTV and Eurosport Player. Discovery claims that Discovery+ accounts for the majority of its revenue
Following the April merger of Warner Bros. and Discovery, HBO Max and Discovery+ will combine to form a new streaming service by the summer of 2023.
Hulu

Hulu is a major enough independent streaming service to need its own section, even if it isn't a particularly long one.
It is now owned 67 percent by Disney (who will likely hold 100 percent by January 2024) and 33 percent by NBCUniversal.
By the end of 2021, Hulu had 45.3 million members in total across its live TV and streaming on-demand services.
Paramount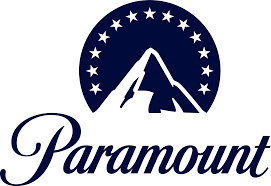 The number of subscribers to Paramount Global's streaming services, including Paramount +, Pluto TV, Showtime, Noggin, and BET+, has increased from more than 62.4 million as of the end of Q1 2022 to almost 64 million. This shows an increase of 1.7 million. Prior to the termination of 3.9 million customers in Russia, there would have been an increase of 5.2 million global streaming subscribers.
Of any premium domestic streaming service in the quarter, Paramount+ secured the most sign-ups, gross adds, and net additions. Paramount+ subscriber growth was partially fueled by successful international market debuts, including the U.K., Ireland, and South Korea. In the second half of this year, the business also intends to launch in Austria, France, Germany, Italy, and Switzerland.
Peacock

NBCUniversal's Peacock, also home to the WWE Network, had more than 9 million paid subscribers at the end of 2021.
Peacock, which launched in April 2020
Apple TV
According to the International Alliance of Theatrical Stage Employees, Apple informed the union that as of July 2021, Apple TV+ has fewer than 20 million members in the United States and Canada. Source: indiewire.com
Other Titbits on Streaming
Every month, more than two billion users are logged in using YouTube. Every day, more than 30 million people utilize the platform and watch more than a billion hours of video.
The global streaming market is valued at $372 billion in 2021, and Fortune Business Insights projects that it will increase by about 19.9% a year until 2030 when it will be worth $1.69 trillion.
The most streamed original series of 2021 were Lucifer, Squid Game, The Great British Baking Show, Virgin River, and Bridgerton
Ten million users signed up on the very first day Disney+ was launched, and within three months, Disney+ had 28.6 million customers.
Today, mobile devices account for 45 percent of all streaming activity, with big screens (like a TV) coming in at 43 percent.
In 2021, YouTube remained the streaming service with the most downloads. Tiktok didn't make the top ten despite more than doubling its downloads this year.
The music streaming industry has achieved a major milestone. After increasing to $1.03 trillion in 2020, this increased by an additional 10% to $1.13 trillion in 2021.
67 percent of music listeners in Mexico use paid services. The other top five nations were Sweden (62 percent), Brazil (57 percent), Germany (54 percent), and the UK (52 percent).
Finally, to summarise our question Which is the Top Streaming Service in 2022 Netflix, Amazon, or HBO? It is close call between Netflix and Amazon Prime.
Visit other Trending News on this site: Boom Supersonic for American Airlines What is Money Laundering? – Latest cases of money laundering
shop now
Up To $40 Off Sitewide With Code: Summer40!