Business
The World's First Hydrogen-Powered Train line in Germany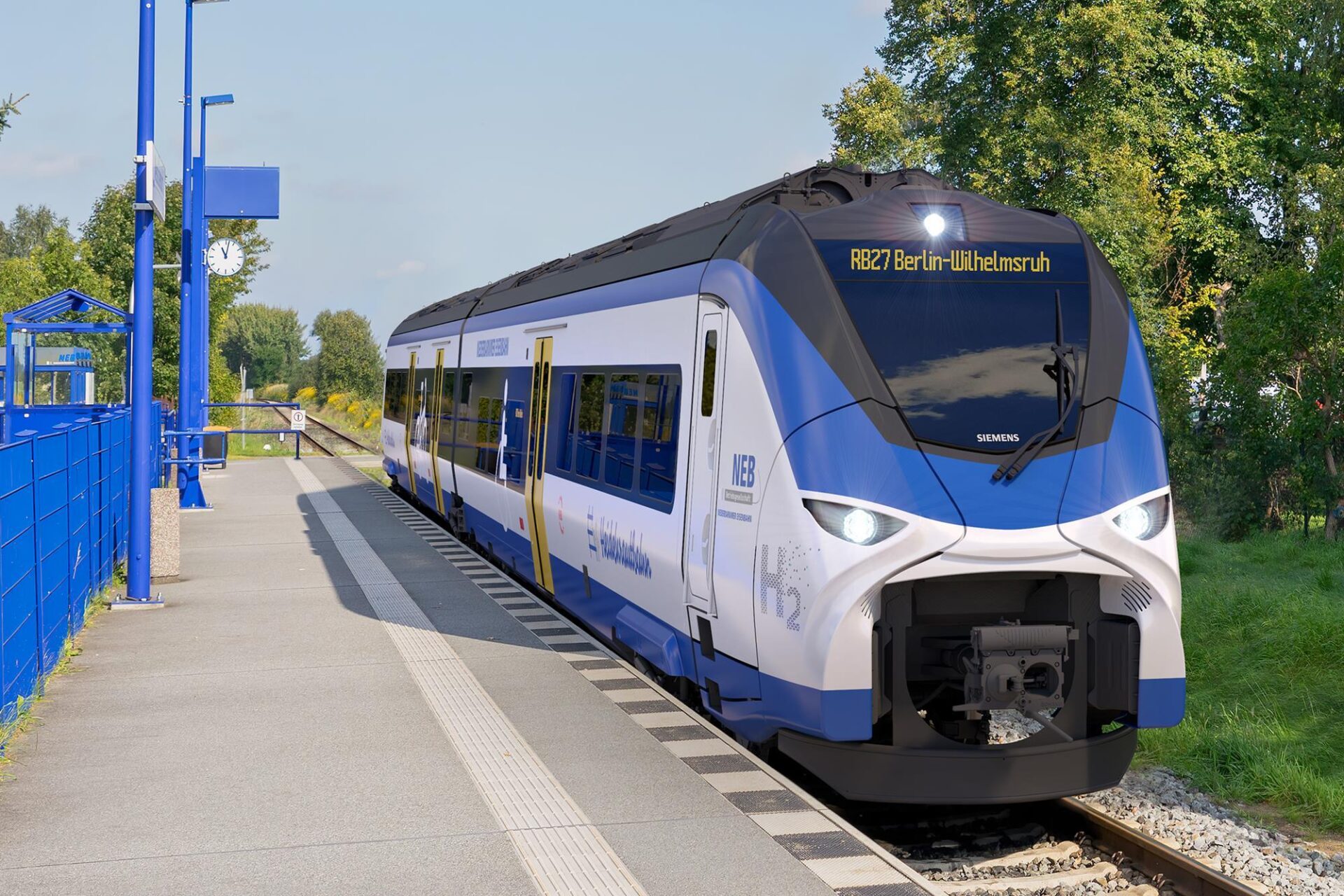 World's First Hydrogen-Powered Train line in Germany. Despite persistent supply issues, Germany has opened a railway line that is totally powered by hydrogen, a "global first" and a big step toward green train travel.
On the 100km (60 miles) of track connecting the cities of Cuxhaven, Bremerhaven, Bremervoerde, and Buxtehude near Hamburg, diesel locomotives have been replaced by a fleet of 14 trains given by French industrial giant Alstom to the German state of Lower Saxony.
Hydrogen-Powered Train
In its simplest form, a hydrogen train is one that burns hydrogen as fuel, either in a hydrogen internal combustion engine or in a hydrogen fuel cell, which reacts with oxygen.
Whether the fuel is utilized for the traction motors, auxiliary systems, or both, all hydrogen-powered rail vehicles, big or little, are categorized as "hydrails." Stan Thompson, an AT&T strategic planner, coined the term "hydrail" in a presentation titled "The Mooresville Hydrail Initiative" at the Volpe Transportations Systems Center of the US Department of Transportation in Cambridge, Massachusetts.
A number of advantages come with using hydrogen as a rail fuel, including helping to achieve carbon neutrality as a clean energy source and providing a more potent and effective energy output than with fossil fuels.
Due to the low frequency of services, hydrogen can be transported on trains and used on lines that do not justify the cost of electrification, such as rural rail services that now use diesel. Source: TWI Global
World's First Hydrogen-Powered Train
At Innotrans 2016 in Berlin, Alstrom unveiled the Coradia iLintTM for the first time. It was the first hydrogen passenger train in the world to use hydrogen fuel cell technology, emitting no carbon dioxide, and it began operating in Germany in 2018. Only steam and condensed water are released by the clean energy, noise-free train, which runs on a combination of hydrogen fuel and battery energy storage.
The HydroFLEX, the first hydrogen-powered train in the UK, was introduced in 2019. It is based on a Class 319 train that has hydrogen fuel tanks, a fuel cell, and a battery pack installed. This dual-mode electric hydrogen train also contains two packs of lithium-ion batteries for energy storage in addition to converting hydrogen and oxygen to electricity.
Safety of Hydrogen Engines
Investigations on the safety of hydrogen-powered cars have demonstrated that hydrogen trains are safe. According to experts, hydrogen fuel cell vehicles are safer than those with internal combustion engines.
Since hydrogen is highly combustible when combined with air, some people have doubts about the fuel's safety. However, if a storage tank were to be punctured, the fuel would immediately vent into the environment rather than burning because hydrogen is lighter than air. Due to this, researchers now consider that combustion engines are less harmful than hydrogen fuel.
Alsthom Coradia iLint™
Excerpt from Alsthom Website:
The Coradia iLint™ is the world's first passenger train powered by a hydrogen fuel cell, which produces electrical power for traction. This zero-emission train emits low levels of noise, with exhaust being only steam and condensed water.
The iLint™ is special for its combination of different innovative elements: clean energy conversion, flexible energy storage in batteries, and smart management of traction power and available energy.
Specifically designed for non- or partially electrified lines, it enables clean, sustainable train operation while ensuring high levels of performance.
The iLint™ was designed by Alstom teams in Salzgitter (Germany), our center of excellence for regional trains, and in Tarbes (France), a center of excellence for traction systems.
The project benefits from the support of the German Ministry of Economy and Mobility and the development of the Coradia iLint™ was funded by the German government as part of the National Innovation Program for Hydrogen and Fuel Cell Technology (NIP)
The Coradia iLint trains were created as part of the €93 million ($92.5 million) project in Tarbes, a town in southern France, and put together in Salzgitter, a town in central Germany. The "Institute for Concept Vehicles" of the German DLR space agency also helped with the study.
Launch of the Hydrogen-Powered Train line
"We are very proud to put this technology into operation together with our strong partners as a world premiere," Alstom CEO Henri Poupart-Lafarge said in a statement
Hydrogen trains have become a promising way to decarbonize the rail sector and replace climate-warming diesel, which still powers 20 percent of journeys in Germany.
Billed as a "zero emission" mode of transport, the trains mix hydrogen on board with oxygen present in the ambient air, thanks to a fuel cell installed on the roof. This produces the electricity needed to pull the train.
Regional rail operator LNVG said the fleet, which cost 93 million euros ($93m), would prevent 4,400 tonnes of CO2 from being released into the atmosphere each year.
In Germany alone "between 2,500 and 3,000 diesel trains could be replaced by hydrogen models", Stefan Schrank, project manager at Alstom, told the AFP news agency.
"By 2035, around 15 to 20 percent of the regional European market could run on hydrogen," according to Alexandre Charpentier, a rail expert at consultancy Roland Berger.
Hydrogen trains are particularly attractive on short regional lines where the cost of a transition to electric outstrips the profitability of the route. Source: Al Jazeera
Trains Powered by Hydrogen for Non-Electric Routes
For usage on non-electrified routes, the Coradia iLint hydrogen train was created expressly. Nearly half (46%) of the rail lines in the European Union are not electrified, leaving the remaining lines dependent on diesel or substitute fuels, such as hydrogen. Without having to make investments in electricity, Coradia iLint makes use of the existing infrastructure.
This is significant for lines with low density. It maintains a high level of performance while offering sustainable and clean train operations. This has major environmental implications because switching from a diesel regional train to a hydrogen train will result in an annual CO2 emission reduction of 400 automobiles.
With a broad range of green mobility solutions, the world's first hydrogen train (Coradia iLint), and battery-powered trains (Coradia Continental BEMU), Alstom is the industry leader in sustainable and intelligent mobility. The industry has acknowledged Alstom's use of cutting-edge hydrogen technologies. The Coradia iLint, the world's first hydrogen train, received the 2021 European Railway Award.
Other Trending News on this blog site: Boom Supersonic for American Airlines Most Valuable Metro Railway in the World
shop now
2 Wigs Only $ 149