Business
The miracle boom of global second hand apparel market
The miracle boom of global second hand apparel market. The global market value of secondhand and resale apparel was estimated to be 96 billion US dollars in 2021. This value is expected to more than double in size between 2021 and 2025, before reaching a value of 218 billion dollars in 2026.
Younger consumers are responsible for much of the growth in the secondhand apparel industry. In a global survey conducted in 2021, Generation Z and millennials were found to be the most willing to buy used clothing. It is perceived as a less expensive and more environmentally friendly method of purchasing clothing, both of which are especially important to younger consumers.
Source: statista.com
Global Second Hand Apparel Market
The lower prices of secondhand clothing also make clothes that would otherwise be prohibitively expensive more accessible. This resulted in an increase in the second-hand market for personal luxury goods.
Smartphone apps, which provide shoppers with greater choice and convenience, are a popular way for younger generations to buy used clothing. Of course, many people continue to shop at thrift stores for used clothing.
Second-hand clothing is becoming a popular trend in the ever-expanding fashion market, and the expanding fashion industry is changing the way people dress, with second-hand clothing appearing on multiple platforms.
Customers' perceptions of attractiveness have all shifted as a result of the journey of establishing oneself. As a result, better clothing, fashion accessories, and other items are chosen to boost self-esteem, and customers' preference for a variety of apparel is growing.
People are becoming more aware of the environmental benefits of buying used clothes rather than new ones. As a result, sales of secondhand clothing have increased dramatically in recent years, and this trend is expected to continue during the forecast period
Similarly, leading companies are shifting to online sales platforms to increase their customer base and sales. New start-ups are also entering this space to capitalize on new opportunities. This will boost market growth even more over the next ten years.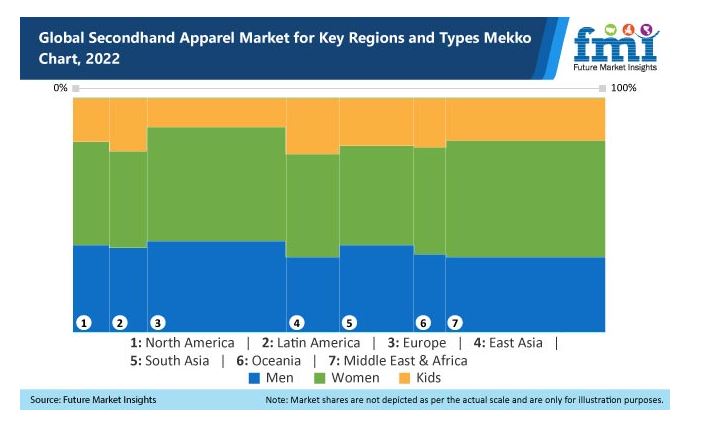 Global Second Apparel Market – an insight by Future Market Insights
The global demand for used clothing is expected to grow at a 14.8% CAGR during the forecast period (2022-2032), compared to a 7.1% CAGR from 2017 to 2021. Some of the key factors driving growth in the global market are the increasing popularity of eco-fashion, the increasing penetration of the internet and online shopping platforms, and the cost-effective nature of secondhand clothing.
More than 10% of global carbon emissions are attributed to the fashion industry. Customers and businesses alike are becoming more aware of the importance of fashion updates, and customers expect transparent operations. Fast fashion spawned the sustainable fashion movement, which has helped to reduce pollution, climate change, and unethical labor practices.
Second-hand clothing is the recycling of used and/or unwanted clothing, and the consumer transaction saves a massive amount of unwanted clothing from landfills and dumps. It is made of regenerated cashmere, ethically sourced wool, and organic cotton. Solar equipment energy is used in the production line for clothing refurbishment, and recyclable materials are used for packaging.
Other well-known brands combine high-quality natural and recycled materials to offer a diverse range of high-quality adventure and outdoor wear, including sustainable pants and t-shirts. They also sell recycled polyester outerwear and fair trade sweaters made from recycled cotton, polyester, and cashmere
Online platforms selling Second-hand apparel
Manufacturers are rapidly shifting to online platforms in order to reach a larger audience and increase sales. Similarly, the availability of a diverse range of secondhand clothing on online platforms has enabled people to purchase them from the comfort of their own homes.
Key players in the Second Hand Apparel Trade
Tradesy
Thredup Inc.
The realreal
Poshmark
Vinted
Micolet
Percentil.ma
Thrift+
Chikatex
HunTex Recycling Kft
EBay Inc.
British Used Clothing Company
A&E Used Clothing Wholesale
Mobacotex
StockX
Tradesy is a peer-to-peer internet marketplace for buying and selling women's clothing. It is a subsidiary of Vestiaire Collective, the world's leading website for reselling premium and designer goods. By promoting a circular economy, the company creates a community of fashion enthusiasts who are reshaping the industry for a more sustainable future.
Tradesy enables anyone to build a high-quality wardrobe for less money while decreasing demand for newly manufactured, throwaway clothing. The company is dedicated to advancing and assisting members of underrepresented minorities on its team.
Future of Second Hand Apparel
The growing trend of fashionable clothing, as well as the increasing popularity of secondhand clothing among low-income people due to its affordability. The global millennial population is becoming more conscious of the importance of sustainability. As a result of these factors, the secondhand apparel market may experience exponential growth.
Secondhand clothing includes dresses, tops, shirts, t-shirts, sweaters, coats, jackets, jeans, pants, and other items. The secondhand apparel market can be divided into three sectors: resale, traditional thrift stores, and donations. Consumers can purchase these garments from independent small stores, hypermarkets, online retailers, department stores, and so on.
The promotion of secondhand clothing in rural communities around the world may also result in promising growth for the secondhand apparel industry.
Visit More trending articles on this site: Elon Musk brings out Optimus – the terrific humanoid robot
Shop Now, get up to $55 off
shop now
12% Off & Free Wig, Check Now!