Business
Softbank Investments: Biggest ever loss of $23.4 Billion
Softbank Investments: biggest ever loss of $23.4 billion. As the portfolio of assets in its Vision Fund continues to suffer due to a selloff in global tech equities, SoftBank Group Corp. posted a record $23.4 billion financial loss, according to Forbes.
CNBC reports the Softbank loss as $27 Billion
As Forbes reports, "Softbank Group Corp. reported a record 3.16 trillion yen ($23.4 billion) net loss as a selloff in global tech stocks continued to hammer its Vision Fund's portfolio of investments"
Meanwhile, CNBC reports
SoftBank's Vision Fund posted a 3.5 trillion yen loss ($27.4 billion), the biggest loss since the investment fund began in 2017.
Global markets have been in turmoil as investors contest rampant inflation and the U.S. Federal Reserve raising interest rates that have caused investors to flee high-growth tech stocks.
The loss is the biggest in Softbank's corporate history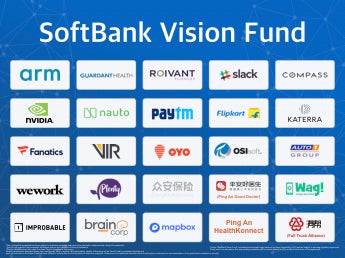 As a result of Vision Fun's problems, the entire Softbank business recorded a 1.7 trillion yen annual loss. On 11/08/2022, its shares fell 8% in value in Japan.
"The loss is the biggest in our corporate history and we take it very seriously," Son said during a press conference after the results.
Asked about what lessons he has learned from the experience, Son said, "There are too many to count."
The Son referred to above is the Fonnder & CEO of Softbank Masayoshi Son
The largest technology fund in the world has substantial holdings in hundreds of unlisted technology businesses.
The Vision Fund losses for Coupang, SenseTime Group Ltd., and DoorDash Inc. totaled 293.4 billion yen, 235.9 billion yen, and 220.7 billion yen, respectively. They also noted declines at WeWork Inc. and AutoStore Holdings.
Shares of ByteDance Ltd., the Chinese business that owns TikTok, have decreased more than 25% since last year on private markets, while the valuation of Swedish buy-now-pay-later company Klarna Bank AB was reduced by 85% in a recent funding round compared to June 2021, according to Bloomberg News
SoftBank's CEO Masayoshi Son says company is going into 'defense mode'
More Trouble with some top executives leaving Softbank
As the prognosis grows more bleak, SoftBank is also dealing with the departure of an increasing number of senior executives from the Japanese corporation, placing greater burden on founder Son. Previous hief Strategy Officer Katsunori Sago retired in 2021, while former Chief Operating Officer Marcelo Claure left the business earlier this year.
More on COO Marcelo Claure
Marcelo Calure made headline in January when he left Softbank. Find the report below by Japantimes, just before his departure.
SoftBank Group Corp. Chief Operating Officer Marcelo Claure is making preparations to depart the Japanese conglomerate after clashing with founder Masayoshi Son over his compensation and responsibilities, people familiar with the matter said.
The 51-year-old Bolivian American agreed to sell a majority stake in his cellphone distributor to SoftBank in 2013, becoming one of Son's top lieutenants and a billionaire in the process. Still, Claure, who was SoftBank's second-highest paid executive in the latest financial year, has often pushed for much more money and authority.
In recent months, he has pressed for as much as ¥115 billion ($1 billion) in compensation because of his contributions, including the turnaround and sale of Sprint Corp. and the listing of troubled WeWork. He also advocated for a spinoff of the Latin American investment fund he oversees for SoftBank, it was reported last year.
More on Marcelo Claure in our next Blog.
Visit other trending articles on this site: The Crypto Crash: Latest News on Crypto Largest Lottery Jackpot in 2022 – US$ 1.337 Billion Won