Business
Largest Lottery Jackpot in 2022 – US$ 1.337 Billion Won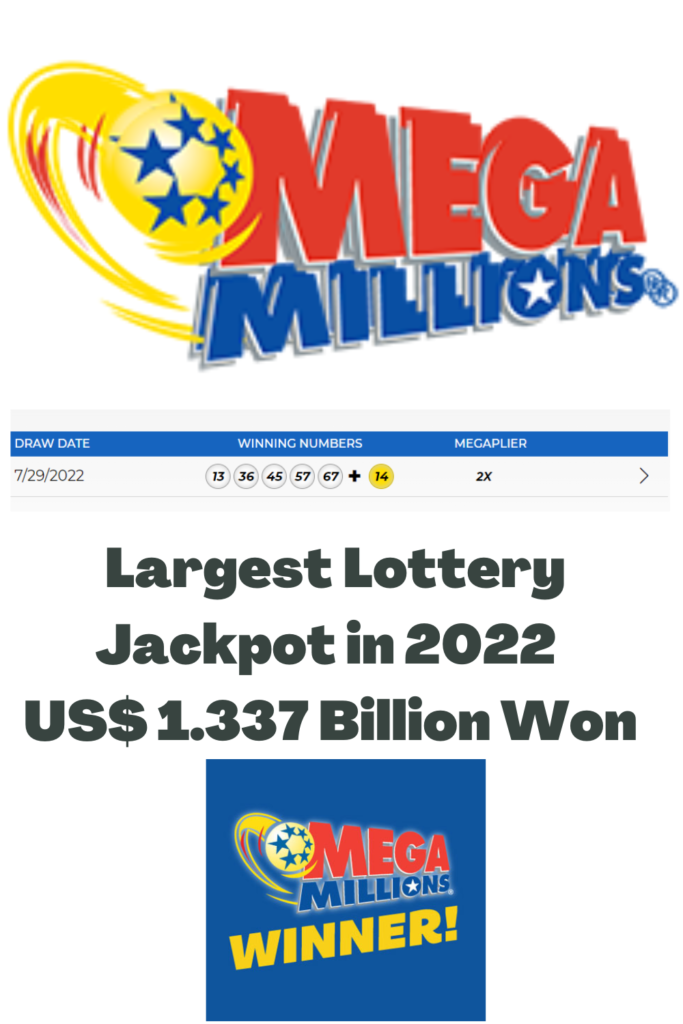 The largest lottery jackpot in 2022, a sum of US$ 1.337 billion, was won by someone in Illinois in the Mega Millions lottery on July 29th, 2022. It is the third-largest lottery prize in American history.
Largest Lottery Jackpot in 2022
Following the 29th July 2022 night's $1.337 billion Mega Millions lottery drawing, one lucky lottery ticket holder in Illinois has become a billionaire. The winner has yet to claim the prize.
The Lucky Numbers drawn on this day were 13, 36, 45, 57, and 67, together with a gold Mega Ball of 14.
Megamillions.com says there was only one ticket sold, matching the $1.337 billion numbers, defying the 1 in 302.5 million odds of winning.
The jackpot is the third-highest lottery reward in American history. The winner would have paid $2 for the ticket, which is the selling price of the lottery ticket. He has two options to select when claiming his prize. Either he could collect a lump sum payment or opt for an annuity option. Under the annuity option, his payments will be made in installments for the next 30 years.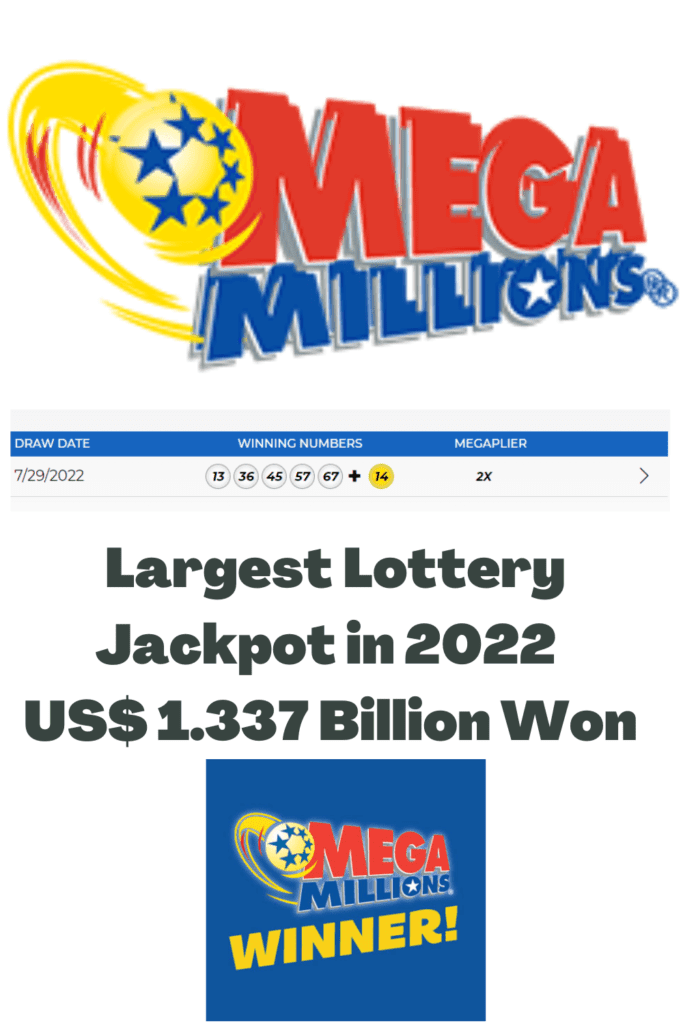 Largest Lottery Jackpot – Calculating the winners Take home money
Megamillions.com, the official website of the mega millions lottery, explains the payment option as follows.
If you win a Mega Millions® jackpot, you will choose how to be paid: Cash Option or Annual Payout. Prize claim parameters vary from state to state
Annuity option: The Mega Millions annuity is paid out as one immediate payment followed by 29 annual payments. Each payment is 5% bigger than the previous one. This helps protect winners' lifestyles and purchasing power in periods of inflation.
Cash option: A one-time, lump-sum payment that is equal to the cash in the Mega Millions jackpot prize pool.
To understand this further, and give our readers a better insight, we used the Omnicalculator at omnicalculator.com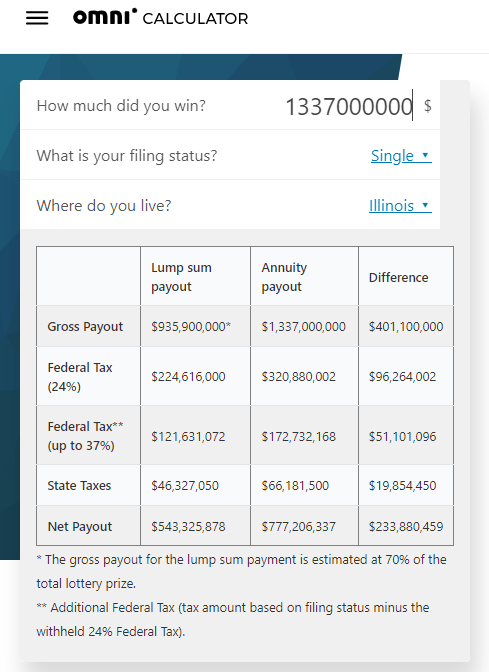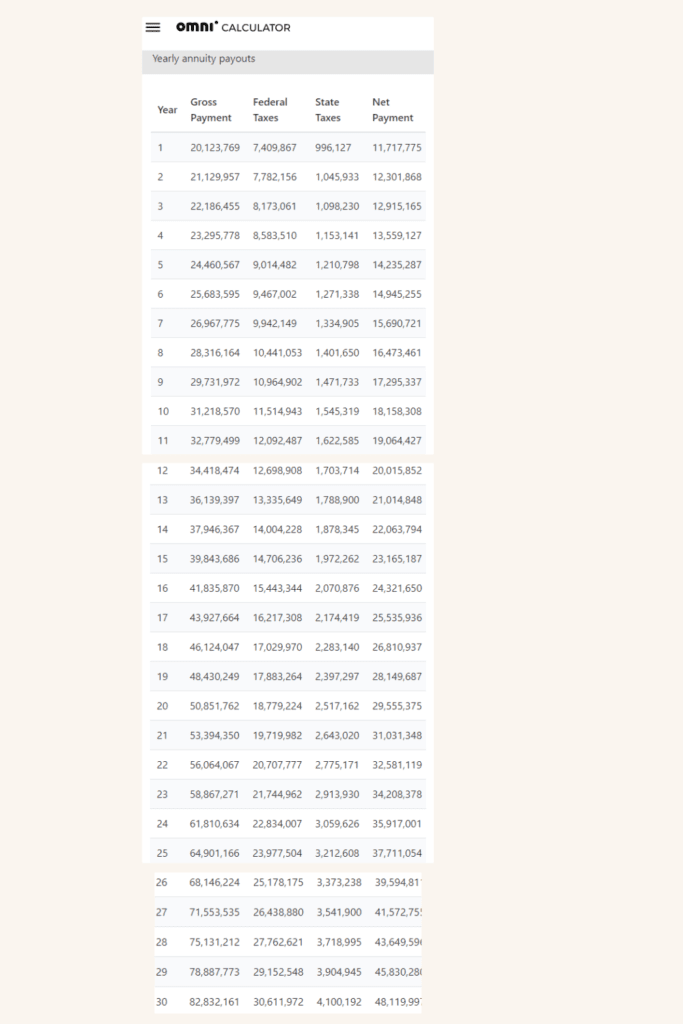 More details on the Winning Ticket
The ticket was purchased at a Speedway gas station and convenience store in Des Plaines, Illinois.
As mentioned above, the winner has still not turned up.
Many US jurisdictions allow winners to receive their winnings while maintaining their anonymity. Illinois is a state where winners of more than $250,000 are permitted to remain anonymous. The final victor will thus, by all accounts, remain anonymous.
Approximately $500,000 will be given to the Speedway gas station that sold the ticket.
There were 29 drawings in a row without a winner; therefore the total winning snowballed up to US$ 1.377 billion.
The largest Lottery Jackpots ever won
Here are the ten biggest prizes ever won in the United States, along with the states where the winning tickets were purchased:
1. $1.586 billion, Powerball, Jan. 13, 2016 (three tickets, from California, Florida, and Tennessee)
2. $1.537 billion, Mega Millions, Oct. 23, 2018 (one ticket, from South Carolina)
3. $1.337 billion, Mega Millions, July 29, 2022 (one ticket, from Illinois)
4. $1.05 billion, Mega Millions, Jan. 22, 2021 (one ticket, from Michigan)
5. $768.4 million, Powerball, March 27, 2019 (one ticket, from Wisconsin)
6. $758.7 million, Powerball, Aug. 23, 2017 (one ticket, from Massachusetts)
7. $731.1 million, Powerball, Jan. 20, 2021 (one ticket, from Maryland)
8. $699.8 million, Powerball, Oct. 4, 2021 (one ticket, from California)
9. $687.8 million, Powerball, Oct. 27, 2018 (two tickets, from Iowa and New York)
10. $656 million, Mega Millions, March 30, 2012 (three tickets, from Kansas, Illinois, and Maryland)
Mega Million Winners History
Find below the Mega Million Winners History for the past 3 years.
Also, read other trending articles on this site: 60% Fall of Crypto Currency in 2022 – A word of advice for potential Investors in Crypto (with an update on 7/7/2022) Google Smart Glasses are back with a new look !! Worlds Most Powerful Passports 2022