Business
The Crypto Crash: Latest News on Crypto
The Crypto Crash: Latest News on Crypto; Coinbase Posts $1 Billion Net Loss in Q2; German Crypto Bank Nuri Files For Bankruptcy; Celsius's Collapse Damages Canada's Second-Biggest Pension Fund.
Numerous Cryptocurrencies and Crypto Exchanges have been experiencing extreme difficulties in the past week.
Coinbase Reports $1 Billion Net Loss for Q2
Coinbase recorded US$ 1.1 billion in net losses during the Q2 fiscal quarter, its second consecutive loss after reporting a net loss of $430 million in the first quarter.
Coinbase is a Crypto Exchange. When customers trade in Bitcoin and other cryptocurrencies, users must pay Coinbase a fee. In Q2, Coinbase Exchange trading volume fell by 29%.
The first publicly traded cryptocurrency exchange, Coinbase, was listed on Nasdaq in April of last year. Its stock price had reached a high of $342, but as of the time of this writing, it has fallen by more than 74% to $87 per share.
Coinbase Supported Countries
Coinbase is available in exactly 100 countries at the time of writing. But it is not fully supported by all these countries.
You can convert in all 100 countries, but can only buy in 59 Countries and sell in 41 Countries. Just for those curious, the list is shown below.
Coinbase Troubles
In a memo published in June, Coinbase's co-founder and CEO Brian Armstrong announced that the business was firing 1,100 workers, or around 18% of its workforce, as a result of the challenging economic climate.
Insider Trading Charges – quoted by Business Insider India
"In the first-ever cryptocurrency insider trading case, the U.S. Department of Justice on July 21 charged Coinbase's former product manager Ishan Wahi, his brother Nikhil Wahi and friend Sameer Ramani with wire fraud in connection with a scheme to commit insider trading in cryptocurrency assets. Ishan Wahi allegedly tipped the other two regarding crypto assets that were to be listed on Coinbase and the three are alleged to have gained about $1.5 million through illegal trades. The brothers were arrested in Seattle on July 21."
German Crypto Bank Nuri's Insolvency
In another latest News on Crypto Crash, German Crypto Bank Nuri has filed for Insolvency, according to their official tweet.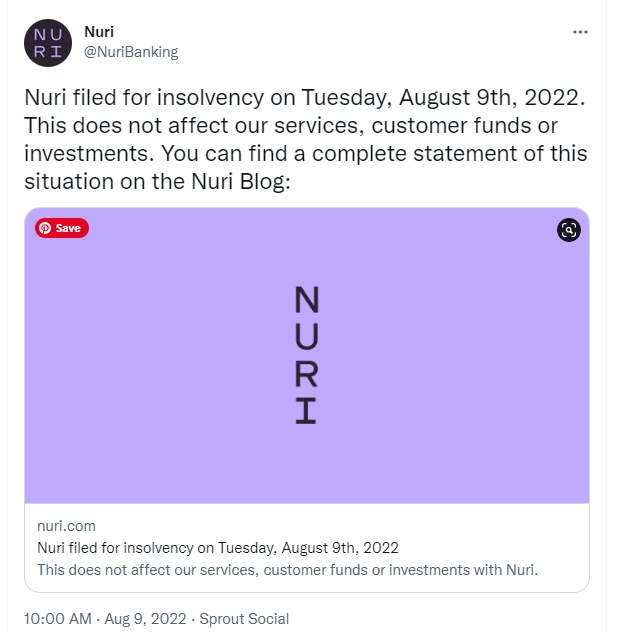 Nuri claims to have more than 250,000 customers in 32 countries.
The business, formerly known as Bitwala, has been in business since 2015 and provides customers with the ease of a standard bank account along with Bitcoin and Ethereum wallets. Nuri had Bitcoin interest accounts through a collaboration with the now-bankrupt cryptocurrency loan marketplace Celsius.
According to Nuri, it has been facing a "lasting strain" on its business liquidity in 2022 due to "significant macroeconomic headwinds," such as the COVID-19 pandemic and the Russian invasion of Ukraine, as well as "the cooling down of public and private capital markets." Source:decrypt
Canada's Pension Fund trouble with Celsius Crypto
Canada's second-biggest pension and insurance fund the Caisse de Dépôt invested US$ 150 million into Celsius nine months before its Chapter 11 bankruptcy. Now, the fund may be left empty-handed.
With a debt to creditors and customers of over $5.5 billion, Celsius' tragic end in July of this year had devastating financial repercussions throughout the cryptocurrency and related industries.
Given the size of the pension fund involved, the Québec Autorité des marchés financiers (AMF) and the Ontario Securities Commission (OSC) have begun a joint investigation with the U.S. Securities and Exchange Commission (SEC) to investigate the economic fallout of the Celsius' bankruptcy case within their respective territories, according to The Financial Post
While this is going on, the Ontario Securities Commission is taking action against unregistered cryptocurrency players that are active in Ontario, including a public conflict with Binance Holdings Limited and Binance Canada Capital Markets Inc.
Also read other trending articles on this site: Companies With the Highest Turnover Worldwide Who is the leader in Cloud Computing?