Business
Crypto fall – 60% Fall of Crypto Currency in 2022 – A word of advice for potential Investors
Crypto fall – 60% Fall of Crypto Currency in 2022 – A word of advice for potential Investors.
60% Fall of Crypto Currency – What is Crypto Currency?
Crypto Currency is a digital or virtual currency that uses cryptography for security. The transactions are recorded in a public ledger called a blockchain.
The first cryptocurrency was Bitcoin, which was created in 2009 by an unknown person using the alias Satoshi Nakamoto. Bitcoin is the most popular cryptocurrency and it's currently traded on exchanges around the world.
What is Bitcoin?
Bitcoin is a type of cryptocurrency that is decentralized by any bank or government. Bitcoin transactions are recorded in a public ledger called the blockchain. Bitcoin was created by an anonymous programmer, or group of programmers, under the name Satoshi Nakamoto. The idea for bitcoin came from the 2008 financial crisis and it was designed to be a currency that would not be affected by economic swings. The first bitcoin transaction occurred on January 12th, 2009 between Satoshi Nakamoto and Hal Finney.
Possible Bitcoin uses include:-
A medium of exchange for goods and services-
investment for long-term gains or to diversify investments.
A store of value that is not held by any central authority-
A means of payment for goods and services.
What are the other crypto-currencies?
Despite the emergence of thousands of competitors, Bitcoin—the first cryptocurrency—remains the market leader in terms of usage and economic worth.
As of 2022, there are over 18.000 cryptocurrencies. However, the 10 most recognized cryptocurrencies are listed below.
Ethereum (ETH)
Litecoin (LTC)
Cardano (ADA)
Polkadot (DOT)
Bitcoin Cash (BCH)
Stellar (XLM)
Dogecoin (DOGE)
Binance Coin (BNB)
Tether (USDT)
Monero (XMR)
The Rise and Fall of Cryptocurrency Prices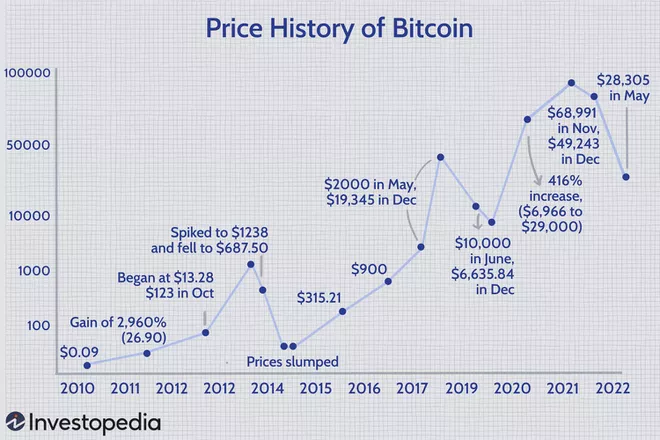 Bitcoin was the first cryptocurrency and was introduced in 2009. It was valued at zero on the introduction and picked up to US$ 0.09 in July 2010. It Touched the US$ 1.00 mark by April 2011. The price started gradually increasing and stood at US$ 29.00 by July 2011
However, the price dropped down again and was valued at US$ 2.00 by November 2011. After many ups and down the price soared up to US$ 230.00 by April 2013 and to US$ 1237.00 in December 2013
Facing more ups and downs, the prices had touched the US$ 2000.00 mark by 2017. There was a huge surge in 2017 and by December it had reached US$ 19,000.00 per bitcoin.
Then again the prices came down to around US$ 6,500.00 by December 2019
The demand for Bitcoin started increasing with the COVID pandemic and it touched US$ 29,000 per bitcoin by December 2020. It took off from this point onwards and touched US$ 40,000 by January 2021. By April 2021 it reached an all-time high of US$ 60,000.00 per bitcoin.
2022 has seen the decline of Bitcoin again and by May 2022 it had come down to US$ 46,000. By June 2022 (at the time of writing) prices had fallen below US$ 20.000 to around US$ 17.500 and recovered slightly in the past two or three days.
There is a 60% Fall of Crypto Currency value in 2022 alone.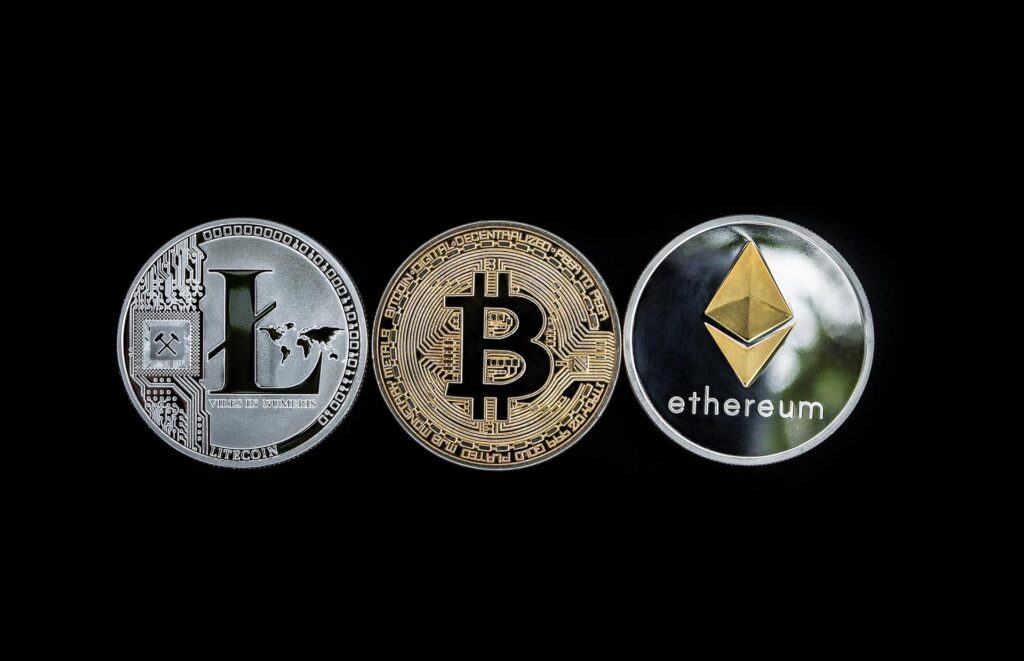 Prices of other Crypto Currencies
Although we have been analyzing Bitcoin, which is the first Crypto Currency, many other Crypto Currencies have come into the market over the years and some of them are equally or even more popular than Bitcoin at present.
Analytics Insight lists the top 10 current cryptocurrency prices for June 21, 2022, as follows.
Bitcoin (BTC)- US$ 20,510.48
Ethereum (ETH)- US$ 1,120.95
Tether (USDT)- US$ 0.999
Binance Coin (BNB)- US$ 216.72
USD Coin (USDC)- US$ 1.00
Cardano (ADA)- US$ 0.4879
XRP (XRP)- US$ 0.3224
Solana (SOL)- US$ 34.94
Binance USD (BUSD)- US$ 1.00
Dogecoin (DOGE)- US$ 0.05998
Crypto fall – Reasons for the Crypto Crash
Reason for 60% Fall of Crypto Currency value in 2022. It all began after the Luna-Terra debacle. It was a major event that had far-reaching ramifications for not only its investors but the whole crypto industry. Before the fall, many investors lost their whole life savings in Terra currency, a stablecoin with a market capitalization of more than $18 billion.
Bitcoin has taken a beating this week when cryptocurrency loan company Celsius halted withdrawals and transfers between accounts, as well as crypto firms laid-off workers. To add to the gloom, crypto hedge firm Three Arrows Capital reported significant losses and said it was investigating asset sales or rescues, while another lender, Babel Finance, said it was considering asset sales or a bailout.
According to a New York Times report, Bitcoin's price movements are very similar to those of Nasdaq, a stock index that is heavily weighted towards tech businesses. While crypto markets should ideally behave independently of regular markets, they have proven subject to financial market changes.
The US Federal Reserve has agreed to raise interest rates in order to reduce inflation. The rapid rise in interest rates is widely seen as a leading indicator of an impending recession. Following the announcement, both the stock market and the crypto market plummeted; investors lost faith and began selling their digital assets, resulting in a crypto market carnage.
Cryptocurrencies have had a wild journey in 2022. The cryptocurrency market dipped in January before rebounding in February. Governments throughout the world have been watching the global crypto market as they try to regulate it.
Is Crypto Currency a Good Investment?
A cryptocurrency is a digital money that may be used to make payments. It was first used as an investment by investors and traders, but its price is extremely erratic, posing a major financial risk.
For the first time since December 2020, Bitcoin dipped below $20,000 on June 18. This year, it has dropped by around 60%. The total value of the cryptocurrency market has dropped to roughly $900 billion, down from a high of $3 trillion in November.
All of the big cryptocurrencies, such as Bitcoin, Ethereum, XRP, and BNB, are hardly moving forward.
Crypto fall – Conclusion – Advice to Potential Investors on Crypto
Author of "Attack of the 50 Foot Blockchain," David Gerard, a crypto critic, "said the recent financial meltdowns demonstrate a failure by authorities, who he feels should have scrutinized the business more years ago. He claims that many beginning investors, particularly young people, bought based on a false hope given to them: "There are actual human victims here, individuals like you and me.
The bitcoin drop is the result of parallel developments in the cryptocurrency space, some of which are "just schemes or outright scams," according to some experts.
Before investing in Crypto Currency, it's a good idea to talk to a professional financial counselor about your situation and aspirations.
Crypto fall – Crypto Recovers
Crypto has recovered to a certain extent at the time of publishing. However, potential investors should still be cautious of the facts mentioned in this article. Find below the rates as of 30th June, 2022 as per Analytics Insight
Bitcoin (BTC)- US$ 30,261.83
Ethereum (ETH)- US$ 1873.28
Tether (USDT)- US$ 0.9991
Binance Coin (BNB)- US$ 316.44
USD Coin (USDC)- US$ 1.00
Cardano (ADA)- US$ 0.5138
XRP (XRP)- US$ 0.3972
Solana (SOL)- US$ 345.64
Binance USD (BUSD)- US$ 0.9997
DogeCoin (DOGE) – US$ 0.8423
Coinbase experiencing major outage as crypto prices plummet
Annexed below is CBS News on 8th July 2022
Among those reeling from the billions of dollars lost in the cryptocurrency crash, no company has taken a greater beating than Coinbase. The nation's largest and first publicly traded crypto exchange, Coinbase has seen its stock price plunge 81% this year and has recently announced plans to shed one-fifth of its staff.
With Coinbase reporting a $430 million first-quarter loss, some hedge funds are starting to short the stock, meaning Wall Street is betting on Coinbase's value dropping even further.
But all is not lost for the exchange, according to analysts, who see more bounce in the crypto bubble than the current crash suggests. Despite its recent struggles, they predict Coinbase will make it through this crypto market slump and ultimately thrive. That's because the company has learned how to survive such downturns, analysts say.
Watch on youtube – BlackRock and Coinbase team up, and thieves take $2 billion in cross-chain hacks: CNBC Crypto World
updated coinbase crash news on 8th August 2022.
Other trending news on this site: Companies With the Highest Turnover Worldwide Will Microsoft's acquisition of Blizzard allow it to surpass Sony as the 2nd largest gaming company? Dwindling Fertility Rate, Jaw-Dropping Facts
shop now
25% Off For V Part Wigs With Code: Graduation