Business
Companies With the Highest Turnover Worldwide
Companies with the highest turnover worldwide.
Companies With the Highest Turnover Worldwide
Walmart remains the highest-grossing company in the world in 2021. The American retail giant Walmart has ranked first in the world in terms of revenue, since 2014.
You will find more infographics at
Statista
Fortune Top 10
According to Forbes Global 500,
Aggregate sales for the Fortune Global 500 hit $37.8 trillion.
Walmart landed at No. 1 for the ninth straight year, trailed by Amazon, which reached its highest ranking ever.
Chinese energy giants State Grid, China National Petroleum, and Sinopec rounded out the top five
For the first time, revenues from Global 500 companies in Greater China (including Taiwan) exceeded revenues from U.S. companies on the list,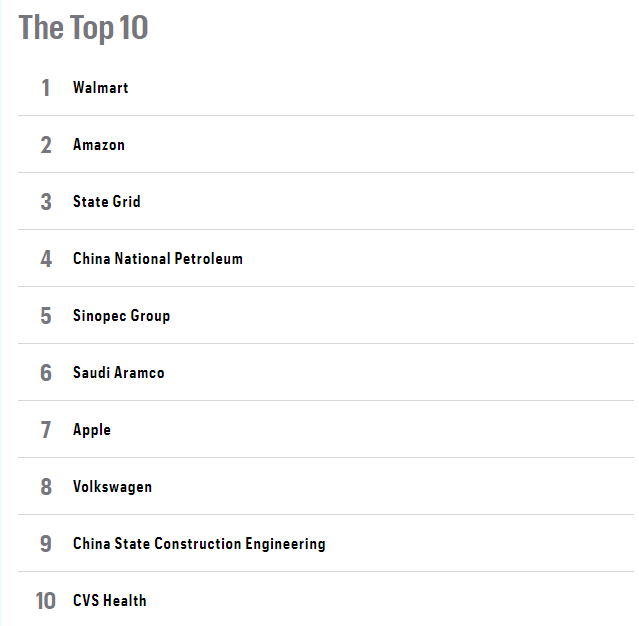 Top Profit-Making Companies
Profits from this year's Fortune 500 list reached a record $1.8 trillion.
Apple, which earned $94.7 billion in profits last year, topped Fortune's list.
Most Profitable American Companies as per the Fortune list
A look at which nations and industries have the most economic sway may be gained from the list of the most profitable corporations in the world. Most have their main offices in The U.S. and China, by far, have the two greatest economies in the world.
Additionally significant, Half of the listed companies are tech firms.
Walmart – the highest Turnover company
Walmart, which had the highest turnover, had an annual net income for 2022 of $13.673B
Macrotrends provides the following insight about Walmart.
"Walmart Inc. helps people around the world save money and live better by providing the opportunity to shop in both retail stores and through eCommerce, and to access its other service offerings. Through innovation, it strives to continuously improve a customer-centric experience that seamlessly integrates its eCommerce and retail stores in an omnichannel offering that saves time for customers.
By leading on price, it earns the trust of customers every day by providing a broad assortment of quality merchandise and services at everyday low prices (EDLP). EDLP is the company's pricing philosophy under which it prices items at a low price every day. Everyday low cost (EDLC) is the company's commitment to controlling expenses so its cost savings can be passed along to customers.
It has 3 reportable segments: Walmart U.S., Walmart International, and Sam's Club. It maintains principal offices in Bentonville, Arkansas."
ow Walmart Is Betting Big On Stores To Catch Amazon In E-commerce
Some interesting data compiled by tipalti.com on profits made by companies per second, per minute, day, and year.
Below is an intriguing graph that Tipalti created showing business earnings. This is only for those who are curious and is not meant for in-depth understanding. Due to space restrictions, companies from 27 to 42 are not included on the list.
Visit Other Trending Articles on this site: Mega Food Parks in India – UAE to invest US$2 Billion under the I2U2 initiative Which Countries have the Highest Gold Reserves in 2022?