Business
Dwindling Fertility Rate Jaw-Dropping Facts
Dwindling Fertility Rate Jaw-Dropping Facts, Let's look at some jaw-dropping facts about the dwindling fertility rate.
The impact of the dwindling fertility rate was briefly addressed in our previous blog post, "World Population to Reach 8 Billion on 15th November 2022." In this blog, we'll go into detail on the subject. The preceding story can be viewed by clicking on the highlighted link for anyone who missed it.
Dwindling Fertility Rate-What is Fertility Rate?
Simply, the total number of births per 1,000 women of childbearing age in a population is known as the fertility rate. It might be complicated for the average reader to understand the technical part of this calculation. For those with a statistical mind, we will mention the technical aspect of the computation procedure at the bottom of this article.
World Fertility Rate-Facts
The fertility rate is dealing the world over especially in Asia's advanced economies.
In the world population growth prediction chart, the population is increasing up to 2075 and remaining almost static for a while, and declining by 2100.
For easier reference to readers, we re-produce below the population growth chart and fertility charts released by UN Population prospects.
Over the last 50 years, fertility rates have dropped drastically around the world. In 1952, the average global family had five children—now, they have less than three.
A closer look at the Drop
1961 – 5.0
1971 – 4.6
1981 – 3.6
1991 – 3.1
2001 – 2.7
2011 – 2.5
2020 – 2.4
Jaw-Dropping Facts about the dwindling Fertility rate.
By the end of the century, populations in almost every country could be declining due to declining fertility rates. These are some Jaw-Dropping Facts about the dwindling Fertility rate
By 2100, the populations of 23 countries, including Spain and Japan, are predicted to have fallen by half.
By 2100, Italy's population is projected to drop from 61 million to just 28 million.
Japan's population would drop from 128 million in 2010 to 87 million by 2060.
Populations in Thailand, South Korea, Spain, and Portugal are anticipated to decline by more than half.
By 2100, China's population, which is currently the largest in the world, would have almost halved to 732 million.
In 2100, there will be 866 million people over the age of 80, up from 141 million in 2017.
While the population of the Developed countries will decline the under-developed or developing countries' population will be increasing.
By 2100, it is anticipated that the population of sub-Saharan Africa would have tripled to more than three billion people.
With a population of 791 million, Nigeria will overtake China as the second-largest nation in the world.
Since we won't be able to examine every country in detail, let's focus on the three that will be most affected.
Impact of low Fertility – Japan
Japan is a classic example of understanding the impact of low fertility on society.
"Japan has experienced two fertility transitions. The first, a decline to the replacement level of about 2.1 children per woman shortly after World War II, and the second, a decline since the mid-1970s to very low rates of 1.3 to 1.4 children per woman.
According to Japan's latest official population projection, the country's population is projected to decrease from 128 million in 2010 to 87 million by 2060, when roughly 40 percent of the population will be age 65 and above."
According to figures from the Japanese Ministry of Health, Labor, and Welfare, there were 811,604 births in Japan last year, which is the lowest number ever.
In the 123-year recorded history of the nation, this is the lowest number of births. Don't confuse this with the history of Japan. There are only 123 years of records in the Japanese birth registry.
The overall fertility rate in Japan is 1.30 births per woman.
Japan's recorded marriages dropped 12.3% last year to 525,490, a post-war high.
Over 65s makeup over 30% of the population. There is a labor shortage due to the fall in the working-age population,
In order to better support families, the Japanese government has increased family policies and programs in three areas: childcare services, parental leave programs, and financial aid in the form of child allowances.
Elon Musk controversially tweeted about the scenario,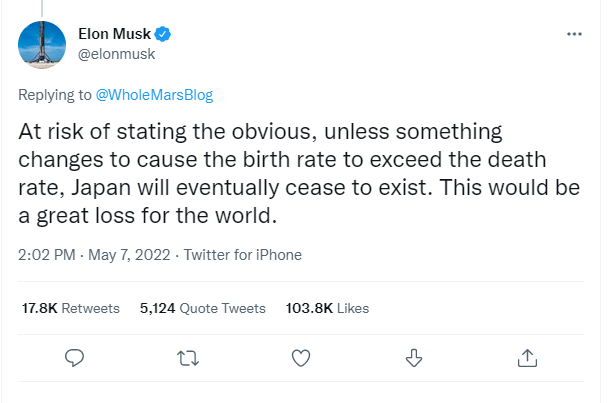 Impact of Low Fertility – China
In 2020, China's annual population growth rate reached a new low of less than 0.3%.
China had a 1 child policy until 2013. It relaxed this policy in 2013 and completely terminated it in 2015.
Extremely low fertility rates can have serious consequences. China's future socio-economic development and global influence could be impacted by a diminishing working-age population and a declining national population.
In order to increase birth rates, China legally enacted a law in 2021 known as the "3 Child Policy." They offered so many perks to being parents. These include pushing local governments to provide parental leave; expanding women's employment rights; Eliminating the "social maintenance fee" (a financial penalty couples pay for having children past the legal limit); and enhancing childcare facilities.
Impact of Low Fertility – South Korea
South Korea's birth rate has decreased since 1960, and this has made the country's declining fertility rate a serious problem.
By 2045, the proportion of people in South Korea who are 65 or older will be 37%. It would have surpassed that of Japan (36.7%), making it the country with the oldest population in the world.
The proportion of senior citizens in South Korea is expected to increase to 46.5 percent in 2067
Causes of the decrease according to Wikipedia
In Korea, there was a strong sex preference for a son because of a focus on the preservation of the family name. The abortion rate for female fetuses was high.
due to the exorbitant cost of education, including private school fees, they decided against having a second child.
Long work hours and ongoing societal pressure to perform well cause stress and failure-related worry in people. (Did you know that South Korea has a very high suicide rate? No. 4 in the World)
Women's employment outside the house climbed from 42.8 to 50.2 percent from 1980 to 2005.
In South Korea, the divorce rate rose by 70% between 1970 and 2000.
The average life expectancy was just about 42 years in the first half of the 1950s. The average South Korean baby born today can anticipate living until the age of 82. According to UN predictions, life expectancy will continue to rise; by 2100; a South Korean baby born then would typically live to be 92 years old.
Adolescent fertility rate (per 1000 girls aged 15-19 years)
In spite of the fact that we are talking about fertility rates and their effects, there is a different problem where children between the ages of 15 and 19 bear babies. they also partly contribute to this rate.
The adolescent fertility rate of girls aged between 15-19 years is documented by the World Health Organization (WHO) in this chart
Fertility Calculation
The following calculation formula is taken from the Singaporean Government population website.
The Total Fertility Rate (TFR) is a standard demographic indicator used internationally to estimate the average number of children that a woman would have over her childbearing years (i.e. age 15-49), based on current birth trends.
It is calculated by adding up the average number of births per woman across five-year age groups (i.e. age-specific fertility rates, or ASFR). The specific formula to calculate TFR is:

Other trending articles on this site: COVID – 19 Omicron Vaccine from Pfizer and Moderna, Landmark Casino Reform Bill of Macau
shop now
2 Wigs Only $ 149