Business
Linda Yaccarino the New CEO of Twitter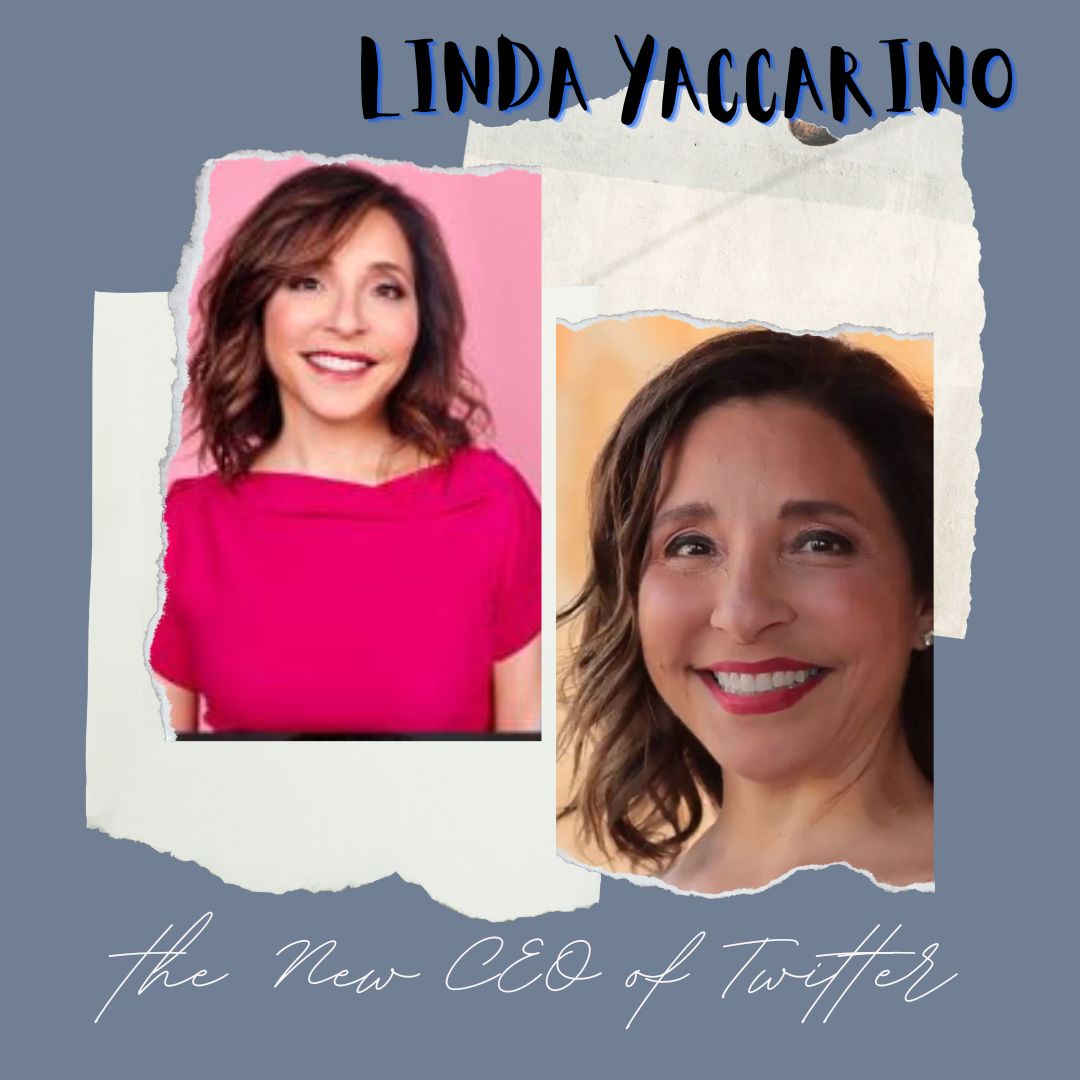 Linda Yaccarino the New CEO of Twitter. Elon Musk has confirmed reports originally published by the Wall Street Journal that Linda Yaccarino will take over from him as the CEO of Twitter. Yaccarino, an advertising industry veteran, has expressed admiration for what she calls "provocative leadership," which is a quality that Musk's use of Twitter exemplifies.
In a tweet posted on Friday, May 12th, Elon Musk stated that Linda Yaccarino would primarily focus on managing the business operations of the Twitter platform, while he would take charge of prioritizing product design and the development of new technology. Musk also referred to his recent efforts to turn Twitter into a super app, which he plans to call X, and expressed his enthusiasm for working with Yaccarino to achieve this goal.
Late on May 11th, Elon Musk announced via a tweet that he had found his successor as CEO, but did not reveal the individual's identity. He did, however, mention that the person would begin their new role in approximately six weeks. The following day, on May 12th, NBCUniversal made an announcement that Linda Yaccarino would be stepping down from her position as chairman of global advertising and partnerships. Yaccarino expressed pride in the work she and her team had accomplished at Comcast NBCUniversal, saying, "We've transformed our company and the entire industry."
Linda Yaccarino
Linda Yaccarino is an experienced professional in the field of advertising. Prior to joining NBC, she held the position of Executive Vice President of Advertising Sales, Marketing, and Acquisitions at Turner. According to her NBC profile (which has since been taken down), Yaccarino played a key role in the development of NBC's ad-supported streaming platforms and is credited with generating over $100 billion in advertising sales.
Linda Yaccarino has been an active user of Twitter since 2012 and describes herself in her profile as "inspired by provocative leadership." Given Elon Musk's controversial leadership style on the platform, this could be a positive trait for Yaccarino as his successor. Yaccarino's departure is the latest in a series of high-profile departures from NBC, including former CEO Jeff Shell, who resigned after an investigation into an inappropriate relationship with a colleague.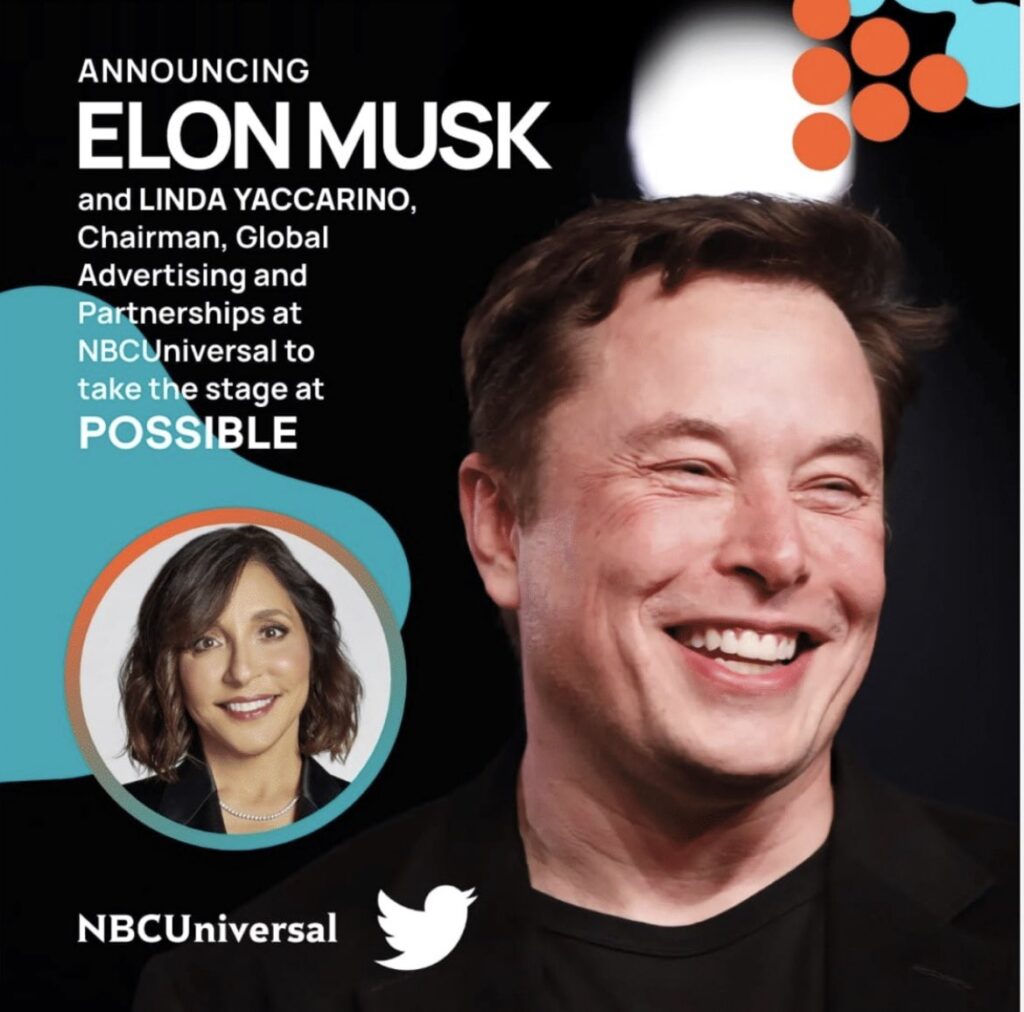 Elon Musk will step down as CEO
After losing a poll in December 2021 that asked whether he should step down as Twitter CEO, Elon Musk promised to find a replacement for the position. The poll received more than 17.5 million votes, with the majority of voters (57.5%) suggesting that he should relinquish the position. Despite his impending departure, Musk is expected to maintain his influence on Twitter by continuing to oversee product and software development, as well as systems operations, as he works towards his goal of turning the platform into an "everything app."
Meanwhile, Musk remains the CEO of Tesla, which has seen a decline in profits due to increased competition in the electric vehicle industry and broad price cuts for their fleet. The company has also faced criticism over its autopilot system and a toxic work environment, and Musk has been accused by shareholders of operating "above the law." Tesla's shares increased following the announcement that Musk had found a replacement for his Twitter CEO position.
source: Quartz
Linda Yaccarino Tweets on taking over as CEO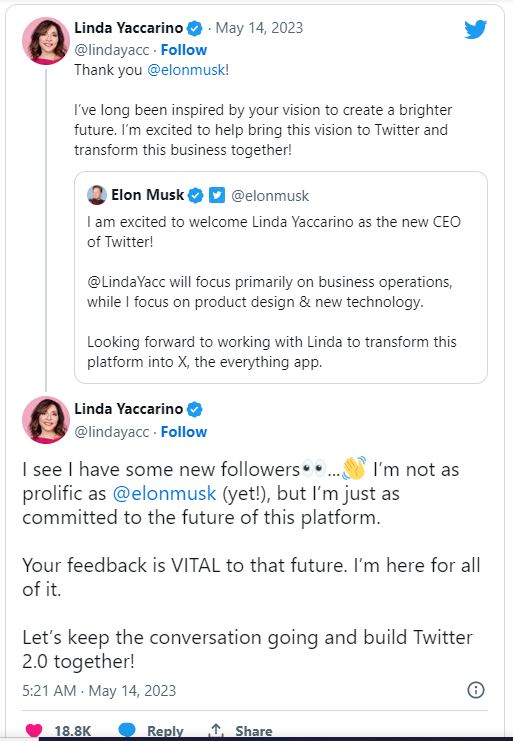 After Elon Musk announced Linda Yaccarino as his successor, some Twitter users expressed concerns about their "freedom of speech" being violated, referring to an interview Yaccarino had with Musk in which she discussed potential initiatives to limit users' speech in order to satisfy advertisers. However, in response to these concerns, Musk stated that he is committed to defending free speech, even if it means losing money.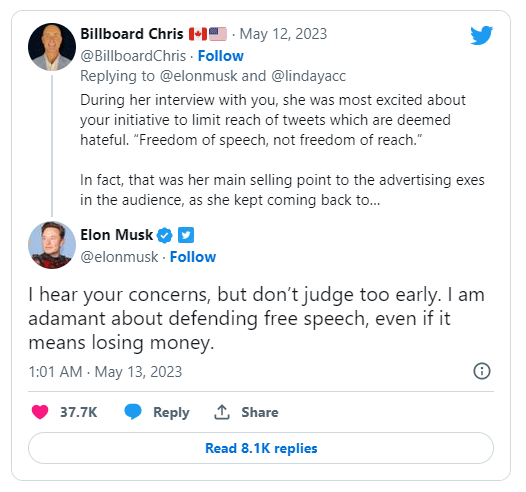 Linda Yaccarino – Bio
Linda Yaccarino, an American media executive, was born on October 24, 1962. She grew up in Deer Park, New York, and has Italian heritage. Yaccarino earned a bachelor's degree in telecommunications from Pennsylvania State University's Donald P. Bellisario College of Communications in 1985.
She worked at Turner Entertainment for 15 years, eventually attaining the position of Executive Vice President and Chief Operating Officer of ad sales. During her tenure, Yaccarino played a pivotal role in the development of innovative advertising and marketing solutions. In October 2011, she joined NBCUniversal, where she led the advertising sales division. Notably, Yaccarino played a significant part in the successful launch of the Peacock streaming service.
In 2014, Yaccarino started working for the Ad Council. Later, in 2018, she was appointed to the President's Council on Sports, Fitness, and Nutrition by President Donald Trump. From January 2021 to June 30, 2022, she served as the chair of the Ad Council's board of directors. During her tenure as chair, Yaccarino collaborated with the Biden administration in 2021 to create a coronavirus vaccine campaign that featured Pope Francis. Additionally, she chaired the World Economic Forum's future of work task force.
Honours & Awards
Twitter Trending As X Corp: Surprise Move To Rebrand