Business
Google Smart Glasses are back with a new look !!
Google Smart Glasses are back with a new look. They are called Google Glass Enterprise Edition 2. Featured above is the official video from Google Glass introducing the Google Glass Enterprise Edition 2.
The Google Glass Enterprise Edition 2 will be available to the public shortly. They are carrying out their final round of testing before the release. Here are excerpts from the Google News release
"Augmented reality (AR) is opening up new ways to interact with the world around us. we recently shared an early AR prototype we've been testing in our labs that puts real-time translation and transcription directly in your line of sight.
we recently shared an early AR prototype we've been testing in our labs that puts real-time translation and transcription directly in your line of sight.
However, testing only in a lab environment has its limitations. So starting next month, we plan to test AR prototypes in the real world."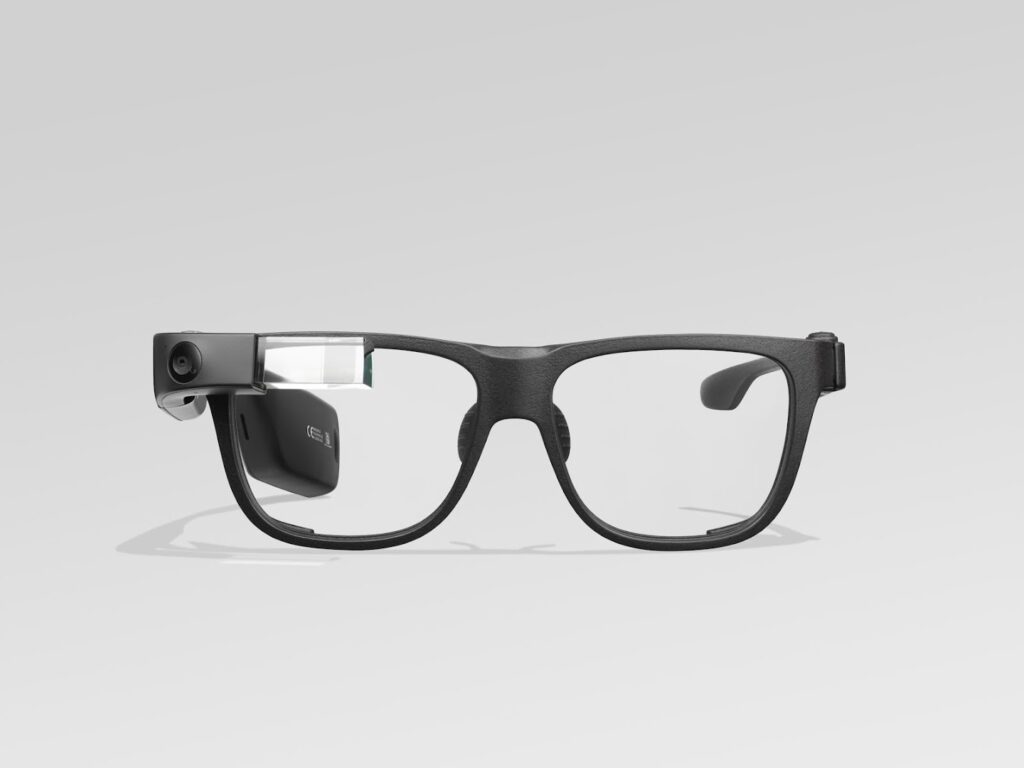 Google Smart Glasses are back – Google Glass Enterprise Edition 2
Google Glass Enterprise Edition 2 is a small, lightweight wearable computer with a transparent display for hands-free work.
First, take a look at Google Glass Enterprise Edition 2 with safety frames by Smith Optics.
Google Glass Enterprise Edition 2 Specifications
The Specifications of Glass Enterprise Edition 2 as provided by Google.
"Glass Enterprise Edition 2 is a wearable device that helps businesses improve the quality of their output, and help their employees work smarter, faster, and safer. It provides hands-on workers and professionals with glanceable, voice-activated assistance that is designed to be worn all day with its comfortable, lightweight profile."
History of Google Glass & the old version
In 2012/2013, Google made its first attempt at smart eyewear with Google Glass, which boasted capabilities such as a projector-driven display, trackpad, camera for taking pictures and videos, bone conduction audio, and voice commands.
The public and business community did not respond well to the previous edition. However, it did fairly well and is still on the market.
Enterprise Edition 2 is still not released to the public. So don't get tricked and buy the older version, which is widely advertised and sold on marketplaces like eBay. A screenshot of the older vision being advertised on eBay is shown below for gullible customers to be aware of.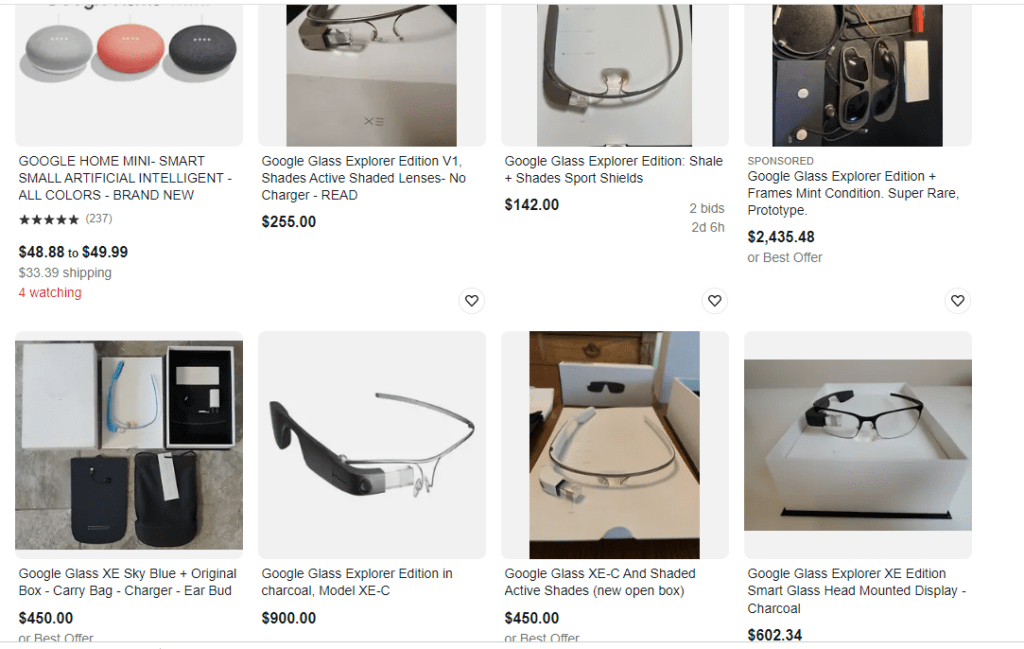 Many things have changed since 2012/13. The new version comes with the latest technology. The development of ultra-wideband (UWB) technology in recent years has been one of the more intriguing ones for smart homes.
in May 2022 at its I/O developer conference. Google demonstrated a pair of augmented reality glasses with Google Translate preloaded in a brief video. The communication barrier between two persons who don't speak or understand the same language is eliminated by the real-time language translation offered by the AR glasses.
Other Smart Glasses in the Market
Xiaomi, Oppo & TCL have also come up with Smart Glasses. Apple is on its way to launching its own Smart Glass. We'll take a quick look at these smart glasses in this blog through videos.
Apart from these the following Smart Glasses also deserve to be mentioned.
Bose Frames – Similar to Bluetooth earphones
Fauna Audion Glasses – Similar to Bose
Ray-Ban Stories – a collaboration between Ray-Ban and Facebook
Snapchat Spectacles
Apple Glasses
As revealed by Appleinsider, although Apple frequently sells items that are quite similar to one another, the iPhone has always been the company's camera, and this isn't likely to change. Apple's offering will enhance the iPhone experience, unlike Google Glass, which looked to want to completely replace the smartphone.
Another expectation is that the content on the glasses will only be visible to the wearer, keeping curious bystanders out of your place of business.
Apple has considered utilizing "Apple Glass" as a form of authentication as well. The headset might identify if the wearer is staring at the device and instantly unlock it rather than using the iPhone's built-in biometrics.
Here is a preview of Apple Glasses
Xiaomi Smart Glass
The Chinese tech giant Xiaomi revealed a pair of smart glasses that it is marketing as a complement to an active lifestyle and pricing at 2,499 yuan (about $370).
The Google Glass-like Mijia Glasses Camera has a single display, two cameras, a 50 MP primary camera, and an 8 MP periscope camera. According to the manufacturer, the periscope camera can zoom up to 15 times and record continuously for 100 minutes.
The smart glasses, according to Sparrow News, have a single Sony Micro OLED with 3,281 ppi and a peak brightness of 3,000 nits. The camera/display upper can either be worn alone or fastened to a pair of glasses frames. Source: Roadtovr
Xiaomi has also come out with a Smart Glass. Here is a preview of Xiaomi Smart Glasses
OPPO Air Glasses
OPPO officially unveiled the OPPO Air Glass at INNO Day 2021. The groundbreaking aR (assisted Reality) device – which is equipped with OPPO self-developed Spark Micro Projector, cutting-edge Micro LED, and a bespoke diffraction optical waveguide display – supports four different user interactions through touch, voice, head movement, and hand motion, allowing users to have faster and easier access to the information they need.
Not to be OPPO also has come out with Air Glasses. Watch Oppo reveal Air Glasses.
TCL Nxt Wear Air Smart Glasses
TCL, a pioneer in display technology and provider of low-cost, high-quality connected experiences, introduces NXTWEAR AIR, its second-generation wearable display spectacles. The new, fashionable glasses offer the utmost in enjoyment and productivity thanks to their great display technology, rich, premium style, 30% lighter weight, and more comfortable fit.
The TCL NXTWEAR AIR's dual 1080p Micro OLED screens provide plenty of detail, bold, rich, and brilliant colors, as well as deep shadows and eerie blacks. Additionally, it produces a room-sized, immersive viewing experience that is comparable to seeing a 140-inch screen from 4 meters away, or being in a theater.
The TCL NXTWEAR AIR offers a cinematic level of clarity thanks to its 47 pixels per degree resolution, and with two speakers, it plays back stereo music for spatial effects. You can attach your own wired or wireless headphones for more private viewing.
Here is a preview of TCL Nxt Wear Air Smart Glasses
Other Trending Stories on this site: Dwindling Fertility Rate, Jaw-Dropping Facts, Mega Food Parks in India – UAE to invest US$2 Billion under the I2U2 initiative
shop now
2 Wigs Only $ 149