Business
GM EV to unseat Tesla in the sales of EVs
GM EV to unseat Tesla in the sales of EVs. General Motors (GM) wants to boost its capability of producing 1 million electric vehicles. . GM anticipates selling more than a million electric vehicles (EVs) worldwide, surpassing Tesla to become the largest seller of EVs in the US by 2025. Thus,
According to CNBC,
"GM has projected it will overtake Tesla as the top U.S.-based seller of electric vehicles by mid-decade. The investments are part of the $35 billion the company has pledged to spend on EVs by 2025."
"We will have the products, the battery cell capacity, and the vehicle-assembly capacity to be the EV leader by mid-decade," GM CEO Mary Barra said in a statement.
Just 25,000 electric vehicles were sold by GM in the US last year, less than a tenth of Tesla's predicted 325,000 sales.
GM EV to unseat Tesla with GM EV vehicles.
At the end of the 1990s, GM produced and sold the EV1, making it an early adopter. The company later launched the 2010 Chevrolet Volt and the 2016 Chevrolet Bolt EV. Regrettably, the EV1 initiative was scrapped since the automobile company couldn't turn a profit, and the majority of the vehicles were destroyed.
General Motors (GM) is now firmly dedicated to an era of electric vehicles of all classes, varieties, and dimensions. The automaker is now claiming that creating and marketing a full lineup of EVs that will eventually be on sale simultaneously will help to increase sales. GM thinks the future "whole portfolio" plan will succeed far better than its previous individual initiatives.
GM EV to unseat Tesla – Upcoming Electric Vehicles from GM
General Motors plans to have 30 new electric vehicles on the road globally by 2025. To start toward this goal, we're proud to introduce the First-Ever All-Electric Chevrolet Silverado. Built from the ground up on the Ultium platform, it features a GM-estimated 400+ miles of range on a full charge†, up to 8,000 lbs. of towing† and an innovative e-trunk.
Chevrolet Silverado

An available GM-estimated 400+ miles of range on a full charge
Up to 510 peak horsepower† and up to 615 lb.-ft. of maximum available torque† with a dual motor configuration
Up to 8,000 lbs. of maximum towing capacity
A max towing capacity of up to 20,000 lbs.† will be available on 2025 model years with a max tow package
Up to 350kW standard DC Fast Charging capability
A 5'11" bed with four 120-volt AC outlets and one 240-volt AC outlet
GM BrightDrop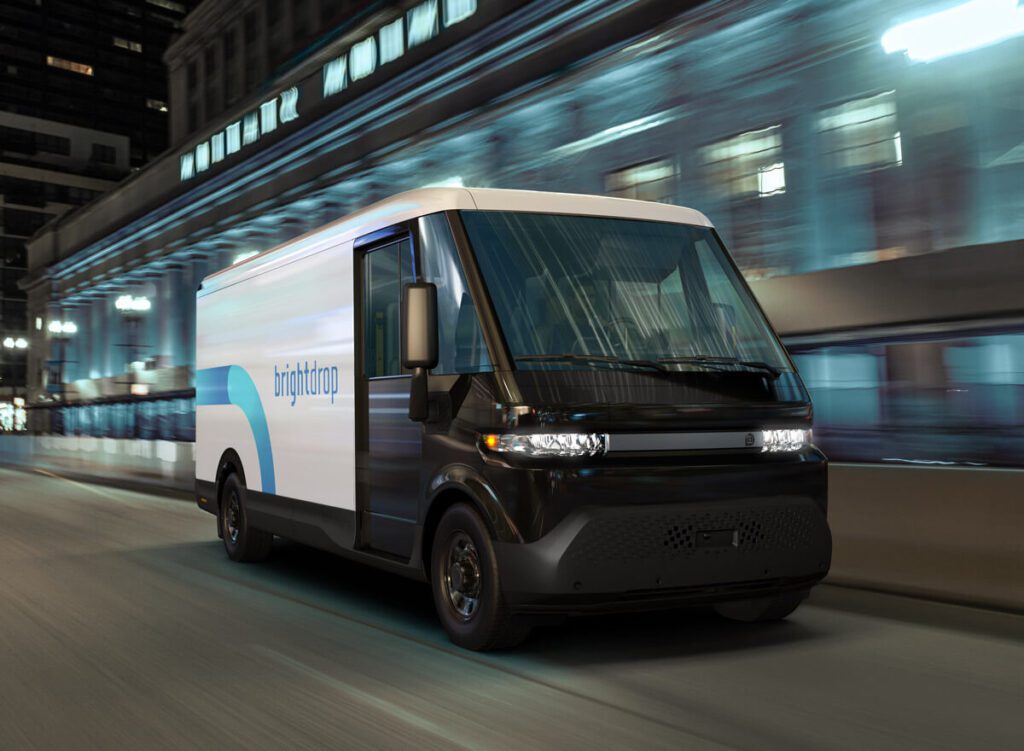 Cargo space Over 600 cu. ft.
Payload up to an estimated 2,200 lbs.
The GM Brightdrop van is purpose-built from the ground up with improved access to cargo and low step-in heights to help streamline the delivery of goods and services that generate long-term operating efficiencies.
Chevrolet will expand its EV lineup in fall 2023 to include the Equinox EV, an affordable, functional compact SUV that will start at an estimated MSRP of around $30,0001 in the U.S. The Equinox EV, which will be launched with both fleet and retail versions, including LT and RS trims, will leverage GM's Ultrium Platform.
"The Equinox has always played an important role for Chevrolet as the second-highest selling brand nameplate," said Steve Hill, Chevrolet vice president. "Providing an affordable EV option in the industry's highest volume segment proves Chevy is going to make EVs available to everyone."
Here is a preview of the 2024 Chevrolet Equinox Ev
"Add some bold accents to your Blazer with the Sport Edition, or go all-in on all-black with the Midnight Edition. Whichever you choose, you're sure to be the center of attention.
Gloss Black grille bar and nameplate
Black front and rear bowtie emblems and mirrors
18″ gloss Black-painted aluminum wheels
Black center caps with Black bowtie emblems
Available on 2LT and 3LT"
Here is a preview of the Chevrolet Chevy Blazer
CHEVROLET BOLT EUV
As reviewed by Car&Driver
"Chevrolet has expanded its electric vehicle lineup for 2022 by introducing the SUV-inspired Bolt EUV (Electric Utility Vehicle), which offers a more spacious cabin than the Bolt hatchback as well as more rugged exterior styling. Under the hood is a 200-hp electric motor that's juiced by a 65.0-kWh battery pack with an EPA-rated 247 miles of driving range per charge.
Its primary competition is EVs such as the Hyundai Kona Electric, Ford Mustang Mach-E, and Tesla Model Y. Chevy is banking on the Bolt EUV's distinct styling, affordable starting price, and available semi-autonomous driving system to rise to the top of the burgeoning EV market segment."
Here is a preview of the Bolt EUV by Chevrolet
CADILLAC LYRIQ
As reviewed by Car&Driver
"Cadillac's first entrant into the luxury electric vehicle market is the Lyriq SUV, which offers sharp styling and a modern cabin. Both single-motor rear-wheel drive and dual-motor all-wheel drive models will be offered, the former offering up to 312 miles of range per charge. The Lyriq has been designed from the ground up to ride on General Motors' new scalable battery architecture which allows for DC fast charging as well as standard in-home connections for refilling the battery. Instead of going for outright performance, the Lyriq's road manners are more focused on comfort, quietness, and luxury. The cabin is tastefully designed and spacious for passengers, but the Lyriq's cargo space isn't as generous as rival SUVs."
Here is a preview of the Cadillac Lyriq from GM
GMC HUMMER EV EDITION 1
GREAT INDOORS
Like everything GMC HUMMER EV, the cabins were designed for a unique combination of innovation and convenience. So no matter how rugged the great outdoors gets, inside GMC HUMMER EV Pickup and SUV, you'll enjoy every moment.
OFF-ROAD DOMINANCE
Elements of the HUMMER EV PICKUP and the HUMMER EV SUV are engineered to overcome tough off-pavement obstacles.
REVOLUTIONARY DESIGN
HUMMER EV design elements are infused with signature cues, from distinctive front lighting, a low-turret roof profile, an upright windshield, and unique taillamps
Here is a preview of the GMC Hummer EV SUV
GM EV Pricing Strategy
Chevrolet Equinox EV will cost less than $30,000 when it launches in 2024. The Bolt EV, with a starting price of $31,500, is GM's most affordable electric vehicle. The Model 3, the entry-level EV from Tesla, costs $46,990 and is always going up in price.
Silverado EV Work Truck costs $39,900.
With starting prices of $58,795 and $79,995, respectively, the Cadillac Lyriq and GMC Hummer EV are targeted toward the luxury market.
GM EV Partnership with Honda
However, because of the collaboration with Honda, GM electric vehicles will become genuinely affordable in the future. However, those more affordable versions, such as tiny crossovers, are scheduled to start selling in 2027.
GM hopes to unseat Tesla in the sales of electric vehicles with these strategies.
Sources: GM, CNBC, Insideeves
Also visit our other trending news COVID – 19 Omicron Vaccine from Pfizer and Moderna, Saudi Wealth Fund's £653 million Investment in Aston Martin.
shop now
2 Wigs Only $ 149