Business
Fortune 500 – 2022 – An Insight
Fortune 500 – 2022 – An Insight. The Fortune Global 500 list for 2022 has been released. It ranks the top firms in the world based on revenue.
The Fortune 500 is considered a microcosm of the entire business environment because it ranks among the 500 largest corporations by revenue.
Fortune 500 – 2022 – Highlights
Fortune 500 – 2022 – An Insight
Walmart claims the top spot for the ninth consecutive year, and for the 17th time since 1995.
With $105 billion in earnings, Saudi Aramco (No. 6) reclaims the title of the most profitable corporation in the world.
China (including Hong Kong) contains 136 firms, which is the most for a country on the list.
The US, which has 124, is in second place; Japan, which has 47, is in third.
The $37.8 trillion in revenue generated by Fortune Global 500 companies accounted for more than one-third of global GDP.
A record $3.1 trillion in profits were made by Fortune 500 companies.
The revenue threshold for the 2022 FORTUNE 500 list was $6.4 billion
entering the list meant bringing in at least $29 billion in the fiscal year that ended on or before March 31
69.6 million people are employed by 2022 Fortune 500 Companies. They are located in 229 cities and 33 countries. Source: PRNewswire/Fortune Media
Fortune 500 – 2022 – The Top 10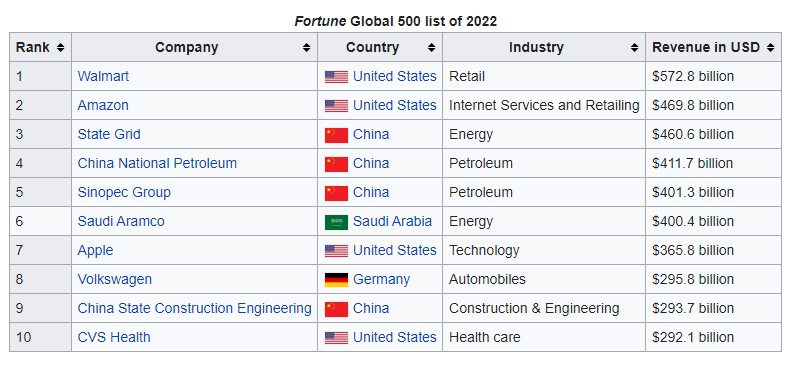 Of the 2022 rankings, FORTUNE List Editor Scott DeCarlo says, "A rebound from the worst depths of the pandemic created a huge tailwind for the world's largest companies by revenue. Aggregate sales and profits hit record levels in the fiscal year 2021 for the Fortune Global 500. The Global 500 is the ultimate scorecard for business success and the companies face another big test navigating several global economic headwinds in 2022."
Fortune 500 – 2022 Companies by Country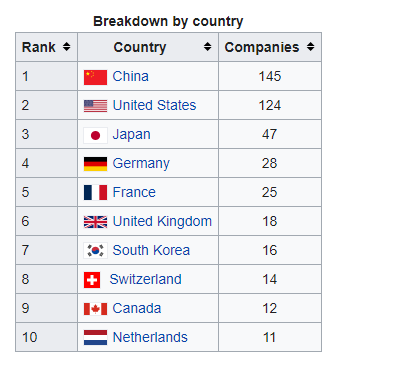 Indian Companies on Fortune 500
Nine Indian public and private enterprises have been named to the Fortune Global 500 list for 2022.
The highest-ranked firm in India on the Fortune 500 Global List 2022 is Life Insurance Corporation of India, which is listed in position 98.
At position 104, Reliance Industries is India's top-ranked private sector company on the Fortune 500 list.
The List of Indian Companies on the list
1. Life Insurance Corporation -98
2. Reliance Industries Limited -104
3. Indian Oil Corporation – 142nd
4. Oil and Natural Gas Corporation – 190th
5. State Bank of India -236th position
6. Bharat Petroleum -295th position
7. Tata Motors– 370
8. Tata Steel- 435
9. Rajesh Exports- 437
21 businesses made their debut this year on the Fortune Global 500 list.
Asia dominated the list of first-timers, with 12 companies, while Europe had five. The U.S. had only two new additions: used-car seller CarMax and conglomerate Danaher
Visit other Trending News on this site: Who is the leader in Cloud Computing? Largest Lottery Jackpot in 2022 – US$ 1.337 Billion Won