Business
Everything you need to know about Crypto
Everything you need to know about Crypto. Investing in cryptocurrencies has become a fad these days. If you are on social media, you will be enticed by many to invest in crypto. Some may directly ask you to invest in cryptocurrency, while others will approach you by promoting investment opportunities.
The rapid rise of legitimate cryptocurrency businesses has created a dark side to cryptocurrencies, facilitating get-rich-quick schemes and scams. With these scams coming to light, regulators are reporting that a consumer has lost more than $80 million in cryptocurrency investment scams between October 2020 and March 2021. Listened and paid attention.
These regulators have begun to protect financial markets by ensuring they are safe from fraud and manipulation. Unfortunately, the challenge of regulating cryptocurrencies has faced more setbacks than successes.
So, here we bring you an insight into everything you need to know about crypto before you invest.
What is Cryptocurrency
A cryptocurrency is a digital or virtual currency that is protected by cryptography, making counterfeiting or double-spending nearly impossible. Many cryptocurrencies are decentralized networks built on blockchain technology, a distributed ledger enforced by a network of computers.
The fact that cryptocurrencies are generally not issued by any central authority makes them theoretically immune to government interference or manipulation.
A cryptocurrency is a type of digital asset based on a network spanning many computers. This decentralized structure allows it to exist outside the control of any government or central authority. Some experts believe blockchain and related technologies will disrupt many industries, including finance and law. Source: Investopedia
The advantages of cryptocurrencies include cheaper and faster money transfers and a decentralized system that does not collapse at a single point of failure. (unless a scam like Squid Crypto which collapsed overnight)
Disadvantages of cryptocurrencies include price volatility and use for criminal activity
How is Crypto Currency created?
Everything you need to know about Crypto. Mining is the process by which cryptocurrency units are created. The process of validating cryptocurrency transactions and creating new cryptocurrency units is known as mining. Mining is a process that employs powerful computer hardware and software to solve complex mathematical problems in order to generate coins.
What is the difference between Crypto Coin, Crypto Token, and Cryptocurrency
Many people use the terms "crypto coin," "crypto token," and "cryptocurrency" interchangeably, but they are not the same thing. Although coins and tokens use distributed ledger technology (also known as blockchain technology), there are some key differences between coins and tokens.

Crypto coins are a type of digital currency, often on a blockchain, whose primary purpose is to store value and act as a medium of exchange.

Crypto tokens are digital assets built (using smart contracts) on top of existing blockchains to represent physical objects, grant access to platform-specific services and features, can perform various functions.

Each Blockchain has its own coin. Bitcoin blockchain coin is BTC. Ethereum blockchain has ETH. the Litecoin blockchain uses LTC. These crypto coins are primarily used as a store of value and act as a medium of exchange just like traditional currencies. For this reason, crypto coins are also known as cryptocurrencies. Source: Crypto.com
Is Cryptocurrencies Legal?
Everything you need to know about Crypto. It is difficult to discuss legal status in different financial jurisdictions around the world
El Salvador was the only country in the world to allow Bitcoin as legal tender for currency trading
The Payment Services Act of Japan defines Bitcoin as legal property.
China prohibits the exchange and mining of cryptocurrencies within its borders.
India Is Reportedly Forming A Framework For Cryptocurrencies
Cryptocurrencies are legal in European Union
Although cryptocurrencies are considered a form of money, the U.S. Internal Revenue Service (IRS) treats them as financial assets or property of the IRS. Source: Investopedia
How many Cryptocurrencies are there in 2022?
The idea of ​​anonymous cryptographic electronic money has long been postulated, but it wasn't until 2009 that Bitcoin, the decentralized cryptocurrency, was first created.
At the end of 2013, there were over 50 different cryptocurrencies. And by the end of 2014, that number had grown nearly tenfold to over 500.
There are currently over 20,000 cryptocurrencies in circulation.
What are the most popular Cryptocurrencies?
1. Bitcoin (BTC)
2. Ethereum (ETH)
3. Tether (USDT)
4. U.S. Dollar Coin (USDC)
5. Binance Coin (BNB)
6. XRP (XRP)
7. Binance USD (BUSD)
8. Cardano (ADA)
9. Solana (SOL)
10. Dogecoin (DOGE)
Source: Forbes
Crypto Market Price Live on 11/10/2022
Prices of the Leading Crypto Prices and their Market Capitalisation as of 11/10/2022 are shown below.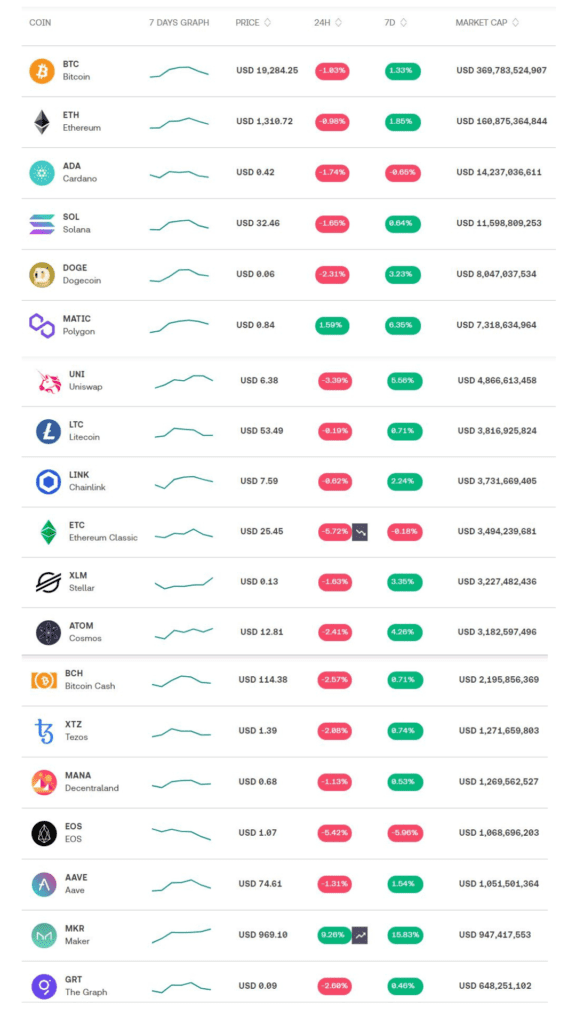 Investing in Crypto Currency
If you use social media, surf the web, or watch YouTube, you will notice a number of promotions for various cryptocurrency investments. It's all the rage these days, with nearly every Tom, Dick, and Harry pushing for crypto investments.
So here is everything you need to know about Crypto. Exercise extreme caution when investing in these so-called crypto markets.
It is an unregulated market, with thousands of cryptocurrencies and exchanges popping up every day. Moreover, the value of cryptocurrencies is downward.
In September, Forbes reported:
"Cryptocurrencies have fallen sharply in recent months as inflation has risen. Bitcoin (BTC) has lost about 60% of its value since the beginning of the year and is currently hovering around $19,000. Ethereum (ETH) price has fallen more than 64% year-to-date, trading just above $1,300. This is well below Ethereum's all-time high of around $4,900 in November 2021."
Find below the excerpt from
Forbes Insider
on Crypto.
Early investors in Bitcoin, Ethereum, and other cryptocurrencies have made a killing. But the cryptocurrency market has a long history of extreme volatility, which is not what investors are looking for in uncertain market conditions.
Bitcoin alone has had several deep pullbacks of more than 80% throughout its history, most recently in 2018.
The original crypto is not tied to physical assets or intellectual property and doesn't generate cash flow or pay a dividend or interest to investors. Experts say that BTC prices are connected exclusively to supply and demand, making it difficult to assess their fundamental value.
Berkshire Hathaway CEO and investing legend Warren Buffett once discussed Bitcoin's shortcomings at a Berkshire annual investor meeting, telling investors he wouldn't pay $25 for "all of the Bitcoin in the world."
"Whether it goes up or down in the next year or five years or 10 years, I don't know. But one thing I'm sure of is that it doesn't multiply, it doesn't produce anything," he said.
Also, Read these articles appearing on our site for more insight.
The Crypto Crash: Latest News on Crypto
60% Fall of Crypto Currency in 2022 – A word of advice for potential Investors in Crypto
Is Celsius a "Ponzi scheme" Crypto Lender Celsius has been accused of running a "Ponzi scheme"
Crypto Vauld Halts Operations – Singapore-based Crypto trading platform crashed.
Another Major Scam – Crypto Currency Squid
According to the cryptocurrency's website, it promised investors that they would be invited to participate in a virtual game inspired by the popular Netflix series, in which people could win prizes.
Squid, a digital currency, was launched in late October 2021 and quickly skyrocketed in value. According to transaction details on a publicly accessible cryptocurrency digital wallet, it reached more than $2,860 per token before losing all of its value after the project's unknown creators appeared to cash out Squid tokens worth more than $3 million.
Since then, the project's website, SquidGame.cash, has vanished, as have its social media profiles.
Find an exclusive on Squid Crypto as reported by
NBC News
John Lee couldn't believe his luck. The $1,000 investment he made in Squid, a new cryptocurrency project inspired by the dystopian Netflix drama "Squid Game," had skyrocketed in price.
But within five minutes Monday, his money disappeared
.
"I watched Squid fall down in a matter of minutes," Lee, 30, from Manila in the Philippines, told NBC News. "There was no way to withdraw my funds intact."
FTC Warning – Scammers Cashing in on Crypto Craze
An Exclusive Report by the Federal Trade Commission of the USA warns the general public to be aware of the increasing Crypto Scams. Excerpts from the report are appended below.
From Super Bowl ads to Bitcoin ATMs, cryptocurrency seems to be everywhere lately. Although it's yet to become a mainstream payment method, reports to the FTC show it's an alarmingly common method for scammers to get people's money. Since the start of 2021, more than 46,000 people have reported losing over $1 billion in crypto to scams – that's about one out of every four dollars reported lost, more than any other payment method. The median individual reported loss? A whopping $2,600. The top cryptocurrencies people said they used to pay scammers were Bitcoin (70%), Tether (10%), and Ether (9%)
Crypto has several features that are attractive to scammers, which may help to explain why the reported losses in 2021 were nearly sixty times what they were in 2018. There's no bank or other centralized authority to flag suspicious transactions and attempt to stop fraud before it happens. Crypto transfers can't be reversed – once the money's gone, there's no getting it back. And most people are still unfamiliar with how crypto works. These considerations are not unique to crypto transactions, but they all play into the hands of scammers
Social Media and Crypto – a combination of fraud
Reports point to social media and crypto as a combustible combination for fraud. Nearly half the people who reported losing crypto to a scam since 2021 said it started with an ad, post, or message on a social media platform.
During this period, nearly four out of every ten dollars reported lost to a fraud originating on social media was lost in crypto, far more than any other payment method. The top platforms identified in these reports were Instagram (32%), Facebook (26%), WhatsApp (9%), and Telegram (7%)
Of the reported crypto fraud losses that began on social media, most are investment scams. Indeed, since 2021, $575 million of all crypto fraud losses reported to the FTC were about bogus investment opportunities, far more than any other fraud type. The stories people share about these scams describe a perfect storm: false promises of easy money paired with people's limited crypto understanding and experience. Investment scammers claim they can quickly and easily get huge returns for investors. But those crypto "investments" go straight to a scammer's wallet. People report that investment websites and apps let them track the growth of their crypto, but it's all fake. Some people report making a small "test" withdrawal – just enough to convince them it's safe to go all in. When they really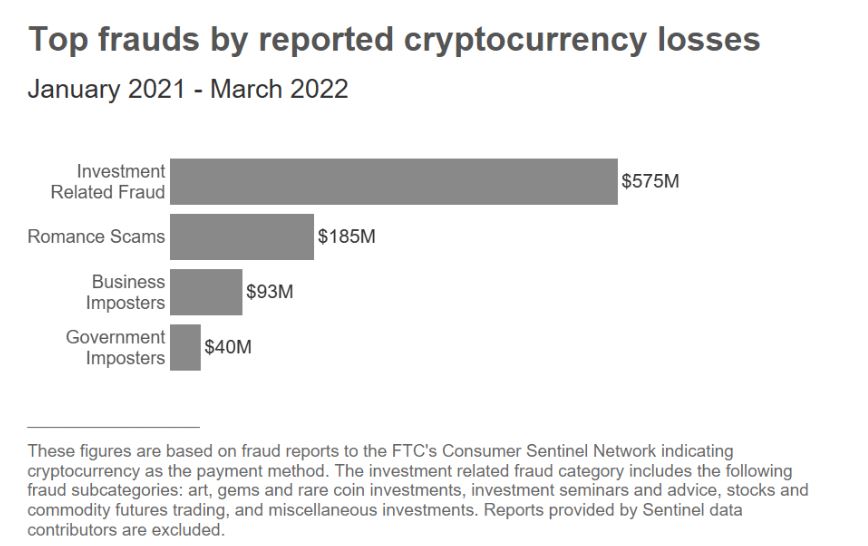 Business and government impersonation scams are next with $133 million in reported crypto losses since 2021. These scams can start with a text about a supposedly unauthorized Amazon purchase, or an alarming online pop-up made to look like a security alert from Microsoft. From there, people are reportedly told the fraud is extensive and their money is at risk. The scammers may even get the "bank" on the line to back up the story. (Pro tip: it's not the bank.) In another twist, scammers impersonating border patrol agents have reportedly told people their accounts will be frozen as part of a drug trafficking investigation. These scammers tell people the only way to protect their money is to put it in crypto: people report that these "agents" direct them to take out cash and feed it into a crypto ATM. The "agent" then sends a QR code and says to hold it up to the ATM camera. But that QR code is embedded with the scammer's wallet address. Once the machine scans it, their cash is gone.
Romance scams are a distant second to investment scams, with $185 million in reported cryptocurrency losses since 2021 – that's nearly one in every three dollars reported lost to a romance scam during this period. And many have an investment twist too. These keyboard Casanovas reportedly dazzle people with their supposed wealth and sophistication. Before long, they casually offer tips on getting started with crypto investing and help with making investments. People who take them up on the offer report that what they really got was a tutorial on sending crypto to a scammer. The median individual reported the crypto loss to romance scammers is an astounding $10,000.

We hope this article was helpful in everything you need to know about Crypto.
Visit more Trending Articles on this site: Celebrity Kim Kardashian and her massive $ 1.2 Million Fine!