Business
Elon Musk Twitter on the Highest World Cup Tweets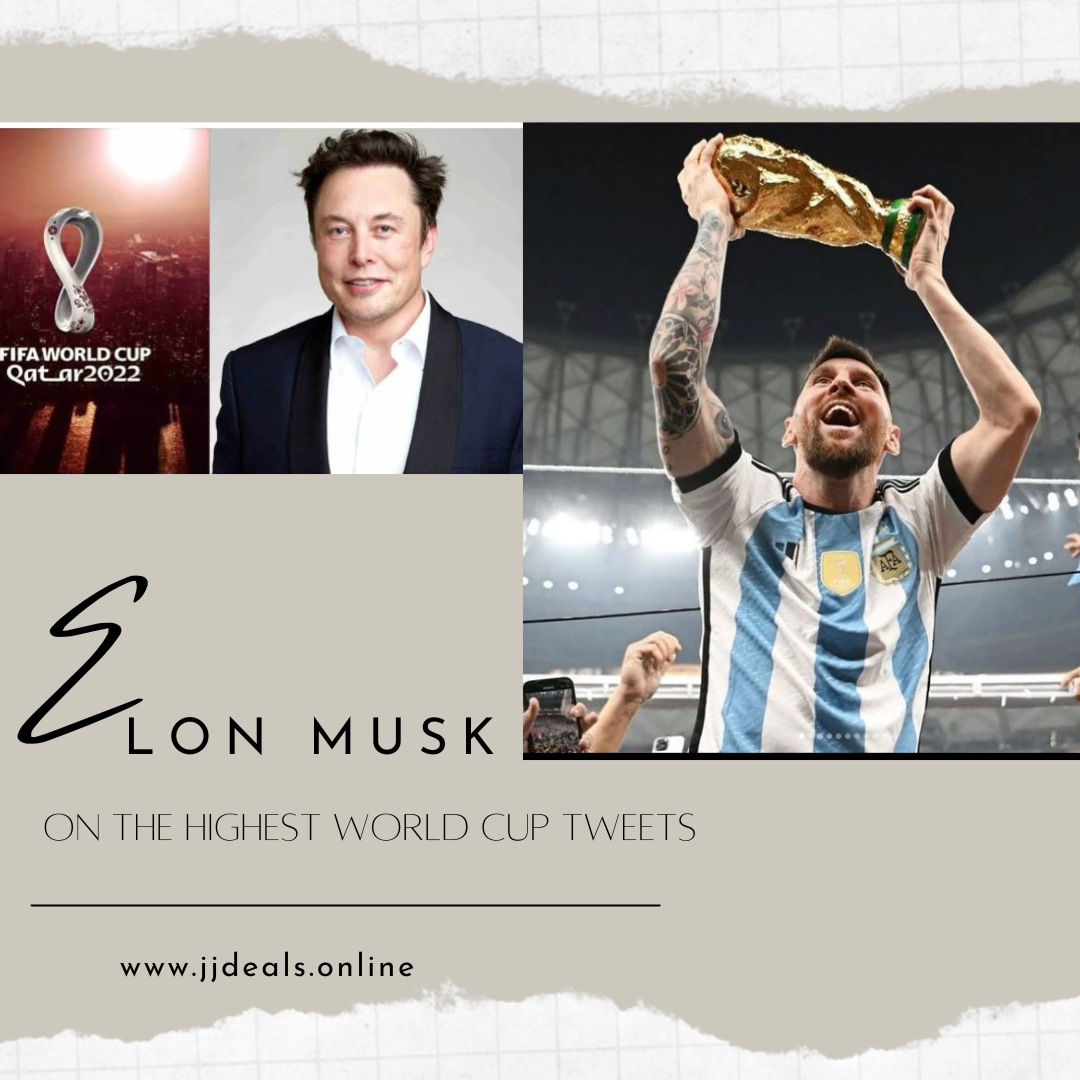 Elon Musk Twitter on the Highest World Cup Tweets.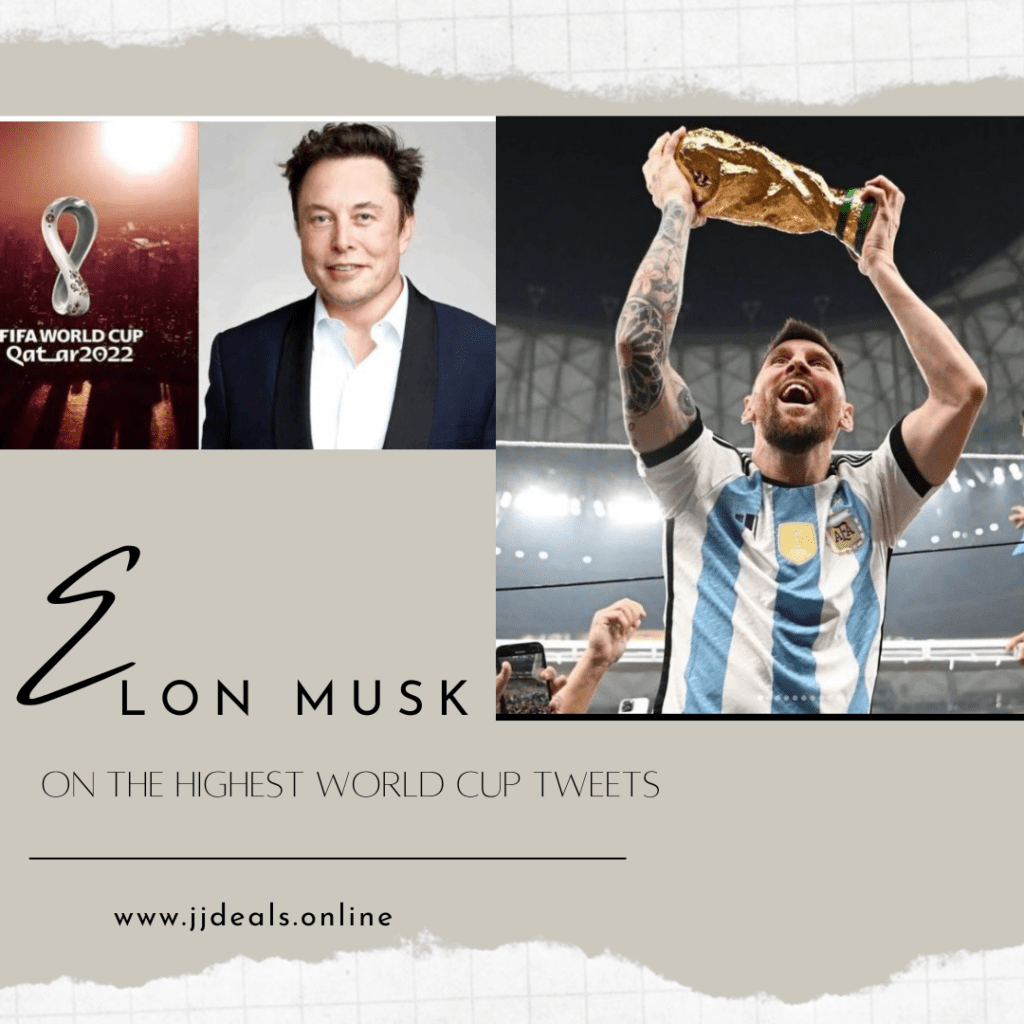 Elon Musk, CEO of Tesla, claimed that during the finals in Qatar, the social media behemoth received over 24,000 tweets per second.
Elon Musk, the new CEO of Twitter, stated in a tweet that when Kylian Mbappe scored the second goal for France to tie Argentina's score, the microblogging platform experienced 24,400 tweets per second, which was the "most ever for World Cup!"
Sundar Pichai on Google Search
Sundar Pichai, CEO of Google, also tweeted, "Search recorded its highest ever traffic in 25 years during the final of the #FIFAWorldCup, it was as if the entire world was searching about one thing!"
Mark Zuckerburg on Facebook & Instagram
Mark Zuckerberg, CEO of Facebook recently posted on Facebook that "Leo Messi's World Cup post is now the most liked in Instagram history. During the final, WhatsApp also hit a new high of 25 million messages per second."
Lionel Messi's Social Media Records
Lionel Messi set a number of records on the field with a brace in Argentina's World Cup final victory over France in Qatar on Sunday. He's also breaking records off the field. His post on Instagram following the World Cup victory, titled "CHAMPIONS OF THE WORLD!!!!!!!," received over 43 million likes. It is a sportsperson's most liked Instagram post. Messi's post broke the record set by Cristiano Ronaldo of Portugal, who posted a video of himself playing chess with Messi and received 41.9 million likes as of Monday evening.
Messi wrote in the post: "I can't believe how many times I dreamed it, how much I desired it, that I still don't fall…… Thank you so much to my family, everyone who has supported me, and everyone who has believed in us. We demonstrate once more that when Argentinians fight together and work together, we can achieve our goals. The merit of this group, which is superior to individuals, is the strength of all fighting for the same dream, which is shared by all Argentinians… We made it!!! LET'S GO, ARGENTINA!!!!! We'll be seeing each other soon." Source: NDTV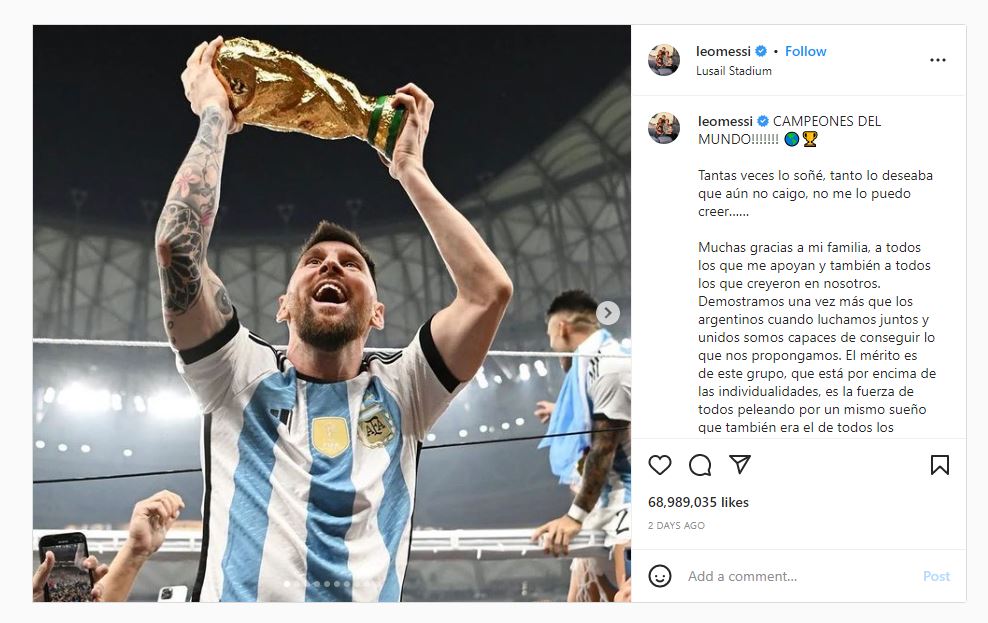 Visit other trending News on this site: Bicycle Hearse for an Unusually Simple Green Funeral
Affiliate Marketer's Blueprint: From Zero to Profit in 30 Days