Business
Bicycle Hearse for an Unusually Simple Green Funeral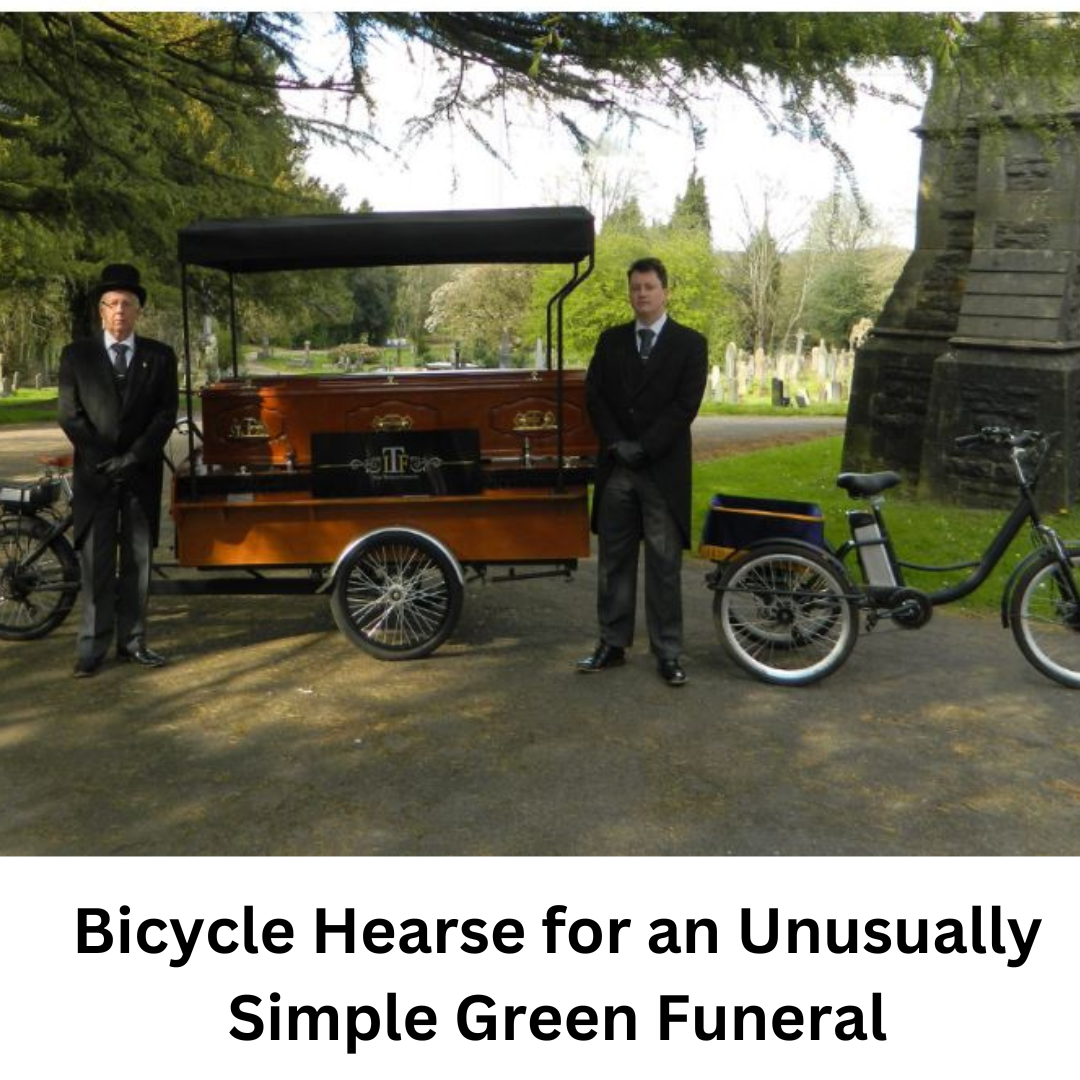 Bicycle hearse for an unusually simple green funeral. Undertaker Isabelle Plumereau cycled around Paris with a bicycle hearse. She expects to soon introduce a new "green" way of carrying out funerals in the French capital.
Bicycle Hearse for a Green Funeral in Paris
Quieter, more environmentally conscious burials are a small but growing trend, according to Plumereau, and transporting the coffin on a specially designed cargo bike can give a funeral a more down-to-earth feel.
While bicycle hearses are already available in a few other countries, including Switzerland and Denmark, the 51-year-old undertaker believes hers would be the first in France.
"For me, it makes sense to combine the bicycle and the hearse because, when we talk about bicycles in Paris, we are talking about soft mobility and if there is one day when we need softness it's the day when we accompany someone we love to their final resting place," Plumereau said. Source: Reuters
Bicycle Hearse – The Corbicyclette
The Corbicyclette, a name derived from the French words for bicycle and hearse, was created by Isabelle Plumereau, the founder of funeral directors Le Ciel & La Terre, and was designed and manufactured by Carapate-Design in Nantes.
"I had hoped to make this idea a reality for several years," Plumereau said. "We needed a bike large and powerful enough to carry this valuable load, as well as a partner to fit it out by combining strength, lightness, and stability with a soft, pretty, and comfortable design." I fell in love with the Carapate Aventure caravans, which were designed ethically and responsibly by Fabien Denis and Jean-Marie Reymond. They were immediately pumped about the challenge!"
Because funeral services have a significant environmental impact, any new options that provide a more sustainable approach are welcome.
The hearse is anchored to the platform of an electrically assisted steel three-wheeled bicycle, and the airtight compartment intended to house the coffin is made of solid, light, natural, and environmentally friendly marine plywood, according to Le Ciel & La Terre.
The Corbicyclette is a soft mobility option that is quiet and emits no harmful fumes or greenhouse gases. Furthermore, it is well-suited for the city center of Paris, which is being redesigned to make it more difficult for motorized vehicles and easier for active transportation such as cargo bikes. Source: momentum mag
Cycle Hearse UK
Cycle Hearse UK is a company in UK that provides Cycle Hearse for funerals.
Excerpts from their website,
"Our cycle hearse can cover over 10 miles on a single journey, meaning that there is the possibility to go via the deceased's home, church and then onto the crematorium/cemetery. We provide a rider who will be adorned in traditional funeral wear (Black jacket, waistcoat and pinstripe trousers) and a driver's cap, who will be willing to go the extra mile for the family."
"To make the funeral extra special, we offer a lead trike for the Funeral Director to ride, meaning the tradition of the Funeral Director leading the coffin can still be followed. We just advise that the funeral director sets aside a little time to practice!"
Bicycle Hearse Switzerland
An undertaker in Bern is offering cargo bike transportation for a less funereal and more environmentally conscious last ride. In May 2021, Aurora Bestattungen began using its pedal-powered hearse.
The 'Bestattervelo,' or funeral bike, is a customized Urban Arrow cargo e-bike with a semi-open top that protects coffins without hiding them, and the bike's electric assist makes for an easy ride. Source: Trendwatching
Read more trending news on this site:
Vertu Phone – New Luxury Web3 Model is Priced at $41,000
Click Link Below for Trending Deals on Eyewear
Vooglam Offical Website