Business
Electronic Funds Transfer – Best and Safest way for International Transfer (2022)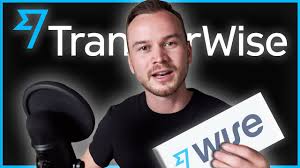 Electronic Funds Transfer – Best and Safest way for International Transfer (2022). According to World Bank data, Americans annually send a sizable $74.6 billion to people living in low- and middle-income nations. According to the World Bank, transaction costs for international money transfers average 6%, so if you send $1,000 to a friend or relative abroad or in your family's country of origin, it might cost you $60. Source: Forbes
Introduction – Why do you require a money transfer
You will need to transfer money overseas for many reasons. Some of the most common reasons for International money transfers are
Purchasing goods or services from overseas
Pay for bills overseas
Send money to family or friends overseas
Paying for Holidays and Accommodation overseas
Paying tuition fees for your child who is studying abroad
Making investments overseas
buying property overseas
Electronic Funds Transfer – Ways of sending money abroad
You could either use the traditional way, of sending money through your bank or open an account with various specialist companies to send money.
The banking system is time-consuming and can have higher costs as charges. Specialist money transfer companies are faster and will charge you less than banks.
So, If you are planning to transfer money to other countries, then you should choose a reliable and trusted international money-transfer service because there are so many companies that are offering this service.
Electronic Funds Transfer – What are the money transfer companies?
There are many specialist money transfer companies that offer cheaper ways to send money abroad. Their service is cheaper and transfers are mostly instant. Such services are available online and you can register and set up an account. You will be required to submit a few identity verification documents during the registration process. This documentation is required for fraud prevention.
Some of the most popular wire transfer companies are listed below.
Western Union
Wise -formerly transferwise
Paypal
Remitly
PAYSEND
TransferGo
Azimo
Skrill
Ria
Moneygram
Worldremit
Zoom
OFX
What should you consider when choosing a remittance service
The service provider should be able to send payments overseas and allow to open a multi-currency account to hold various currencies
Their pricing should be transparent. Make sure that all costs are clearly shown before confirming the transaction. Make sure they don't have any markups added to the mid-market exchange rate.
They should use a Modern approach to moving money internationally rather than relying on the outdated SWIFT network favored by the banks.
Check the customer base and transaction amounts. With at least 10 million customers, sending over $5 billion a month is a good benchmark.
Check whether you can get an International Debit Card to spend and withdraw in any country.
The service should also be Apple and Google Pay compatible so that you can use a mobile app.
What is the best money transfer service in 2022
Certainly, it is a million-dollar question, as opinions may vary. However, from this writer's perspective, it is Wise who stands tall. This opinion has been derived after complete research of various facts which are listed below.
According to Monito ranking Wise is the number one money transfer service. Find the Monito chart below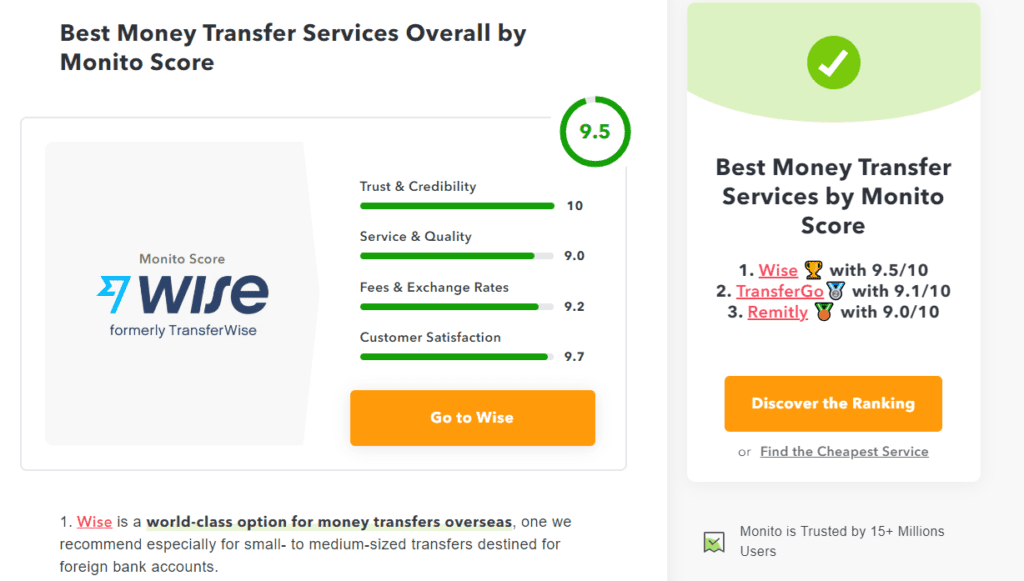 According to the well-respected Forbes study, "Wise (formerly Transferwise) does online international money transfers for consumers at a 0.7% average fee, compared with 3-4% from U.S. banks, by matching currency orders within a country. While Western Union's brick-and-mortar-heavy business shrank in 2020 due to Covid, Wise's revenue grew 70%, hitting $420 million. Its debit card can be used to hold funds, transfer money and make purchases in 55 different currencies."
It is funded by Sir Richard Branson, IVP, Andreessen Horowitz, and others. it has a customer base exceeding 10 Million.
Unlike banks and other money transfer providers, Wise doesn't charge an exchange-rate markup on its transfers.
For people who want to send money internationally at low costs, Wise is the ideal choice. Users also rate Wise's iOS and Android mobile apps highly.
Conclusion
International Money Transfer is almost used by everyone trying to purchase something online from abroad, businessmen, online workers, freelancers, etc. International Money Transfer service providers are the ideal choice over conventional banks whose charges are high and the time taken can be longer.
You need to consider many factors such as Trust and Credibility, Service & Quality, Fees & Exchange Rates, and Customer Satisfaction when choosing a Money Transfer Service.
The best Money Transfer Service in 2022 is Wise. Try Wise for your next International Money Transfer and you will be amazed at their service. You can also open a multicurrency account and get an International Shopping Debit card. Try them out with the link below.
Wise International Money Transfer
Other Trending Articles on this site: The Crypto Crash: Latest News on Crypto
shop now
Up To 20% Off Directly, Happy Easter!