Business
DIDI – ChinaTaxi Giant fined a Mammoth US$ 1.2 Billion
DIDI – ChinaTaxi Giant fined a Mammoth US$ 1.2 Billion. China's internet watchdog fined ride-hailing taxi giant Didi for 16 regulatory violations.
As per Global Times, it had committed 16 violations concerning the unauthorized acquisition of data from drivers and passengers.
Offenses By Didi
The regulator found 16 violations, including
The improper gathering of 107 million instances of passenger facial recognition data.
An unauthorized analysis of 53.976 billion sets of passenger travel intention data.
gathering information on users' ages and professions as well as their short messages and photos.
significant dangers to both national cyber security and data security.
Additionally, the regulator fined Didi's President, Liu Qing, and CEO Cheng Wei One Million yuan each. (App. US$ 150,000 each)
Didi said in a statement on its Weibo account that it recognized the CAC's ruling and will carry out an extensive internal investigation and take corrective action.
About Didi
Will Cheng, the CEO of Didi and a former employee of Alibaba, launched the company in Beijing in 2012. President and co-founder Jean Liu joined in 2014.
In China, ride-hailing is its primary industry. It conducts business in 15 foreign markets, including South Africa, Japan, Australia, and Russia.
Additionally, it offers logistics, community group buying, and meal delivery services.
It has 15 Million active drivers globally. It is almost 3 times more than Uber, which is operating in about 70 countries with 5 Million active drivers.
Autonomous Driving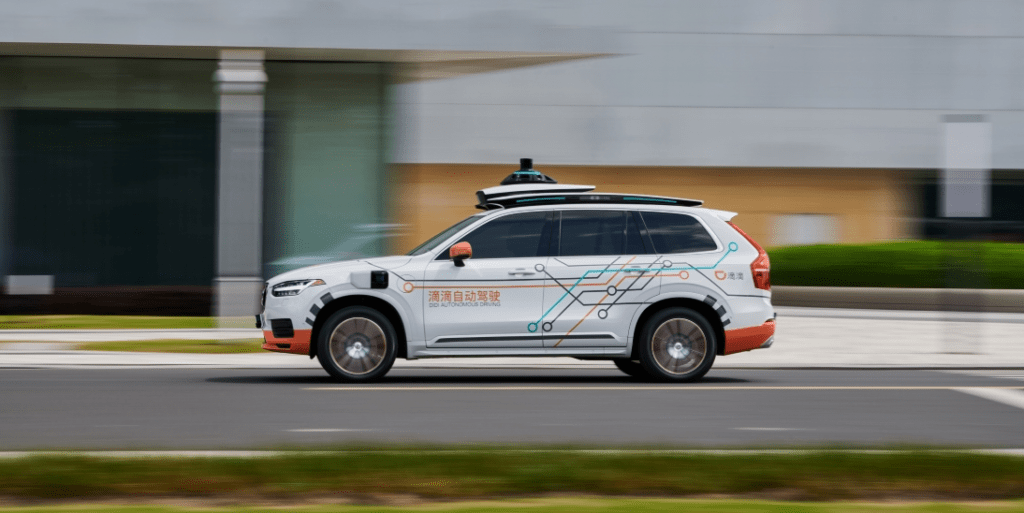 It is testing Autonomous Driving Cars.
As per Didi's Website, Didiglobal
"DiDi Autonomous Driving, the self-driving technology arm of Didi Chuxing, the world's leading mobile technology platform, and Volvo Cars, a global leader in automotive safety, have signed a strategic collaboration agreement on autonomous vehicles for its self-driving test fleet.
Volvo Cars will provide them with XC90 cars equipped with necessary backup systems for functions such as steering and braking, and collaborate with DiDi Autonomous Driving to integrate the additional software and hardware required to make it fully ready for autonomous drive.
The XC90 cars will be the first to integrate DiDi Gemini, DiDi Autonomous Driving's new self-driving hardware platform, and are intended to be deployed for ride-hailing in its network in the future"
In order to establish a free and open global information and research network, DiDi Labs was established by Didi Global in Mountain View, California.
DIDI Lab Research Areas
As per DidiGlobal web, DiDi Autonomous Driving has acquired public road testing licenses in Beijing, Shanghai, Suzhou, and California, along with one of the first Intelligent Connected Vehicle Demonstration Application Licenses in China that were issued by Shanghai.
DIDI's U.S. IPO
In June 2021, Didi Global Inc. raised $4.4 billion in its U.S. IPO. The IPO was oversubscribed many times before the closing date. As opposed to the targeted 288 million, it sold 316.8 million American Depository Shares (ADS) for $14 each as per Reuters
The company was valued at US$ 70 billion.
The listing, was the biggest U.S. share sale by a Chinese company since Alibaba raised $25 billion in 2014
Days after the IPO, the company fell into trouble when the Chinese Authorities started an investigation.
It's shares fell almost 85 – 90 %. Watch CNBC News clip on the Fall
DIDI to Delist from NYSE
Given the growing problems with Chinese investigations and tougher measures taken by the US against Chinese tech companies, it decided to delist from NYSC by May 2022
Wall Street Journal had this to say,
"Less than a year after Didi Global listed its shares in the U.S., the Chinese ride-hailing company said its shareholders approved its plan to delist from the New York Stock Exchange, concluding a regulatory roller-coaster ride that sent its market value plummeting.
The move will allow the company to move forward after it was caught in Beijing's campaign to tighten its grip on China's tech giants and their troves of data. It had told shareholders it needed to delist before it could resolve a cybersecurity probe in China. "
What is the impact?
And now, the Chinese taxi giant, Didi, has been fined US$ 1.2 billion. The verdict gave a heave of relief to them as it could continue its journey. The fine is approximately 5 % of its 2021 revenue.
However, analysts are not very confident of them getting back to its earlier state any time soon. Hear Bloomberg / Wall Street Journal
Watch our other latest news on, Worlds Most Powerful Passports 2022. GM hopes to unseat Tesla in the sales of electric vehicles. COVID – 19 Omicron Vaccine from Pfizer and Moderna
shop now
2 Wigs Only $ 149