Business
BNPL Transactions Skyrocket To mammoth USD 200 Billion In 2022
BNPL Transactions Skyrocket To mammoth USD 200 Billion In 2022. The buy now pay later market was worth USD 6.13 billion in 2022 and is projected to experience a 26.1% compound annual growth rate (CAGR) between 2023 and 2030. In 2022, global buy now pay later transactions were valued at more than USD 200 billion. Buy Now Pay Later (BNPL) is a payment option that enables customers to make purchases both online and in stores without having to pay the entire amount upfront. The market is being propelled by digitization, increasing merchant adoption, greater repeat usage among younger consumers, and the emergence of new players offering lending through BNPL services. Younger consumers, in particular, find BNPL services appealing because they allow for the purchase of high-cost items like laptops and smartphones, as well as payments for stationery products, among other benefits.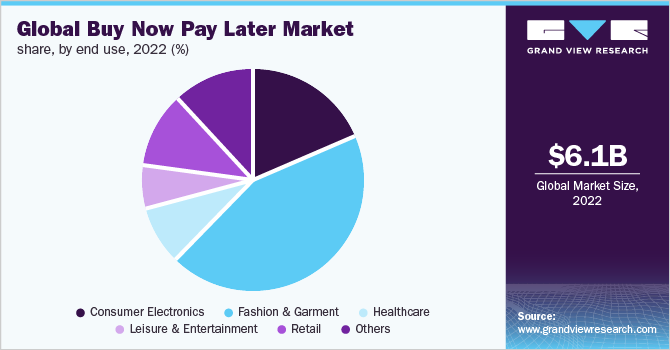 Multiple players are focused on creating and releasing interest-free BNPL installment solutions that allow customers to pay in installments, with the aim of improving the customer experience. For example, in August 2020, PayPal Holdings, Inc. introduced its interest-free Pay in 4 BNPL installment solution, which enables merchants and partners to receive upfront payments while allowing customers to pay for purchases ranging from USD 30 to USD 600 over six weeks. Through this addition to its product line, the company expanded its offerings.
Buy Now Pay Later services provide customers with a fixed payment schedule, streamlined checkout process, zero interest, and quick approval options when making purchases. Customers worldwide use Buy Now Pay Later services to avoid credit card interest, buy items that do not fit their budget, and borrow money without undergoing a credit check. According to a survey by ZestMoney in January 2022, BNPL was the preferred solution for people of various ages in 2021, with the youngest participant being 18 years old and the oldest 66. The survey also revealed that men from tier 1 and 2 cities spent significantly on lifestyle and fashion, while women from tier 1 and 2 cities invested in enhancing their edtech courses for upskilling and electronics.
The notable increase in global internet penetration and technological advancements have enabled financial service providers to offer novel digital services to their customers. The demand for internet banking is also being propelled by the rising popularity of mobile-based apps for making payment transfers. Additionally, the strong growth of the e-commerce sector has allowed fintech companies to expand their footprints for BNPL solutions worldwide. For example, Amazon.com, Inc.'s Amazon Pay Later services have more than two million users in India and have already been used more than ten million times since their launch in April 2020.
Merchants and customers are increasingly using the digital platform to receive and make payments due to higher smartphone adoption and the need for faster internet connectivity. The BNPL platform also supports the QR-code option, which allows customers to scan the code and make payments. However, the market growth is expected to be hindered by high late fees charged by BNPL service providers. Moreover, both the merchant and the customer are charged by credit providers and banks that offer BNPL services.
BNPL Channels
The global market has been categorized into two channels: online and Point-of-Sale (PoS). The online channel segment held the largest share of more than 65.0% of the global revenue in 2022. Many businesses across the world are forming partnerships to focus on adopting the fastest-growing online payment methods, such as buy now pay later, as part of their resurgence plans following the pandemic. For instance, in August 2021, Uplift, Inc., a BNPL solution provider, partnered with Tripster, an all-in-one travel booking site, allowing Tripster's customers to plan their entire vacation in one place and pay with surprise-free monthly installments through Uplift.
The PoS channel segment is expected to witness significant growth over the forecast period. Many businesses are concentrating on providing PoS BNPL financing options to enhance customer experience and strengthen their relationship with customers. Furthermore, businesses offer customers loyalty-driven transparent PoS installment loan programs. As a result, businesses are experiencing larger shares of repeat customers.
Enterprise size
The global market has been divided into two categories on the basis of enterprise sizes, namely Small & Medium Enterprises (SMEs) and large enterprises. The large enterprise segment was the dominant segment in 2022, accounting for over 60.0% of the global revenue share. Large enterprises are increasingly implementing BNPL payment solutions to provide customers with a flexible and affordable payment method for purchasing high-value items, resulting in a significant improvement in the customer experience. Furthermore, BNPL aids large enterprises in significantly increasing sales by enabling customers to purchase more products easily.
Small & medium-sized enterprises are adopting BNPL solutions worldwide to help merchants improve sales conversion rates. Dukaan, a startup that helps SMEs create online stores, has partnered with Simpl, a BNPL solution provider, to provide BNPL services to Dukaan's merchants. SMEs are focused on expanding their customer base and enhancing their market position. As a result, the adoption of BNPL solutions is expected to rise among SMEs, further contributing to the growth of this segment.
BNPL Growth – Regional insights
The forecast period is expected to see a promising CAGR for the consumer electronics segment, due to the increasing adoption of BNPL payment methods as a low-friction alternative to credit cards. Customers prefer BNPL methods because they can avoid expensive compounding interest and hidden fees associated with credit cards. This is expected to drive demand for BNPL services, especially as consumer electronics providers become more aware of the benefits. In 2022, North America dominated the market and accounted for the largest share of around 29.0% of the global revenue, thanks to the presence of many prominent players and partnerships between fintech and entertainment companies. For example, Uplift partnered with SeaWorld Parks & Entertainment to offer BNPL payment options for booking hotels. Meanwhile, the Asia Pacific region is expected to have the fastest CAGR due to the growing popularity of BNPL among millennial and Gen Z shoppers who are looking for credit access and payment deferral options. The rise in mobile internet penetration is expected to create further growth opportunities for the market in this region.
BNPL – Key players in the market
The market is somewhat divided with several providers offering Buy Now Pay Later services to both customers and merchants. These providers are expanding their presence in the e-commerce market to attract new customers. According to Bank of America Corp., the market for BNPL payment apps is expected to grow exponentially by 2025. BNPL payment methods are becoming increasingly popular among customers, and many retailers are accepting these payment options, creating growth opportunities for BNPL solution providers. The expanding e-commerce industry is also expected to fuel market growth. Some of the prominent players in the global buy now pay later market include
Afterpay,
PayPal Holdings, Inc.,
Affirm, Inc.,
Klarna Inc.,
Splitit,
Sezzle,
Perpay Inc.,
Openpay,
Quadpay, Inc., and
LatitudePay.
Source: grandviewresearch
What is Buy Now Pay Later (BNPL) – An Introduction