Business
What is Buy Now Pay Later (BNPL) – An Introduction
What is Buy Now Pay Later (BNPL)
With buy now, pay later (BNPL), consumers can make purchases and pay for them at a later time, frequently interest-free. BNPL arrangements, often known as "point of sale installment loans," are a common payment choice, particularly when shopping online.
"BNPL now represents more than 5% of all e-commerce expenditure and is the fastest-growing form of online payment. Since the onset of the epidemic, 5 million people have used BNPL, causing the market to triple in size in 2020.
Who offers Buy Now Pay Later (BNPL)?
Although many vendors/sellers offer the Buy Now Pay Later option, it is not actually a service provided through their own credit. There are many BNPL companies that offer the service and vendors tie up with them to provide this service. The BNPL industry is booming and many companies are entering the market to provide BNPL services.
Here are the 6 most popular BNPL service providers.
How Does BNPL Work
The Customer Purchases from the Vendor/Seller
BNPL Provider pays the Vendor/Seller the whole amount
The customer then pays the BNPL Provider in installments.
Different BNPL service providers offer Different payment options and credit periods. But basically, none of them charge interest from the customer.
Let's look at the different options offered by the 6 most popular Buy Now Pay Later Service providers.
Afterpay
Affirm
ZIP

PayPal


Sezzle
SplitIt
Other players in the Market
There are many other players in the market, and Klarna and PayBright are two of the most popular, which missed out on our list of 6. New players are getting into the market steadily, and Apple is one of the new entrants who is planning to launch its service shortly.
With its announcement, that it will provide financing alternatives for purchases made using Apple Pay, Apple is the newest company to enter the sector. The new service, Apple Pay Later, will be launched shortly.
Visa and Mastercard also announced their own BNPL initiatives in 2021
How do BNPL companies operate?
So how are the BNPL companies operating and making any profit? These businesses actually receive fees from merchants, i.e., the businesses that are selling you the products. . They charge between 5% and 10 % from the Vendor/Seller.
On the other hand, some companies operate a consumer interest loan scheme. The Vendor/Seller imposes an interest rate on the purchase at the time of the transaction. This avoids the business owner from incurring additional costs.
Benefits to the Customer
Customers can acquire the products they require right away and have a little additional time to pay for them.
If you are unable or unwilling to pay for something all at once, it may seem enticing to spread out the cost.
These loans increase your credit limit
They are not charging you a high-interest rate.
Benefits to the Vendor/Seller
Increasing sales. Making larger purchases is easier for consumers.
Businesses that allow customers to pay later greatly increase their likelihood of repeat business.
It benefits both customers and businesses since you are paid in full and right away.
Customers might prefer to purchase elsewhere if you don't offer this service since so many other businesses already do.
Boost consumer relationships and trust
A crucial means by which small enterprises might enhance growth
Buy Now Pay Later Apps
All BNPL service providers have their own apps. This is similar to a credit card. The BNPL apps collaborate with the vendor you are making a purchase from.
There are a variety of BNPL apps available for selecting products and services. However, as the majority of retailers only work with one BNPL app, using their partner may be the simplest way to complete your transaction.
Choose the best-suited BNPL service and App. Choosing a BNPL account that is accepted at a lot of the retailers you frequent will prevent you from opening several accounts.
Apps for BNPL have different credit restrictions depending on the company. A higher credit limit could mean the difference between being able to complete your transaction and not, depending on the magnitude of your purchase.
Credit Score and BNPL
Unlike credit cards, using a BNPL app does not require a minimum credit score.
While some companies run a soft inquiry to check your credit, many others don't even ask. You may shop today and pay later thanks to firms that don't run a credit check, even if you have bad credit.
Investors for BNPL companies
According to Crunchbase About $4 billion was invested in businesses that provide installment payment plans or buy now, pay later in 2021, up from $1.7 billion in 2020
The next investment round for Sweden's Klarna is reportedly being valued at much to $60 billion.
Block, previously Square, paid a stunning $29 billion to acquire AfterPay
New entrants to BNPL have raised the following capital as per CNBC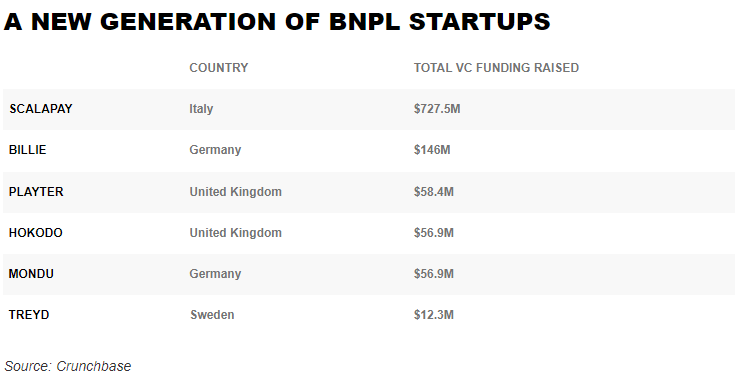 Conclusion
The use of BNPL services by small and medium-sized businesses is proving to be popular. Big banks have long "underserved" SMEs. BNPL Services is an ideal platform for SMEs.
A market segment that can't actually afford to pay for everything at once can be served by vendors and sellers of products and services. Consequently, it increases their market size.
Some investors believe they have discovered the next big thing.
From the perspective of the consumer, these loans extend your credit—without levying high-interest rates and with a simple repayment plan. However, take into account if the payments are manageable and avoid accumulating a huge amount of continuous debt.
Other Trending News on this site: True Satellite-to-Cellular Service by SpaceX and T-Mobile
shop now
25% Off For V Part Wigs With Code: Graduation