Business
Adobe Firefly Beta – Introducing the all New AI
Adobe Firefly Beta – Introducing the all New AI.
After more than 30 years since Adobe introduced Photoshop, they are now embarking on a new journey by incorporating Generative AI and Adobe Firefly into the software. This integration marks a significant milestone in their history, as it introduces a groundbreaking capability that empowers creators to unleash their imagination and work more efficiently. With this advancement, the Photoshop experience becomes more intuitive, natural, and powerful.
Simultaneously, Adobe is also enhancing some of Photoshop's widely used features and workflows. These upgrades include refining the visual appearance of images, seamlessly removing and replacing content, and improving the speed of navigating the user interface. By continually improving these popular functionalities, Adobe ensures that users have access to an enhanced and streamlined editing experience.
Adobe Firefly Beta
Beginning today (23/05/2023), subscribers of Photoshop will have the opportunity to harness the power of Firefly, a collection of innovative generative AI models, directly within the Photoshop desktop application (beta). Through the use of their own natural language, users can prompt Photoshop to generate remarkable images with the help of Generative Fill. This revolutionary feature enables the addition, removal, or replacement of elements within an image, as well as the expansion of image edges. Generative Fill seamlessly integrates with every selection tool in Photoshop, and a new generative layer type has been introduced to facilitate non-destructive editing. Furthermore, Firefly's Generative Fill functionality is also accessible as a module within the Firefly beta, expanding the creative possibilities for Photoshop users.
Firefly, the driving force behind Generative Fill, was introduced to the market just six weeks ago and has rapidly emerged as one of Adobe's most successful beta launches. Beta users have already produced an impressive count of over 100 million assets using Firefly. Setting itself apart from other generative AI services, Firefly stands out as the sole provider capable of generating commercially viable and professional-grade content directly within creators' established workflows. The initial Firefly model has been trained on an exclusive dataset encompassing Adobe Stock images, openly licensed content, and other public domain resources that are devoid of copyright restrictions.

With a strong emphasis on creators, Adobe is approaching generative AI through the lens of their AI ethics principles, which prioritize accountability, responsibility, and transparency. The company is committed to developing Firefly in a manner that empowers customers to monetize their skills, drawing inspiration from Adobe's successful ventures like Adobe Stock and Behance. As part of this commitment, Adobe is actively working on a compensation model for contributors to Adobe Stock, with further details to be disclosed once Firefly transitions out of the beta phase. Additionally, Adobe is taking measures to safeguard artists' identities by ensuring that their names are not associated with Adobe's generative AI actions. They are also advocating for open industry standards through their participation in the Content Authenticity Initiative (CAI), which includes the implementation of a universal "Do Not Train" tag.
The Content Authenticity Initiative (CAI) has developed Content Credentials, which can be likened to "nutrition labels" for digital content. These credentials remain attached to the content regardless of where it is used, published, or stored. Within Adobe's creative workflows, such as Photoshop and Lightroom, these labels have been in place and now encompass information regarding content that has been modified using Generative Fill. Alongside the introduction of Generative Fill in the Photoshop (beta) app, Adobe is also unveiling new tools designed to significantly expedite everyday creative workflows. These enhancements empower users to execute complex edits and craft distinctive designs while optimizing their time.
What's new in Photoshop – Adobe Firefly Beta
Adjustment Presets in Adobe Firefly Beta
Adjustment Presets are filters that speed up complex tasks by enabling you to preview and change the appearance of images in just a few steps to achieve a distinctive look and feel, instantly.
There are 32 new presets in the Adjustments panel that you can hover over to see what your image would look like with each preset applied before selecting it. Once a preset is selected, it can be further refined by editing the automatically created adjustment layers in the layers panel.
Remove Tool in Adobe Firefly Beta
The Remove Tool is an AI-powered feature that enables you to replace an unwanted object by simply brushing over it, preserving the integrity of nearby objects and providing an uninterrupted transition on complex and varied backgrounds.
The Remove Tool is particularly powerful when removing larger objects and matching the smooth focus shift across the image. For example, the tool can remove an entire building or car from an alpine landscape image while seamlessly maintaining the fidelity of the progression from meadow to mountains.
Use the Remove tool for:
Big objects
An object near other objects
An object on a varied-focus background
An object with structure behind it (think lines, like a fence or horizon)
Contextual Task Bar in Adobe Firefly Beta
The Contextual Task Bar is an on-screen menu that recommends the most relevant next steps in several key workflows, reducing the number of clicks required to complete a project, and making the most common actions more easily accessible.
For example, when an object is selected, the Contextual Task Bar appears below your selection and suggests actions for selection refinement that you might want to use next, such as Select and Mask, Feather, Invert, Create Adjustment Layer, Fill Selection, or generate something with the new Generative Fill capabilities.
Gradients update in Adobe Firefly Beta
The Gradients feature has been significantly improved, and the workflow has been expedited.
The feature enables you to create gradients in just a few steps and now includes new on-canvas controls which help you have precise controls over many aspects of the gradient in real-time. A live preview that's created automatically shows you instantly how the changes you make affect your image.
You can now also make non-destructive edits to your gradients, which means you can go back and make changes to your gradient without permanently altering your original image.
Instant Creative Building blocks in Adobe Firefly Beta

Astounding Video Edits simplified in Adobe Firefly Beta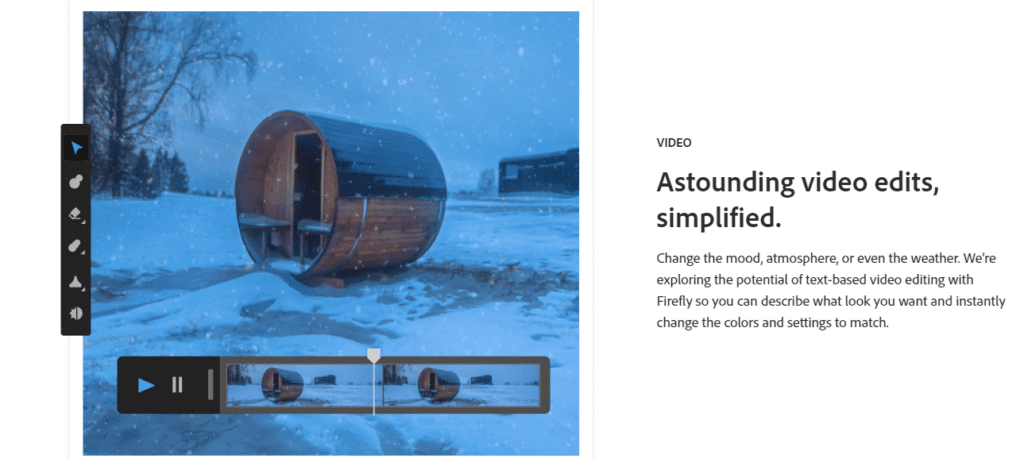 Distinctive Content Creation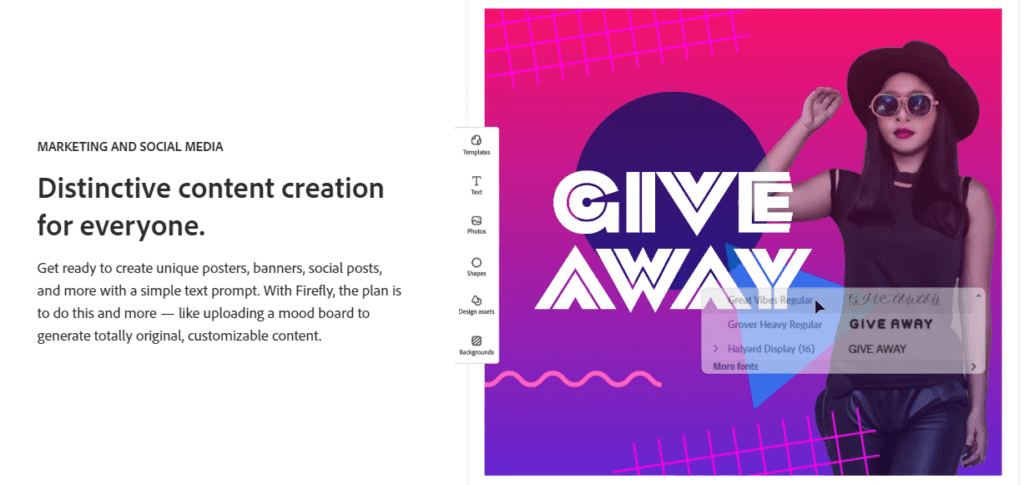 Future – Forward 3D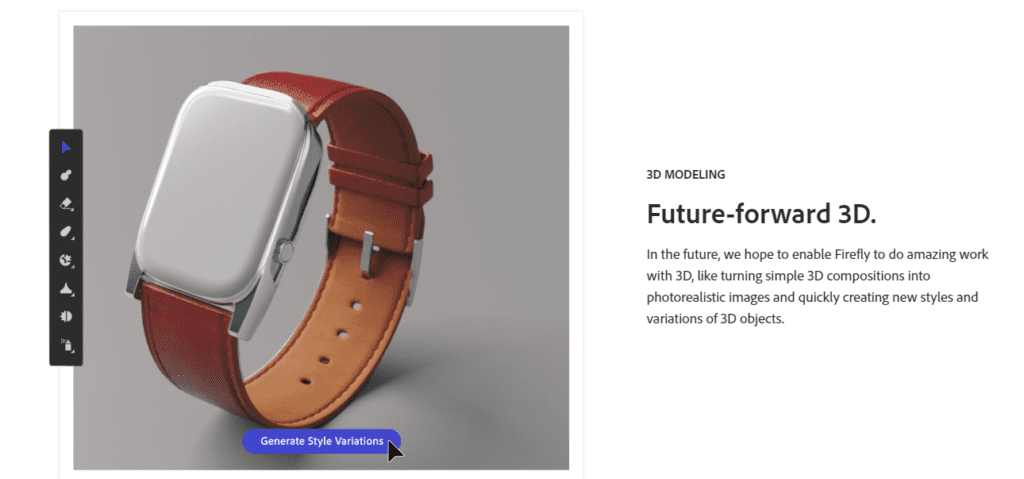 More Features in Adobe Firefly Beta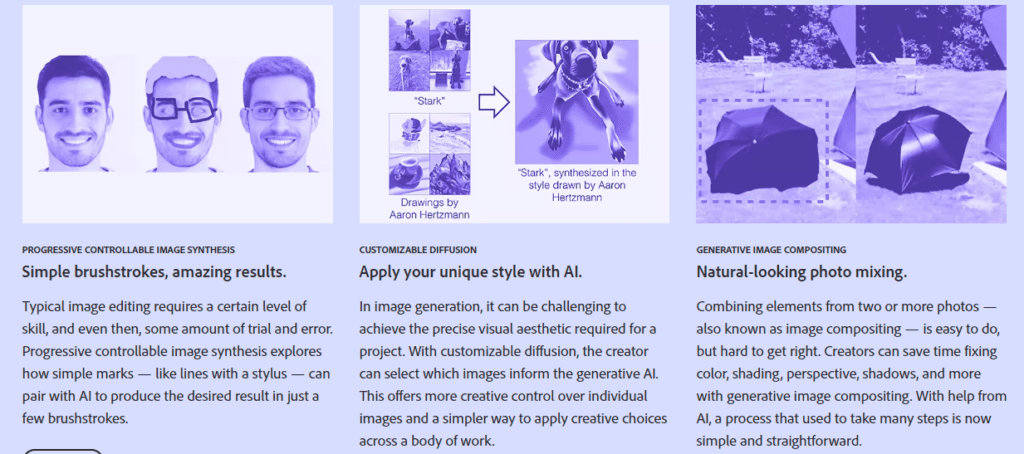 AI-powered audio recording and editing, all on the web
AI-powered audio recording and editing, all on the web.
An audio tool for people with stories to tell
Adobe's Vision
"We have big plans for the future of audio"
Edit words, not waveforms
Powered by Adobe Premiere Pro's speech-to-text technology, Adobe Podcast lets you easily edit audio using a transcript.
Remote recording
Recording with others is as easy as sharing a link. Everyone's audio is recorded in high quality locally, then Adobe Podcast syncs it back together in the cloud automatically.
AI-powered audio
Enhance Speech increases clarity by removing background noise and sharpening your voice's frequencies. It makes it sound as if everything was recorded in a professional studio.
See the future of audio in action
Source : Adobe
Melanie Perkins – The Pioneering Tech Founder of Canva