Business
Melanie Perkins – The Pioneering Tech Founder of Canva
Melanie Perkins – The Pioneering Tech Founder of Canva
Melanie Perkins, the 35-year-old founder of Canva, was rejected by 100 venture capitalists. Her $26 billion design firm is now ready to compete with Microsoft and Google. Perkins, an Australian, founded the design platform with no ties to Silicon Valley. It is now the most valuable startup in the world, founded and led by a woman.
About Melanie Perkins
Melanie Perkins is the cofounder and CEO of Canva, a design software company valued at $40 billion by private investors in September 2021.
Canva was founded in 2013 in Sydney, Australia, by Perkins, now-husband Cliff Obrecht, and Cameron Adams, but it was met with investor skepticism due to its location.
She, like Obrecht, has an estimated 18% stake. More than 80% of the couple's stake will be donated to the Canva Foundation for charitable purposes.
Canva has defied expectations by attracting 60 million monthly users to its freemium software, with 500,000 teams from companies such as Intel and Zoom paying for it.
Canva's software allows you to create visually appealing menus, resumes, and Instagram graphics.
Net Worth of Melanie Perkins
Forbes named Perkins one of the world's "Top Under 30 of the Decade" in 2020. With a net worth of A$3.43 billion, Perkins first appeared on The Australian Financial Review Rich List in 2020. The Australian Financial Review estimated her and Obrecht's combined net worth as A$7.98 billion in May 2021, ranking them tenth on the 2021 Rich List. According to Forbes, Perkins' estimated net worth as of January 31, 2022 is A$9.21 billion (US$6.5 billion).
As of the end of 2022, she ranks #371 in the Forbes Billionaires list and her Net wealth remains at US$ 6.5 Billion.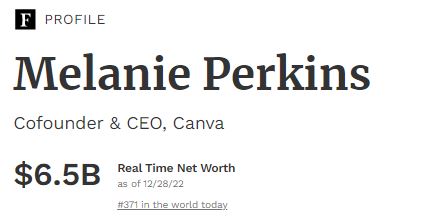 Source: Forbes
Early Career – Fusion Books
Perkins attended the University of Western Australia after high school, majoring in communications, psychology, and commerce. Perkins was also a private tutor for graphic design students at the time. She observed students' difficulties in learning design programs such as Adobe Photoshop, where it would frequently take a semester at university to introduce students to basic features of these complex design programs. Perkins saw a business opportunity in simplifying the design process. Her concept was to create a design platform that did not require any technical knowledge. She dropped out of university at the age of 19 to pursue her first business, Fusion Books, with Cliff Obrecht.
Perkins and Obrecht founded Fusion Books in 2007. Fusion Books enabled students to create their own school yearbooks by using a simple drag-and-drop tool that included a library of design templates that could be customized with photos, illustrations, and fonts. Originally, Perkins wanted to develop software that made the entire design process easier but due to the competition with large companies and her lack of resources, she concluded 'it did not seem the logical thing to do'. Perkins' mother was a teacher who also managed the school yearbook. Perkins noticed how much time it took to design a yearbook and thought the high level of consumer friction would make yearbooks a good niche for Canva to test the idea.
Begun in Perkins' mother's Duncraig living room. Obrecht would cold call schools in an attempt to gain new Fusion Books clients. Their parents would frequently assist with the printing of the yearbooks. Fusion Books grew to become Australia's largest yearbook company in five years, expanding into France and New Zealand. Source: Wikipedia
Rise of Canva
Canva defied early skepticism to emerge as one of the world's most popular and fastest-growing software tools, landing Perkins on the cover of Forbes 30 Under 30 in December 2019. Canva was founded in 2012 by Perkins, her now-husband Cliff Obrecht, and Cameron Adams as a tool to help anyone design anything from better-looking resumes to menus, business cards, and other graphic assets.
Canva's product now supports video, presentations, and, most recently, live collaboration. Perkins hopes that with new website tools, she will be able to replace PDF resumes and event invitations with responsive sites complete with custom web domains (a product that will pitch Canva, already competitive with Adobe and Vistaprint, up against the likes of Squarespace and Wix). Canva's library now contains over 800,000 templates as well as 100 million photos, illustrations, and fonts. Canva claims to have created more than 7 billion designs to date, with 120 new designs created every second.
Canva's freemium software, which was originally marketed to amateur designers and small businesses, now has over 60 million monthly users. Canva is now used by over 500,000 paid teams, including American Airlines, CBRE, Intel, Kimberly-Clark, and Zoom, for everything from social media assets to sales and human resources presentations, or, in the case of Live Nation, assets for upcoming rock concerts.
But, having previously stated that they did not intend to "hoard" such wealth, Perkins and Obrecht are now pledging to donate 30% of Canva — the "vast majority" of their stakes — to the Canva Foundation for charitable purposes. "If it was all about accumulating wealth, that would be the most uninspiring thing I could possibly imagine," Perkins tells Forbes. "It's strange when people refer to us as 'billionaires,' because it's never felt like our money; we've always felt like merely custodians of it," she explained in a blog post.
Source: Forbes in Sep. 2021
Philanthrapy
Within a few months of their graphic design firm's $40 billion valuation based on a $200 million funding round in 2021, Canva cofounders Melanie Perkins and Cliff Obrecht signed the Giving Pledge, promising to donate the vast majority of their fortune during their lifetime. The couple donated the majority of their Canva shares (30% of their total 31% stake) to the company's charitable arm, Canva Foundation, describing the decision as "not just a massive opportunity, but an important responsibility."
Canva has so far supported Covid-19 in India, humanitarian response funds in Ukraine, and a $10 million project in Malawi that gives money directly to people living in extreme poverty. In addition, the company donates access to its premium platform to over 250,000 nonprofits and has launched the Canva for Education initiative, a free service designed for K-12 students and teachers around the world. The ten-year-old graphic design platform announced in October that over 100 million people use its software tools on a monthly basis, but investors recently reduced the firm's valuation to $26 billion amid a broader tech market downturn. Source: Forbes

Enjoy millions of creative assets with the unlimited creative subscription
Click here to go to Envato Elements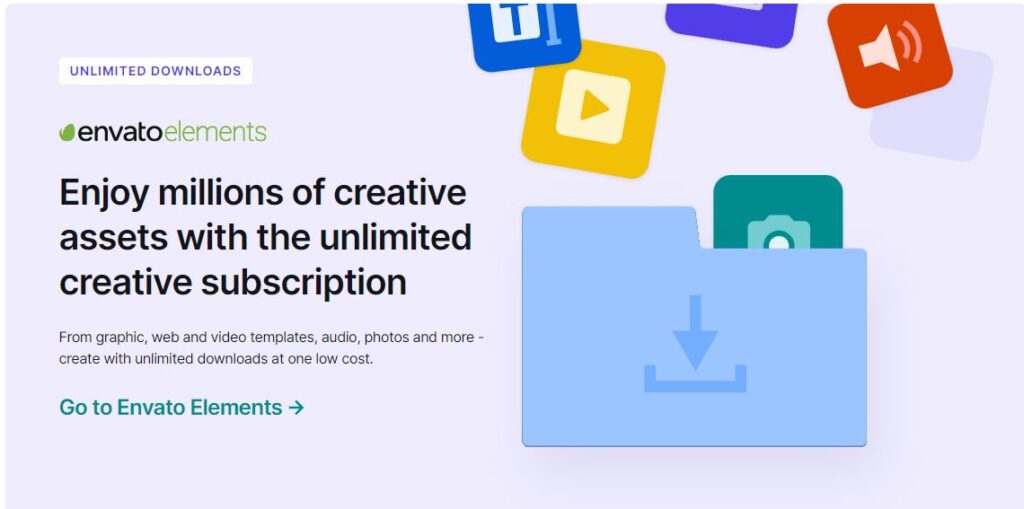 View live Exchange Rates and Live Crypto Currency Prices from our site:
How about some Exciting Eyewear. Click link below
Vooglam Offical Website