Business
10 Drop Servicing Ideas – Start with Zero investment
10 Drop Servicing Ideas – Start with Zero investment. Are You Ready to Be a Drop Servicer? Here's what you should know
Drop Shipping and Drop Servicing.
What is dropshipping and how does dropshipping work? Both Dropshipping and Dropservicing are quite similar. Drop shipping involves physical products and drop servicing involves mere services.
Drop shipping
Let's first see what drop shipping is. As explained clearly by Shopify (Shopify is one of the leading drop shipping sites where you can open a store and start your own dropshipping.)
Dropshipping is an order fulfillment method where a business doesn't keep the products it sells in stock. Instead, the seller purchases inventory as needed from a third party—usually a wholesaler or manufacturer—to fulfill orders.
The biggest difference between dropshipping and the standard retail model is that the selling merchant doesn't stock or own inventory—they act as the middleman
10 Drop Servicing Ideas—What is Drop Servicing?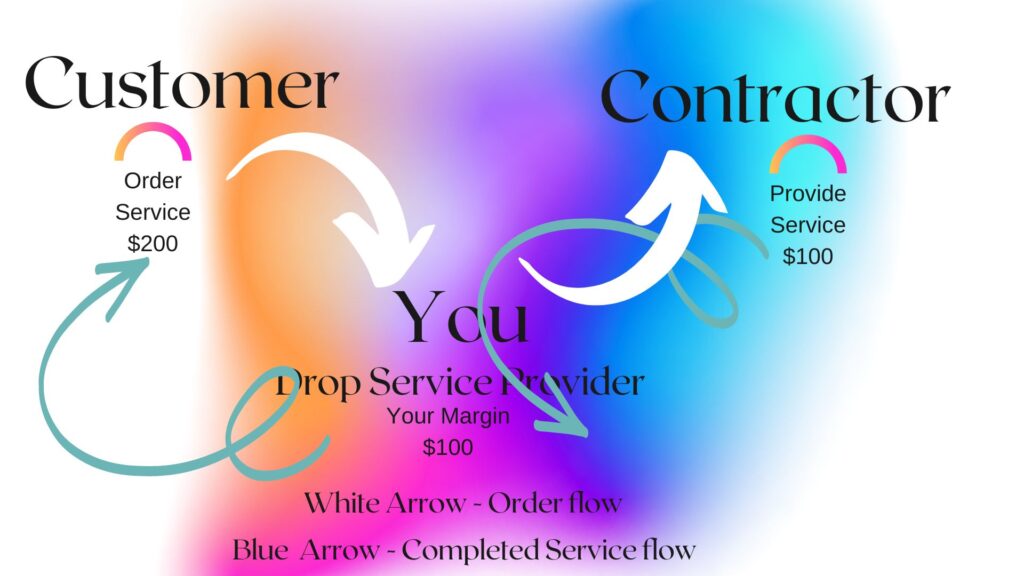 Drop Servicing
Drop servicing, also known as service arbitrage or white labeling, is a highly lucrative business model where a company sells services to customers and contracts with less-priced freelancers or agencies to finish the task.
Drop servicing is one of the most lucrative companies derived from the dropshipping business model in which you transact products. Drop Servicing and Dropshipping are identical except that Drop Servicing involves serving customers instead of dealing with the merchandise.
How to Launch a Drop Servicing Company?
The first step is to decide whatever service you wish to provide to your client
Knowing the demands of the client and the service being provided will be very beneficial. So try to get an idea of the service that you wish to provide. If you are not sure what the service is all about, then you will not be in a position to offer that service. You don't need to become an expert in that service, but you need to know what the service is and the plus and minus points of the service. The more you understand the service, the better the service you can offer. It will also be helpful when you need to compete with others who provide the same service. You should be one step ahead of your competitors to be the winner and more successful.
How to fulfill the customer's requirement? Do you need to do it yourself?
Basically, drop servicing is providing a service that is outsourced. It is similar to Dropshipping, where you sell products that you don't make and don't have in your stock.
Basically, you are going to outsource the services from a third party and offer it to the customer with a mark-up. This is where your knowledge of the service plays an important part. Since you are hiring third parties to carry out the tasks, you will need to hire professionally qualified service providers. Some services may be provided by established companies, while most of the services will be provided by Freelancers.
The best option is to hire freelancers to provide the service.
How to source Freelancers
You could easily find a freelancer through your own contacts. If you want to provide a graphic design or web development service, you can find someone in your close circle who does this work and hire him. if you cannot find someone to service your exact needs, there are ample resources from which you can find a perfect fit. Try the following websites.
Fiverr
Upwork
Freelancer
Guru
Flexjobs
Fiverr is the best site where you find freelancers at very affordable prices and high-quality work. You could even get more insights and helpful services from Fiverr. Click the links below to try out Fiverr.
10 Drop Servicing ideas
The most common and easiest Drop services are listed below.
Content Writing
Logo Designing
Graphic Designing
SEO
Translation
Web Development
Video Creation ad Production
Animation
Voice Over services
Social media marketing services
There are many other services that you could provide. There are many sub-categories even under the broad categories listed above. When it comes to content writing, there can be specific services such as,
Web content
Composing emails
Blog writing
Ghostwriting
Social media content
Proofreading
Is it Profitable /Can anyone start
Drop Servicing Businesses can be started by anyone. As a result, it is a reasonably simple business to start.
To establish this business, you are not required to purchase any tangible goods or handle product deliveries. Consequently, it is a simple approach to making money.
You can promote your business in a variety of methods, both for free and for money. The cost depends on the methods you select and the amount of money you intend to spend on business marketing.
Useful tips for Beginners
Look for markets in which you are knowledgeable and experienced.
Find out what services people employ agencies to provide.
Include services for which agencies demand high prices but freelancers do not.
Look for easy but experienced-demanding assignments.
Include jobs where the scope of the work is clear
Conclusion
Drop Servicing is a perfect start-up business requiring almost zero capital. It is very similar to drop shipping. Simply drop servicing involves selling services rather than physical goods.
There are many services that you could offer and this article outlines 10 of the most common drop servicing ideas.
Finally, a word of advice to those aspiring beginners. Don't restrict yourself to a single area when it comes to drop servicing. You can offer various services simultaneously.
But be cautious, choose services that interest you. So that you can prevent embarrassment if a client questions your service.
Visit other trending articles on this site: Asia's Wealthiest Woman Yang Huiyan loses half her fortune and cedes the Crown to Fan Hongwei What is Battery Subscription for Electric Vehicle (EV)?
shop now
25% Off For V Part Wigs With Code: Graduation