Business
Robot Workers are Stunning – The Miracle Workers are Replacing People
Robot Workers are Stunning – The Miracle Workers are Replacing People. According to a recent Forrester Research report, robots are expected to create 15 million new jobs in the United States over the next ten years. This is the direct result of automation and artificial intelligence, which accounts for 10% of the workforce.
A separate estimate by consulting and accounting firm PwC found that 38% of jobs in the United States are at "high risk" of being replaced by robots and artificial intelligence over the next 15 years. The downside is that robotics will eliminate 25 million jobs over the same time period.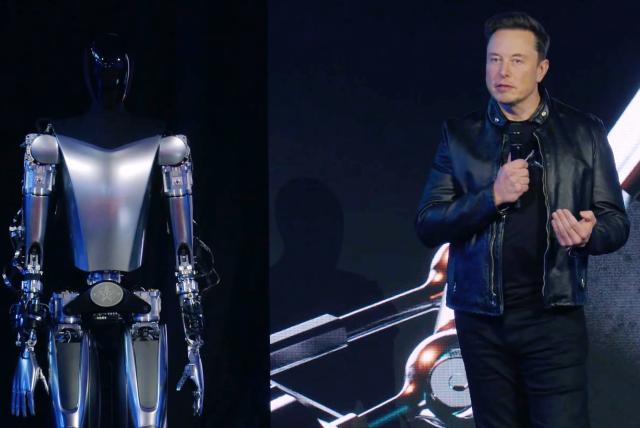 Robot Workers are Stunning
Robotics advancement has long sparked fears that machines will replace humans, but in the United States, robot orders have reached an all-time high as many businesses struggle to find qualified employees.
According to the Association for Advancing Automation, industrial facilities in North America purchased a record 29,000 robots within the first nine months of 2021, a 37% increase over the previous year.
Fixed-function robots are now a common feature of factory assembly lines, assisting in the production of everything from automobiles to food products. In addition, advancements in autonomous technology have contributed to a global robot boom, with diverse application varying from AI-enabled mechanical cookers to autonomous industrial facility inspection units. Source: weforum
Many AI companies are developing advaced Robots to suit the future. Recently Tesla introduced the Optimus Humanoid Robot
According to the World Economic Forum's Future of Jobs 2020 report, the mixture of pandemic-induced recession and the growing footprint of automation is causing a "double disruption."
The short-term economic damage caused by the COVID-19 response, combined with many people's sudden shift to remote working, has accelerated the pace of technology adoption.
According to the report, cloud computing, big data, and e-commerce adoption will continue to grow in the coming years. Cloud computing is expected to rise by 17% by 2025 among companies that participated in the annual survey, for example. Source: Weforum
Shift from human workers to Robot Workers
This shift from human to machine workers is expected to displace 85 million jobs by 2025. So, which roles will be created in our increasingly automated future, and which will be eliminated?
What will be the future of Job Demands for People
Skills gaps will widen further over the next five years as in-demand skills shift across jobs. Employers see critical thinking and analysis, as well as problem-solving, as rising in importance in the lead-up to 2025, as well as self-management skills such as active learning, resilience, stress tolerance, and flexibility.
Companies estimate that 40% of workers will require reskilling in six months or less, and 94% of business leaders expect employees to learn new skills on the job, a significant increase from 65% in 2018.
Jobs that are being replaced by Robots
By 2025, economic contraction and corporate technological adoption will have transformed tasks, jobs, and skills. 43% of businesses surveyed plan to reduce their workforce because of technology integration, 41% plan to increase their use of contractors for task-specific work, and 34% plan to increase their workforce due to technology integration. Human and machine time spent on current work tasks will be equal by 2025.
Lets look at some of the jobs being replaced by Robots.
Industrial Worker
Since the late 1950s, computer-controlled manufacturing and industrial robots have been employed to build cars and other products. Almost all major manufacturing jobs presently rely on robots to quickly and cheaply produce thousands of different goods.
Anyone can control several robots, including Rethink Robotics' Baxter and Sawyer. They do not require the use of a professional technician to code the robot to perform the tasks assigned to it. More businesses will incorporate these types of robots into their operations as they become smarter and less expensive.
Taxi and Bus Drivers
Self-driving cars are getting closer to reality. More organizations and businesses are beginning to leverage existing technology, such as assisted driving in driverless Taxis.
As self-driving cars become more common, the possibility for job losses is enormous, with thousands of cab drivers, transportation operators, truck drivers, and other transportation workers potentially being replaced.
Customer service executives
Customer service executives do not need a high level of social or emotional intelligence to function effectively. Many businesses now rely on AI to answer frequently asked questions and provide customer support. Chatbots are becoming an important part of customer interaction. They also support a wide range of internal queries, among other things.
Proofreading
While editing is more difficult in terms of tone, comprehension, and other factors, proofreading is much easier. Detecting grammatical errors, sentence construction errors, and other errors can be easily automated using various apps. Grammarly, for example, is one of the most well-known apps used by professionals for this purpose.
Retail services
People who work in sales have been replaced by automated services. AI can quickly become involved in a merchant's focus on self-ordering and payment options.
Robots are replacing retail jobs in many shopping malls in order to better understand customer behavior. Furthermore, advanced data analysis of AI machines reveals additional products that customers may be interested in in the future.
Soldiers
The US military is reportedly testing a new new generation of war robots, ones that are developed to go out in the field with humans and respond to gestures and voice commands just like their flesh and blood counterparts. They can also carry and use lethal weapons such as grenade launchers and machine guns on command.
Researchers
Law firms are already replacing litigators and other workers with e-discovery lawyers and research robots. These robots can search through millions of pages for relevant facts, contact information, e-mail addresses, and other data by using keywords.
Many financial experts are being replaced by computer systems designed to analyze and detect patterns and trends in financial data. These patterns and trends are automatically detected and used to effectively identify financial opportunities and risks
RENT a ROBOT
You Can Now Hire a Robot Worker for Less Than You Would Pay a Human. Below is a story of a company which has hired a Robot to replace a human worker.Robots are taking on new roles in recent years as technology becomes more powerful, easier to use, and cheaper. Some hospitals use robots to deliver supplies, and some offices employ robot security guards. The companies behind these robots often make them available on a rental basis. Below is an exerpt from Wired
POLAR MANUFACTURING has been manufacturing metal hinges, locks and brackets in South Chicago for over 100 years. Some of the company's metal presses (huge machines towering over workers) date back to the 1950s.
Last year, Polar hired its first robotic employees to meet growing demand amid a labor shortage. Therobotic arm performs simple repetitive tasks. Lift the piece of metal into the press, where the press bends the metal into a new shape. And just like humans, robot workers get paid for the hours they work.
According to Jose Figueroa, who runs Polar's production line, the robot is being leased from a company called Formic, making $8 an hour, compared to the $15 minimum wage for human workers. To do. Figueroa says the use of robots has increased productivity by allowing human workers to perform other tasks.
"Smaller companies sometimes suffer because they cannot afford to spend their capital on investing in new technologies," he says. "We're just struggling to raise the minimum wage." Polar says he doesn't have to pay $100,000 upfront to buy a robot, and more money to get the program. The fact that we didn't have to spend was important," says Figueroa. He hopes to have 25 of his robots on the line within five years. He won't replace the company's 70 employees, but says Polar may not need to hire new employees.
Formic buys off-the-shelf robotic arms and leases them with their own software. He is one of a small but growing number of these robots being introduced into the workplace on a pay-as-you-go basis. The pandemic has caused labor shortages in many industries, but many small businesses are reluctant to write big checks for automation. Source: Wired
Robot Workers of the future
Thanks to improved sensor technology and significant advances in machine learning and artificial intelligence, robots will evolve from routine machines to cognitive collaborators. These advances and other related fields are on the rise, and robotics will benefit greatly from these advances. Increasingly sophisticated robots are expected to be integrated into more areas of life and collaborate with people.
Unlike the dystopian apocalyptic, these upgraded robots will not replace workers. Industries will ebb and flow, some becoming obsolete in the face of new technology, bringing new employment and educational opportunities. This is for robots. Perhaps there will be fewer human workers welding car frames, but the need for skilled technicians to program, maintain and repair machines will increase.
In many cases, this means that employees receive valuable in-house training and education, offering robot programming and maintenance, as well as a range of skills that can be applied to other fields and industries.
Robots will boost economic growth and productivity while also opening up new career opportunities for many people around the world. However, there are still warnings about massive job losses, such as the loss of 20 million manufacturing jobs by 2030 or the possibility of 30% of all jobs being automated by 2030.
Click Link Below for Trending Eyewear
Vooglam Offical Website