Business
Revolutionize Your World: Amazon Drone Delivery Unleashes Futuristic Magic
Revolutionize Your World: Amazon Drone Delivery Unleashes Futuristic Magic. Amazon is set to revolutionize pharmaceutical deliveries, deploying drones for lightning-fast service.
In College Station, Texas, the e-commerce giant now offers customers the incredible speed of drone-delivered prescriptions within an hour of order placement. These drones, departing from secure pharmacy centers, will gracefully descend to your doorstep from a height of 13 feet, carrying a selection of over 500 medications, excluding controlled substances. This initiative is an extension of Amazon's Prime Air division, which began testing drone deliveries of everyday products last December in College Station and Lockeford, California.
With thousands of successful deliveries already, Amazon's expansion into prescription drugs responds to customer demand. While Amazon Prime offers a two-day pharmacy delivery service, it is not ideal for those facing acute illnesses such as the flu. The aim is to redefine speed and improve healthcare service delivery, addressing the challenges of diagnosing and treating acute illnesses promptly, a need underscored by the COVID-19 pandemic, as stated by Amazon's Pharmacy Chief Medical Officer, Dr. Vin Gupta.
Reducing the time gap between diagnosis and treatment significantly enhances the effectiveness of many therapies," he remarked.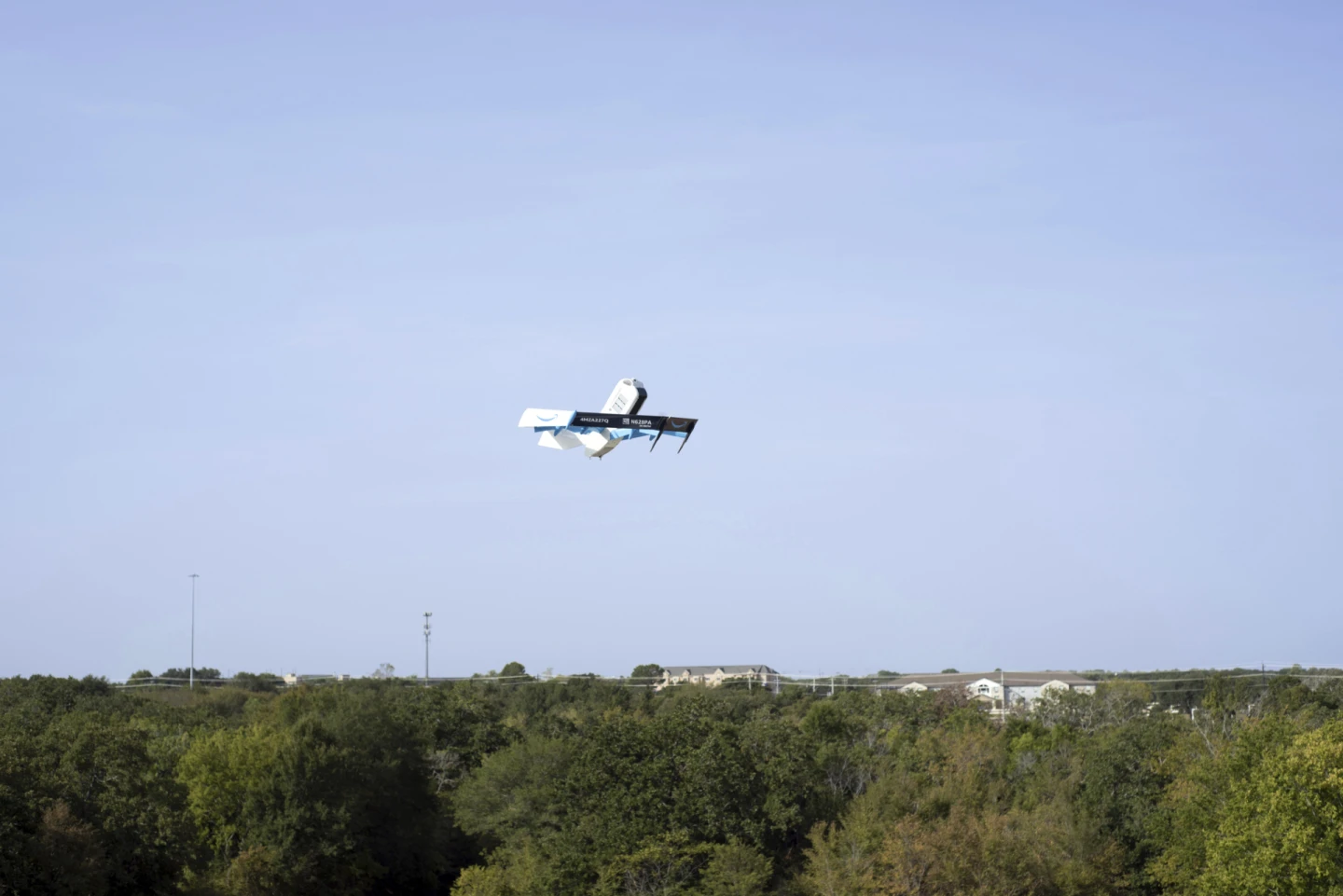 Amazon is not the pioneering entity in the pursuit of prescription deliveries via drones. In 2019, the CVS Health chain collaborated with UPS to experiment with drone deliveries in North Carolina, although this program has since concluded, according to a CVS spokesperson.
Intermountain Health entered the realm of drone-prescription deliveries in 2021, initially serving the Salt Lake City region and progressively expanding this service. Their partnership with logistics firm Zipline involves using drones equipped to drop packages by parachute.
Companies aiming to employ drones for commercial purposes have faced regulatory challenges aimed at ensuring the safe operation of these technologies. Amazon's founder, Jeff Bezos, had foreseen a decade ago that drones would be making deliveries by 2018. As of now, the e-commerce giant is only utilizing this technology in two markets.
Lisa Ellman, the Executive Director of the Commercial Drone Alliance, an industry association counting Amazon among its members, emphasized that regulatory approvals have been restricted to specific geographic regions, and their applicability to businesses has been somewhat constrained in terms of scope and utility.
Nevertheless, she pointed out that regulators have been increasingly granting approvals. In the previous month, the FAA granted permission for Zipline and UPS to operate longer-range drones.
Walmart has been actively working to broaden its drone delivery services as well.
Amazon has specified that its drones will operate at altitudes of up to 120 meters, equivalent to nearly 400 feet, before commencing a gradual descent as they approach the customer's residence. These drones will perform safety checks to ensure that the delivery area is free from any obstacles such as pets, children, or other hindrances before depositing the package on a designated delivery marker.
The company has expressed its intention to extend the program to additional markets in the future, but no specific timeline has been established.
Amazon's involvement in the healthcare sector has been expanding over the past few years. In addition to establishing a pharmacy, it invested approximately $4 billion to acquire primary care provider One Medical. Furthermore, in August, the company introduced video telemedicine consultations available in all 50 states.
Source: AP
In College Station, Texas, Amazon Pharmacy has introduced a swift and cost-effective solution for its customers. Now, eligible Amazon Pharmacy customers in College Station can have their prescription medications delivered to their doorstep via Amazon's drone delivery service in under 60 minutes, all at no extra charge. When checking out, eligible customers can opt for "free drone delivery in less than 60 minutes," and a pharmacist will oversee the loading and transportation of the medications to the customer's home within the subsequent hour. Those in College Station who choose drone delivery will have access to a selection of over 500 medications, addressing common ailments such as the flu, asthma, and pneumonia.
Customers using Amazon Pharmacy and facing urgent healthcare needs have access to a range of healthcare services. They can turn to Amazon Clinic, which provides virtual, round-the-clock treatment for 35 different conditions, including the newly introduced cold and flu treatment. Additionally, they can utilize One Medical, a healthcare service that combines virtual and in-person primary care. This swift access to healthcare, in combination with rapid medication delivery, has the potential to enhance treatment outcomes, all while allowing patients to receive care in the comfort of their own homes.
Dr. Vin Gupta, the Chief Medical Officer of Amazon Pharmacy, emphasized the significance of the "golden window" in clinical medicine, which is the critical time span between a patient feeling unwell and receiving treatment. Amazon is dedicated to significantly reducing this window from diagnosis to treatment, and the introduction of drone delivery represents a substantial leap forward in this endeavor. Whether dealing with infectious diseases or respiratory illnesses, early intervention plays a pivotal role in enhancing patient outcomes.
Explaining the Operation of Amazon Drone Delivery Service
Amazon's drones operate within an altitude range of 40 to 120 meters, which is a relatively obstacle-free airspace. These drones employ built-in sense-and-avoid technology, utilizing sensors and cameras for navigation, allowing them to navigate around individuals, pets, and power lines.
The drone's cameras transmit data to a neural network that has been trained to recognize objects. Upon reaching the customer's residence, the drone descends cautiously and lowers itself above a designated delivery point. A computer vision system scans for any structures or objects on the ground, such as people or animals, to ensure that they do not obstruct the path of descent. If the delivery area is clear, the drone releases the package, ascends back to its cruising altitude, and returns to the delivery center. Customers can then retrieve their packages without any direct interaction with the drone.
Amazon has achieved the rare distinction of obtaining a Federal Aviation Administration air carrier certificate, a requirement for operating drones with advanced capabilities. Since December 2022, Amazon's drones have successfully delivered numerous household items in College Station.
Calsee Hendrickson, the Director of Product and Program Management at Prime Air, highlighted the advantages of drone delivery, such as bypassing road traffic, which speeds up the delivery process. The desire for speed and convenience is a top priority for customers, and this extends to their healthcare-related purchases, as expressed by Amazon's customers.
A Comprehensive Pharmacy for Your Convenience
Amazon Pharmacy, a fully-fledged pharmacy accessible on Amazon.com, prioritizes swift deliveries precisely when you require them. Prime members are entitled to free two-day delivery for their initial medication order, with the option to set up automatic monthly deliveries for prescription refills. For immediate healthcare requirements, Amazon Pharmacy currently extends Same-Day Delivery services in Austin, Indianapolis, Miami, Phoenix, and Seattle. Customers of Amazon Pharmacy enjoy round-the-clock access to a pharmacist for addressing queries about their medications.
"For years, the typical customer experience involved traveling to a pharmacy with limited operational hours, enduring queues, and engaging in public conversations about personal health matters, or enduring lengthy waits of five to ten days for traditional mail-order deliveries," noted John Love, Vice President of Amazon Pharmacy. "With Amazon Pharmacy, you can swiftly obtain your necessary medications, whether it's via drone delivery or standard courier, all without the need to miss your child's soccer practice or leave work prematurely."
Since its launch in late 2020, Amazon Pharmacy has been dedicated to eliminating the obstacles that hinder customers from accessing the care they require. This includes offerings such as RxPass, which provides access to over 50 generic medications for just $5 per month, and automatic manufacturer-sponsored coupons that yield instant savings on brand-name drugs. It's been observed that a substantial percentage of Americans, ranging from 30 to 50%, forego taking medications that could enhance their health due to the inconvenience and high costs associated with prescription drugs.
Source: Amazon
Amazon MGM Acquisition: A Game-Changer in the Streaming Industry