Business
Pig Heart Transplant: Second Patient ever in Breakthrough Surgery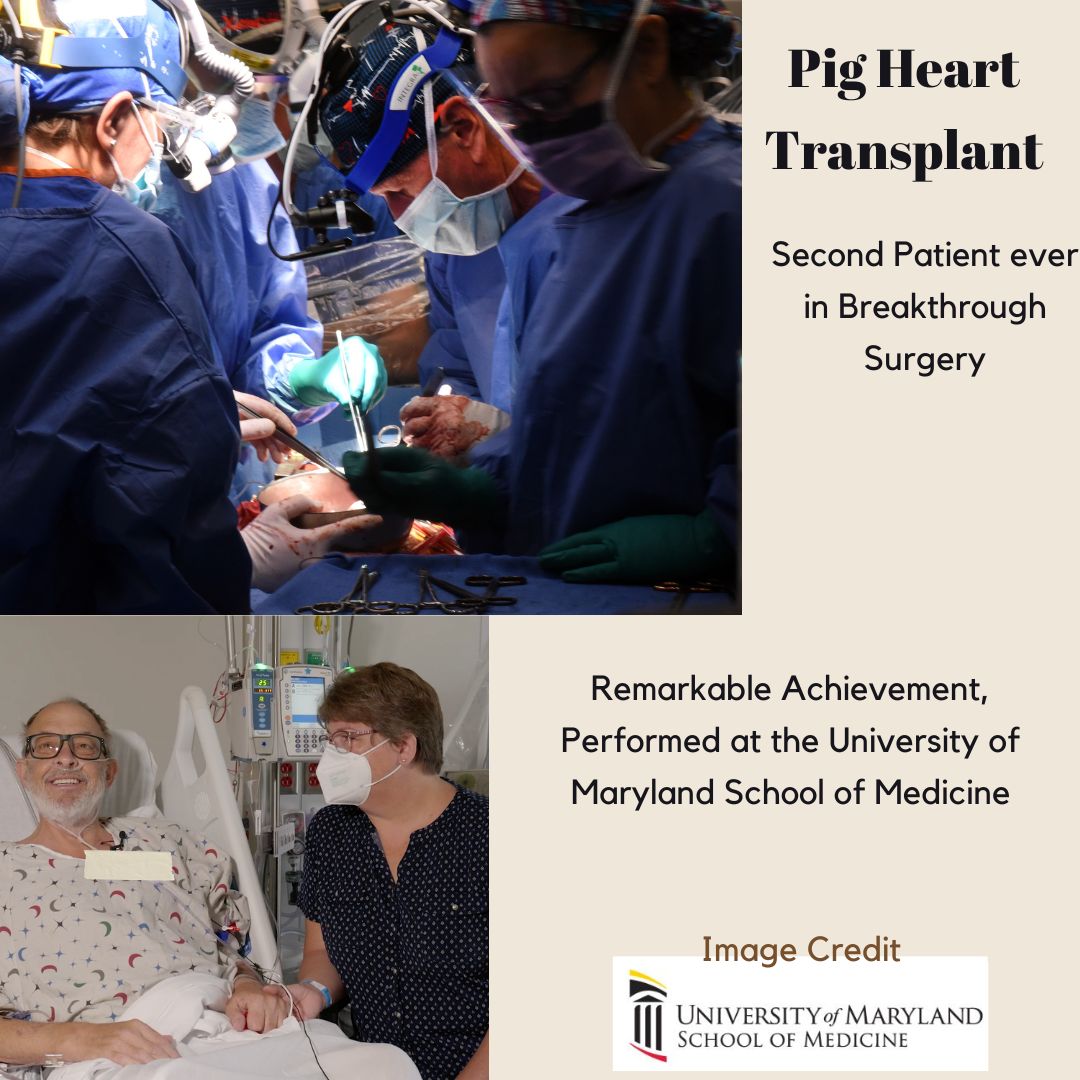 Pig Heart Transplant: Second Patient ever in Breakthrough Surgery.
In a groundbreaking medical milestone, surgeons have successfully transplanted a pig's heart into a terminally ill patient, marking only the second instance of such an experimental procedure. This remarkable achievement, performed at the University of Maryland Medicine, offers newfound hope to individuals facing dire circumstances due to heart failure when traditional heart transplants are not an option.
Pig Heart Transplant Saves a Life
The 58-year-old Navy veteran, Lawrence Faucette, found himself in a life-threatening situation due to heart failure. However, complications from other health issues rendered him ineligible for a conventional heart transplant. Facing an uncertain future, Lawrence underwent an extraordinary procedure: a pig heart transplant.
Two days following the groundbreaking surgery, Lawrence surprised his doctors and loved ones with his rapid recovery. He was not only able to sit up in a chair but also found the strength to crack jokes. His words captured the essence of newfound hope as he stated, "I will fight tooth and nail for every breath I can take."
Medical Marvel: Pig Heart in a Human Body
The medical team at the University of Maryland Medicine, led by Dr. Bartley Griffith, achieved international recognition for performing a genetically modified pig heart transplant in a living patient for the second time. Their prior success involved David Bennett, who survived for two months with the pig heart.
The shortage of available human organs for transplant is a pressing issue. While the number of heart transplants in the U.S. reached a record high of over 4,100 last year, the scarcity of donors means that only those with the best long-term survival prospects receive transplant offers.
Xenotransplants: A New Hope
Efforts to use animal organs for human transplants have faced decades of failure due to immediate immune system rejection. However, a new chapter is unfolding as scientists experiment with genetically modified pigs, altering their organs to closely resemble human tissue. Recent studies have even involved testing pig kidneys and hearts in human bodies donated for research, paving the way for formal studies on xenotransplants.
For this latest attempt at a pig heart transplant, special permission from the Food and Drug Administration (FDA) was required. It followed the submission of more than 300 pages of documentation to demonstrate the valuable lessons learned from the previous attempt. Lawrence Faucette, the brave recipient, also accepted the risks involved.
A Glimpse of Hope
Lawrence Faucette's wife, Ann Faucette, expressed their modest expectations: "We have no expectations other than hoping for more time together. That could be as simple as sitting on the front porch and having coffee together." Notably, this time around, scientists have improved their ability to detect hidden viruses within the pig heart and made necessary medication adjustments.
By Friday, Lawrence's new heart was functioning efficiently without the need for support from machinery, a testament to the promising potential of this groundbreaking procedure.
A Leap Towards the Future
Dr. Muhammad Mohiuddin, the xenotransplantation expert on the Maryland medical team, hailed the success of the pig heart in a human body but emphasized cautious optimism, stating, "we don't want to predict anything. We will take every day as a victory and move forward."
While this single-patient "compassionate use" provides valuable insights, more extensive formal testing is needed to fully understand the potential of pig organ transplants in humans. The FDA's approval for this second case suggests ongoing progress, but a formal clinical trial is not yet on the horizon.
The genetically modified pig heart used in this groundbreaking surgery, provided by Revivicor based in Blacksburg, Virginia, boasts ten genetic modifications, rendering it more compatible with the human immune system.
In conclusion, the successful pig heart transplant into Lawrence Faucette is a remarkable feat in the world of medical science, offering hope to countless individuals who may benefit from xenotransplants in the future. While there are challenges to overcome and more research ahead, this achievement represents a significant step towards addressing the shortage of viable organs for transplantation.
Source: AP
Housing Market Korea Exposed: 30 Individuals Purchase 8,000 Homes