Business
PEPE Coin The new meme coin takes crypto by storm
PEPE Coin The new meme coin takes crypto by storm. PEPE Coin, a recently introduced meme-based cryptocurrency, has quickly gained traction in the cryptocurrency market and climbed to the top 100 cryptocurrencies by market capitalization. In just one night, it experienced a 111% surge, propelling its market value to $540 million.
According to CoinGecko, the value of the PEPE token has surged by 111% in the past 24 hours and has increased by 304% over the course of the week. This cryptocurrency, which is based on internet memes and popular culture references, is an ERC-20 token with a supply of 420.69 trillion tokens. Although there have been other Pepe the Frog NFTs and tokens released in the past, the latest version of the PEPE token has been particularly successful in attracting the interest of the cryptocurrency market.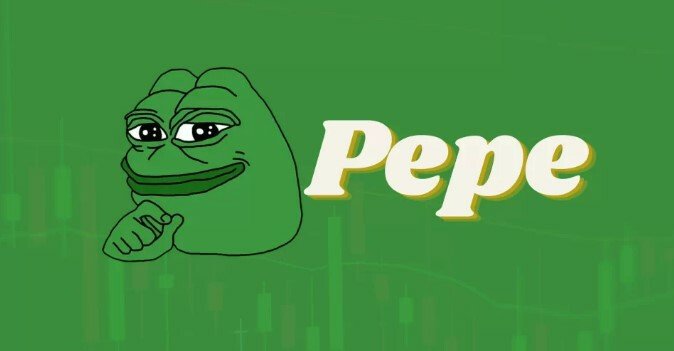 In just a matter of days, an investor was able to turn a $250 investment in PEPE into $1.02 million. This was achieved by purchasing 5.9 trillion PEPE tokens for 0.125 Ethereum on April 15, and holding on as the value of the token skyrocketed by approximately 40,7900% over four days. The investor's wallet now holds 3.9 trillion coins, which are currently valued at slightly over $5.3 million. When PEPE was first introduced on April 15, it was priced at around $0.000000001 per token. According to CoinGecko data, the token's current trading price is $0.00000137.
The surge in popularity of PEPE is believed to be the driving force behind its rapid rise in value, which coincides with an increase in Google searches related to the cryptocurrency. In the week spanning from April 9 to April 16, the Google Trend score for "pepecoin" increased from 3 to 100. This score represents the popularity of a particular keyword search on Google during a given time period, with a value of 100 indicating the highest level of popularity for that search term.
PEPE Coin gets listed in major exchanges
The listing of PEPE coin on several cryptocurrency exchanges such as OKX, Huobi, Gate.io, and MEXC is another factor that could be driving its price upwards. In addition, the token has seen a surge in trading volumes on DeFi platforms. The trading volume of the Uniswap PEPE/WETH pool increased from $2.99 million on April 15 to over $240 million across multiple liquidity pools and centralized exchange listings. According to Nansen's Ethereum analytics dashboard, more than 30 "smart money" wallets, which are categorized as very large and active traders, bought PEPE tokens worth around $1 million in the past week.
Source: Decrypt
Pepe Coin is a fresh addition to the world of digital currencies and meme coins, and it has currently become a popular topic in the cryptocurrency market. It was created by an artist named Matt Furie, who is known for creating "Pepe the Frog," a well-known cartoon character and internet meme that depicts a green, human-like frog. In the middle of April 2023, a meme coin called PEPE, based on Ethereum, was introduced.
Moreover, PEPE has surpassed other popular meme coins such as Shiba Inu, Dogecoin, and FLOKI by achieving an all-time high in the market. Shiba Inu has now dropped to second place in the meme coin category, with PEPE taking the third spot. The market capitalization of the coin has seen a massive surge, with its price reaching an all-time high of $0.000001482.
Investors have been steadily acquiring this new coin over the past week, propelling it to the top. According to CoinMarketCap, PEPE has provided its initial investors with a 2790% return on investment since its launch.
PEPE Trading volume on the up
PEPE's stability remains uncertain, but its trading volume shows that it is attracting the attention of investors. PEPE tokens follow a common pattern driven by social media hype, but it is too soon to determine whether it will be abandoned like many other meme coins or continue to break records. At the moment, PEPE has successfully captured the interest of the internet. If it maintains this level of attention for an extended period, it could become one of the few meme coins that are permanently etched into the memories of crypto communities worldwide.
The PEPE coin's popularity on social media continues to grow among users who are interested in meme cryptocurrencies. Binance has also released an official guide for purchasing PEPE, which the cryptocurrency Twitter community sees as a sign that the coin may soon be listed on the exchange.
At present, PEPE coin is only available on smaller exchanges like Bitget, BingX, and CoinW, among others. However, major platforms such as Binance, Coinbase, and Kraken have yet to list it.
If the rumor that PEPE coin will be listed on Binance turns out to be true, it could potentially revive the enthusiasm for meme coins.
A prominent figure in the cryptocurrency Twitter community, RookieXBT, shared a tweet with their 368,000 followers. While the tweet may be tongue-in-cheek, it highlights that low liquidity can cause a cryptocurrency's value to skyrocket as well as plummet. The tweet also suggests that PEPE coin is unlikely to surpass Ethereum in market capitalization.
Source: Cryptonews
PEPE Coin becomes the 3rd largest meme coin
PEPE has now become the third-largest meme coin and is challenging the second-placed Shiba Inu (SHIB), which has a market capitalization that is more than ten times that of PEPE. Finbold, in an article published on May 1, has identified PEPE as one of the five meme coins with the potential for massive growth in 2023. It is worth noting that, like many meme coins, PEPE does not have any significant use case beyond its association with Pepe the Frog, a character that was first featured in Matt Furie's 2005 Boy's Club comic book.
Advantages of Cryptocurrencies – Full Research
shop now
$149=18-inches V Part Wig