Megaprojects in the World 2023
Large-scale construction projects are becoming increasingly common worldwide, with a focus in recent years on the Arab Gulf Region. According to 1Build, a company specializing in construction software, there is a prediction that the first-ever construction megaproject costing over $1 trillion will be completed before the end of the decade. Presently, there are a number of projects that have already surpassed $100 billion in cost, which is a significant increase from just a few years ago when projects costing $10 billion were considered to be megaprojects.
1Build, International Construction Magazine, and Construction Review have identified nine megaprojects currently underway with a cost exceeding $100 billion, and four of these are located in the Arab Gulf States. Among these projects is the impressive Neom City, which consists of a collection of modern towns and cities being constructed in the Northwestern region of Saudi Arabia. By 2026, the city is expected to accommodate up to 450,000 residents. One of the developments within Neom City, called The Line, has garnered significant attention due to its unique features, including being a fully enclosed city measuring 170 kilometers in length, 200 meters in width, and 500 meters in height.
The Trans-European Transport Network (TEN-T), which is estimated to cost $600 billion, is a more costly project than Neom City. This project, initiated by the European Union, involves upgrading the infrastructure of railways, roads, shipping routes, and associated facilities across member countries to enhance long-distance transportation.
Megaprojects on the peninsula have encountered difficulties, such as the $250 billion railway project intended to connect GCC member countries through a 2,000 km rail network that was supposed to be completed by 2018 but was suspended. Nonetheless, there is potential for the project to restart soon. Other megaprojects in the area include Dubailand, a complex for tourism and entertainment, King Abdullah Economic City to the north of Jeddah in Saudi Arabia, and Silk City located in the north of Kuwait, which will feature the world's tallest building.
You will find more infographics at
Statista
Source: Statista
Megaprojects in the World 2023 TEN-T Core Transportation Network
The Trans-European Transport Network (TEN-T) is a long-term infrastructure project designed to upgrade and connect the transportation systems of EU member countries. The network includes nine transportation corridors that cross EU borders and connect major cities and ports. The corridors consist of a combination of highways, railways, ports, airports, and inland waterways.
The project aims to improve the mobility of people and goods throughout Europe while reducing the environmental impact of transportation. By connecting major cities and ports, the network is expected to promote economic growth and development, making Europe more competitive in the global market.
The TEN-T project was launched in 2013 and is scheduled to be completed by 2030, with a budget of €500 billion. The project is funded through a combination of public and private investments, with the majority of the funding coming from EU member states.
The core TEN-T network is the backbone of the project and includes the most important transportation corridors, while the comprehensive network includes all other transportation routes that are not part of the core network. The completion of the project is expected to greatly enhance transportation connectivity and mobility within Europe, promoting economic growth and development across the region.
Megaprojects in the World 2023 Neom City
NEOM is a mega-city project that is being built in the Northwestern region of Saudi Arabia, near the border with Jordan and Egypt. It is part of Saudi Arabia's Vision 2030 plan, which aims to reduce the country's dependence on oil revenue and diversify the economy by investing in sectors such as tourism, technology, and renewable energy.
NEOM is planned to be a futuristic city, designed to be a hub for innovation, technology, and sustainability. The project aims to cover an area of more than 26,000 square kilometers and will include a variety of towns and cities, with a total population of around one million people.
One of the most ambitious aspects of the project is "The Line," a 170 km-long city that will be completely car-free and powered by renewable energy. The Line is planned to be a fully sustainable city, with green spaces, smart transportation systems, and cutting-edge technology, such as automated delivery systems and drone taxis.
Other components of NEOM include a world-class airport, a seaport, industrial zones, and a research and development hub. The project is expected to create more than 380,000 jobs and generate billions of dollars in revenue for the Saudi Arabian economy.
NEOM is being developed with a budget of $500 billion and is expected to be completed in several phases, with the first phase scheduled to be completed by 2025.
Megaprojects in the World 2023 International Space Station
The International Space Station (ISS) is a multinational space station in low Earth orbit. The project is a collaboration between five space agencies: NASA (United States), Roscosmos (Russia), JAXA (Japan), ESA (Europe), and CSA (Canada). The project was initiated in 1984, and construction began in 1998. The ISS was first occupied by a crew in 2000 and has been continuously inhabited since then.
The ISS is the largest human-made object in space and can be seen from Earth with the naked eye. It has a modular design, with each module built by a different country or agency. The station's primary purpose is to serve as a microgravity and space environment research laboratory in which scientific experiments are conducted in biology, physics, astronomy, meteorology, and other fields.
The ISS orbits Earth at an altitude of approximately 408 kilometers (253 miles) and travels at a speed of about 28,000 kilometers per hour (17,500 miles per hour). The station has a crew of up to seven astronauts and cosmonauts at any given time, who live and work in space for six-month increments.
The ISS has been the site of many notable achievements in space exploration, including the first long-duration spaceflight of a woman, the first space tourist, and the first spacewalk conducted by an American woman. It has also been used as a platform for international cooperation, with crews from different countries working together on scientific experiments and maintenance activities.
The ISS has been continuously occupied since 2000, and its mission has been extended several times, most recently until 2024. Beyond that date, the future of the ISS is uncertain, and plans for its eventual decommissioning are being discussed by the participating space agencies.
Megaprojects in the World 2023 Silk City
Kuwait Silk City is a megaproject that is currently under development in Northern Kuwait, near the border with Iraq. It is a part of the country's long-term development plan, known as "New Kuwait Vision 2035," which aims to diversify the economy and transform Kuwait into a regional financial and cultural hub.
The project is named "Silk City" after the ancient Silk Road trading route that connected Asia and Europe, as it is envisioned to become a modern-day hub for trade and commerce. The project aims to create a new urban center with a range of facilities and amenities, including residential areas, commercial districts, and cultural attractions.
One of the highlights of the project is the planned "Burj Mubarak Al-Kabeer," which is set to become the world's tallest building, surpassing Dubai's Burj Khalifa. The tower is planned to be around 1,001 meters tall and will include luxury apartments, hotels, and offices.
In addition to the tower, Silk City is set to include a range of other facilities and amenities, including a new airport, a seaport, a railway station, and a financial center. The project aims to attract foreign investment and promote economic growth in Kuwait, creating job opportunities and boosting the country's GDP.
The project is expected to cost around $100 billion and will be developed over several phases, with the first phase set to be completed by 2035.
Megaprojects in the World 2023 King Abdullah Economic City (KAEC)
King Abdullah Economic City (KAEC) is a megaproject located in the western region of Saudi Arabia, near the city of Jeddah. It was named after King Abdullah bin Abdulaziz Al Saud, who initiated the project in 2005. The city is being developed by Emaar, The Economic City, a publicly listed Saudi joint-stock company, and is expected to cost around $100 billion.
The development of KAEC is part of Saudi Arabia's Vision 2030 plan, which aims to diversify the country's economy by reducing its dependence on oil revenue. The city is intended to be a hub for manufacturing, logistics, and tourism, with a focus on attracting foreign investment and creating job opportunities for Saudi citizens.
KAEC spans an area of 181 square kilometers and will eventually have a population of over 2 million people. The city will feature a variety of residential neighborhoods, commercial districts, and recreational areas, including a marina, a golf course, and a beach resort. There are also plans to build an industrial port and a railway station to support the city's economic activities.
As of 2021, several companies have already set up operations in KAEC, including Mars, Unilever, and Danube. The city has also attracted investment from China, with the Chinese company Huajian establishing a shoe factory in KAEC.
Overall, King Abdullah Economic City is a major undertaking in Saudi Arabia's effort to diversify its economy and create a more sustainable future.
Delhi-Mumbai Industrial Corridor (DMIC)
The Delhi-Mumbai Industrial Corridor (DMIC) is an ambitious infrastructure project in India aimed at developing a dedicated freight corridor and a high-speed passenger rail line between the cities of Delhi and Mumbai. The project is intended to cover an overall length of 1,483 km and would pass through the states of Uttar Pradesh, Haryana, Rajasthan, Gujarat, Maharashtra, and the National Capital Territory of Delhi.
The DMIC project was launched in 2006 as a partnership between the governments of India and Japan, with Japan providing financial and technical assistance. The total cost of the project is estimated to be around $100 billion, with the aim of developing a globally competitive manufacturing and trading hub.
The DMIC is intended to provide a boost to India's manufacturing sector by creating world-class infrastructure, such as industrial parks, special economic zones, and smart cities, along the corridor. The project also aims to promote sustainable development by focusing on the use of clean technologies and reducing carbon emissions.
The DMIC project has already made significant progress, with several industrial cities and townships under development along the corridor, including Dholera Special Investment Region (SIR), Shendra Bidkin Industrial Area, and Integrated Industrial Township Greater Noida. The project is expected to have a significant impact on the Indian economy by promoting industrial growth, boosting exports, and creating employment opportunities.
California High Speed Rail
The California High-Speed Rail (HSR) is a planned high-speed rail system in the state of California, USA. The project aims to build a 520-mile (840-kilometer) rail network that will connect San Francisco to Los Angeles, with stops in several cities along the way, including San Jose, Fresno, and Bakersfield. The rail system will be designed to allow trains to reach speeds of up to 220 mph (354 km/h), making it one of the fastest rail systems in the United States.
The idea for the California HSR system was first proposed in the 1980s, but it wasn't until 2008 that the state legislature approved funding for the project. The project has faced numerous challenges, including funding shortfalls, legal challenges, and environmental concerns. As a result, the project has been delayed multiple times and the cost estimates have increased significantly since its initial proposal.
Despite these challenges, the California HSR project remains a major priority for the state government, which sees it as a key element of the state's long-term transportation infrastructure. The project is expected to reduce traffic congestion on highways, reduce air pollution, and provide an alternative transportation option for residents and visitors alike. Additionally, the project is expected to create jobs and stimulate economic growth in the areas surrounding the rail stations.
Forest City
Forest City is a mega project located in the Iskandar Malaysia Special Economic Zone in Johor, Malaysia. It is being developed by Chinese property developer Country Garden Holdings in collaboration with local partners. The project is a mixed-use development covering an area of 30 square kilometers and is expected to house up to 700,000 residents.
Forest City will include residential, commercial, and industrial areas, as well as parks and green spaces. The development will also feature various smart city technologies, including facial recognition, unmanned aerial vehicles, and autonomous vehicles. Country Garden has invested heavily in technology and research to ensure that Forest City is environmentally sustainable and energy-efficient.
The project has faced some controversy, with concerns raised over its impact on the local environment and the displacement of local communities. There have also been concerns raised over the number of foreign buyers of the residential properties, which has led to restrictions on the sale of these properties to foreign buyers in order to ensure that they do not exceed a certain proportion of the total number of units.
Despite the controversy, Forest City is one of the largest foreign investments in Malaysia, and is expected to be a major contributor to the country's economy in the coming years. The project has already created thousands of jobs and is expected to create many more in the construction and service sectors.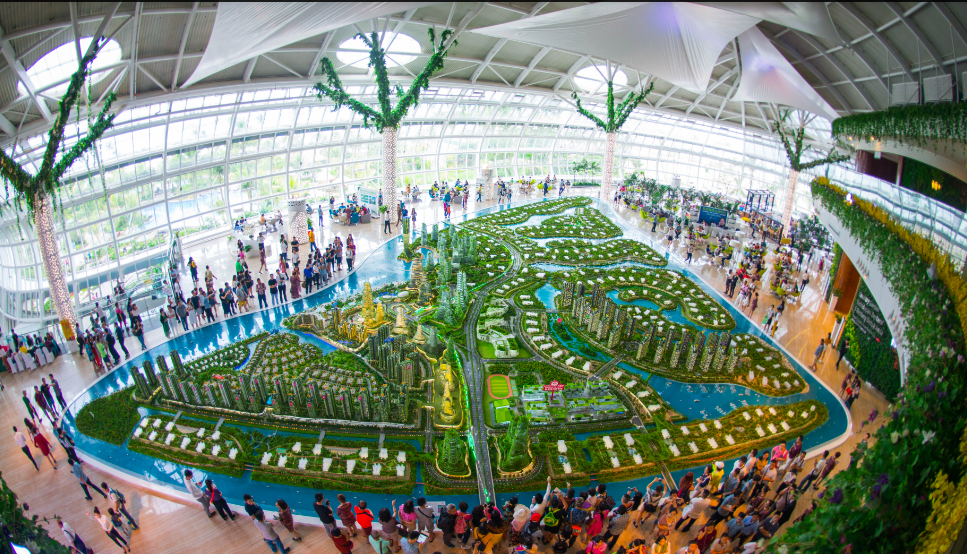 Dubailand
Mega Food Parks in India – UAE to invest US$2 Billion under the I2U2 initiative