Business
Icon of the Seas World's Largest Cruise Ship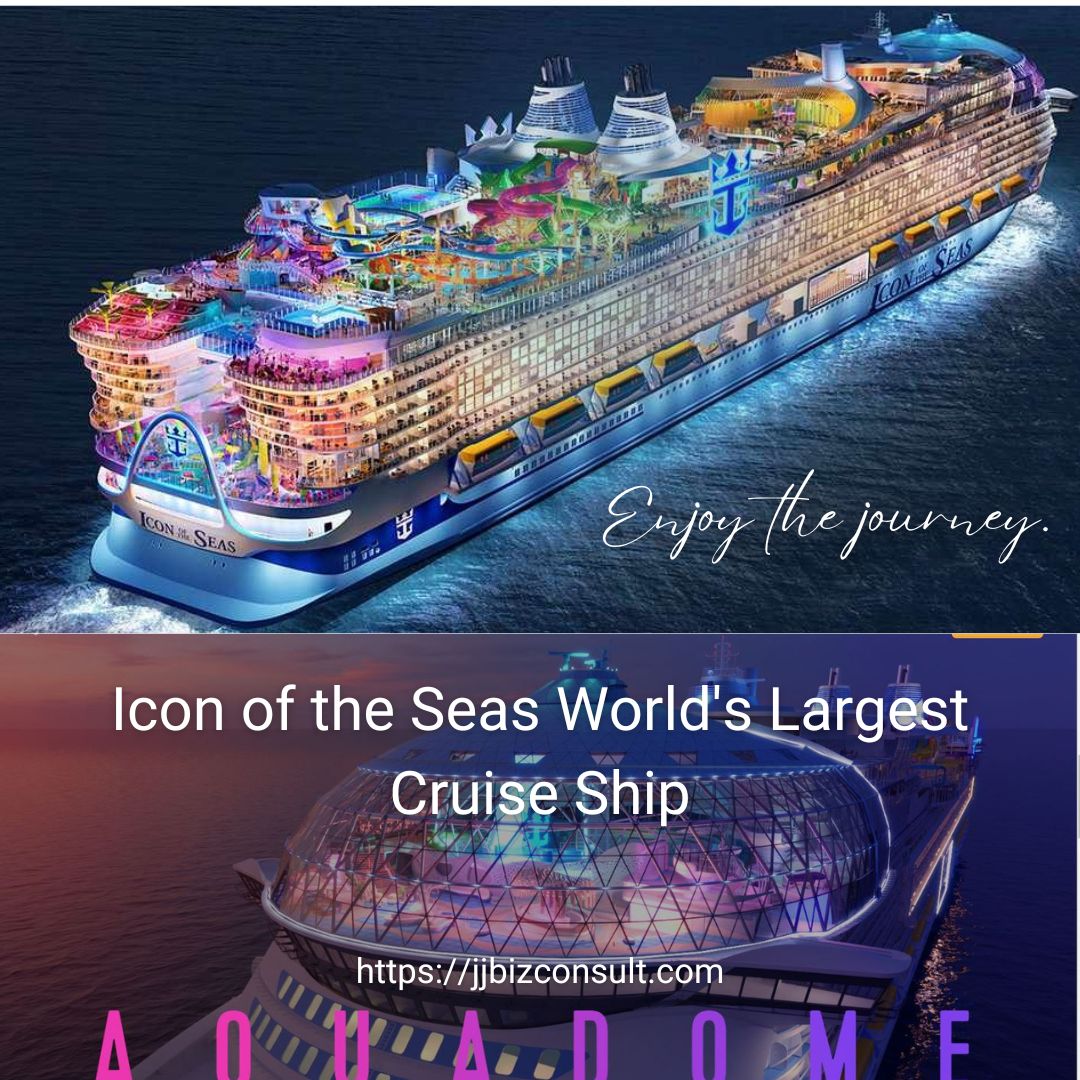 Icon of the Seas World's Largest Cruise Ship.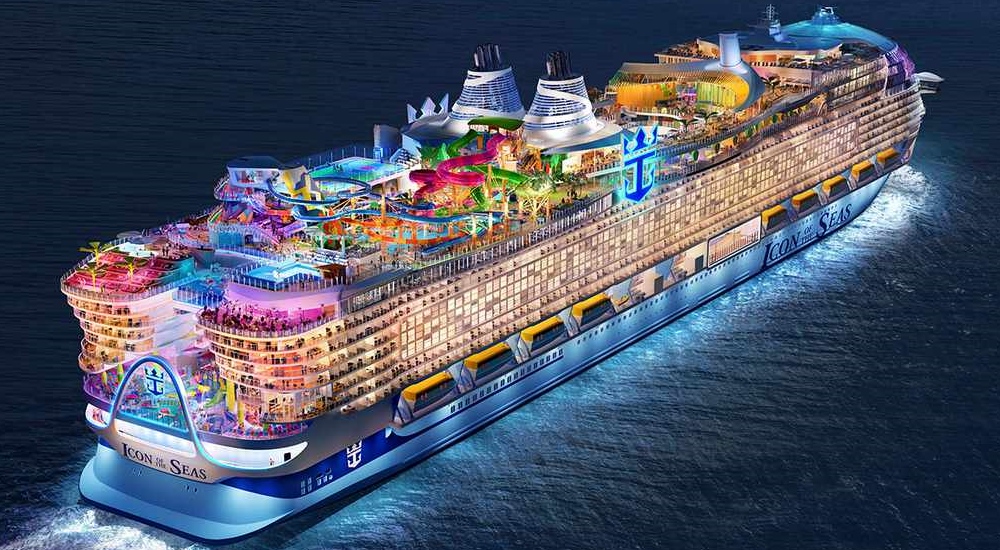 The world's largest cruise ship, known as the Icon of the Seas and constructed in Finland, has finished its building process and embarked on sea trials. It is expected to be delivered in October this year. With a staggering length of 365 meters (around 1,200 feet) and an estimated weight of 250,800 tonnes, the ship surpasses all others in size. To put it into perspective, it would be comparable to keeping two CN Towers afloat.
When it sets off on its journey through the Caribbean in January 2024, the Icon of the Seas will comfortably accommodate approximately 5,610 passengers and have a crew of 2,350. The ship's most notable feature will be the largest waterpark at sea, called Category 6. This impressive waterpark will include six water slides that break world records. Additionally, guests seeking a more relaxed experience can enjoy the ship's seven pools and nine whirlpools.
Constructed in Finland for Royal Caribbean International
The construction of the ship is taking place at the Meyer Turku shipyard in Turku, Finland, which is recognized as one of the prominent shipbuilders in Europe. During a press conference held at the shipyard earlier this year, Michael Bayley, the President and CEO of Royal Caribbean International, stated that the vessel was on schedule to become part of the Royal Caribbean fleet on October 26, preceding its debut in 2024.
The current record holder for the world's largest cruise ship is another ship in the Royal Caribbean fleet called Wonder of the Seas, which embarked on its maiden voyage just last year. Wonder of the Seas is slightly smaller, measuring 1,188 feet in length and featuring 18 decks for exploration.
Royal Caribbean International positions Icon of the Seas as the pinnacle of their evolutionary journey, incorporating the latest technology and benefiting from the company's accumulated knowledge over 50 years of operation.
"We are positioning the ship as the ultimate family vacation, and when you take a step back and consider all the effort and time dedicated to its creation, it is truly astonishing," expressed Bayley.
Completed its Initial Sea Trials
According to a statement from Royal Caribbean, the Icon recently concluded its initial round of sea trials on June 22.
"During these sea trials, Icon of the Seas sailed hundreds of miles, undergoing testing of its main engines, hull, brake systems, steering, as well as assessments of noise and vibration levels," stated the announcement. "Despite a slight delay in departure due to windy conditions, everything was executed according to the schedule."
The ship offers an extensive range of over 40 dining, entertainment, and beverage options, with many of them included in the cruise fare. Spanning across 20 decks and eight distinct neighborhoods, the aim is to cater to various types of vacationers. From dedicated areas for families to exclusive spaces like Royal Caribbean International's first dueling pianos bar for adults-only, there is something for everyone.
With 28 different types of accommodations available, there are additional categories designed specifically for families, more diverse layouts offering ocean views, and increased space for group travelers. The cruise line has dedicated a significant amount of time to ensure they have created the ideal home base for guests, making it their most extensive endeavor in this regard.
Icon of the Seas represents a significant milestone for Royal Caribbean International as it is their first ship powered by liquefied natural gas (LNG) and fuel cell technology, aligning with the company's commitment to a clean-energy future.
Has a 2,600 Workforce
A workforce of approximately 2,600 individuals has been diligently working on the construction of Icon of the Seas each day. During the sea trials, hundreds of specialists were on board to evaluate the ship's performance over a four-day period.
Royal Caribbean has announced plans for a second round of sea trials scheduled for later in 2023.
The ship has generated significant excitement, resulting in unprecedented advance sales. Michael Bayley, in the company's quarterly financial results, reportedly referred to Icon of the Seas as "the most successful new product launch we have ever experienced."
Icon of the Seas will embark on seven-night cruises to the Eastern and Western Caribbean from Miami throughout the year. Each voyage will include a visit to Perfect Day at CocoCay, Royal Caribbean's renowned private island destination, along with its recently expanded area, Hideaway Beach.
Source: CNN
Thrills on Icon of the Seas
Seize the opportunity to engage in an exhilarating sequence of thrilling experiences. Experience the rush of descending down slides that break records. Push your boundaries with a daring challenge that will leave you feeling a sense of fear unlike anything you have ever encountered, suspended high above the ocean. Furthermore, uncover excitement suitable for all age groups at Surfside, which is the inaugural neighborhood designed exclusively for families by Royal Caribbean®.
Chill on Icon of the Seas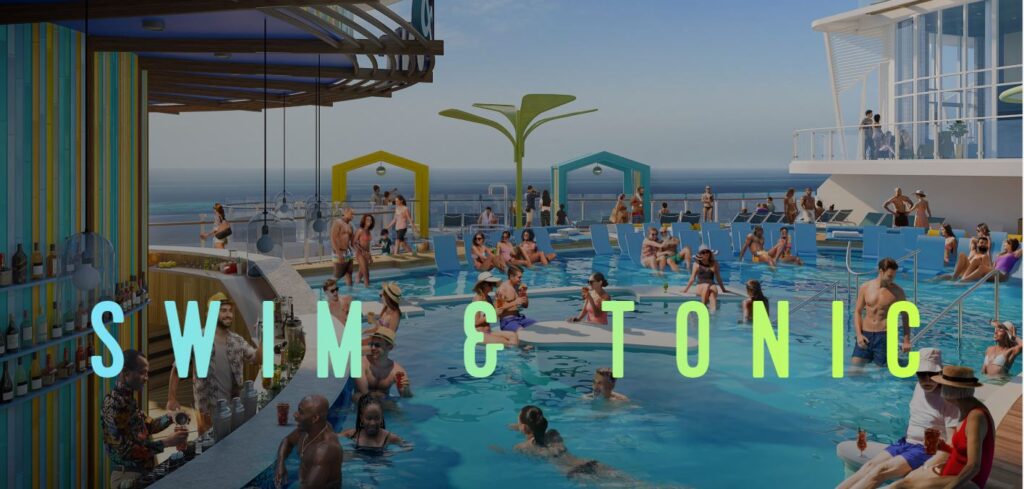 It's your day, your way. No matter what activity you choose, it will be a delightful experience. From enjoying breathtaking views and lively beach club music high above the sky at the first-ever suspended pool at sea, known as The Hideaway, to immersing yourself in the vibrant atmosphere at the largest swim-up bar at sea, Swim & TonicSM, a positive ambiance is always within reach, just a few steps away.
Escape to extraordinary heights of awe-inspiring luxury at the Hideaway, a beach club-inspired haven that evokes the ambiance of Mykonos and Mallorca. At its heart lies the first-ever suspended infinity pool at sea. This distinctive pool, unlike anything you have witnessed or swum in before, offers an expansive oasis. The Chill IslandSM at Royal Bay welcomes you with its vast expanse, containing over 40,000 gallons of water. It is the largest pool at sea, complete with in-water loungers and elevated whirlpools that provide magnificent views and ample space to bask in the sun or make a splash. Nestled on the upper deck, Cloud 17SM creates an adults-only sanctuary elevated above the ordinary poolside experience. Unwind in this chic atmosphere, featuring a secluded pool, a cantilevered whirlpool, and exclusive access to The Lime and Coconut® bar, all while overlooking the ocean. Discover the Suite Neighborhood, an exclusive retreat reserved solely for suite guests. Soak up the sun on the two-story sun deck or take a refreshing dip in the private pool and hot tub. Delight in exquisite cuisine at Coastal Kitchen or relish the Mediterranean bliss in an open-air setting at The Grove.
WOW's on Icon of the Seas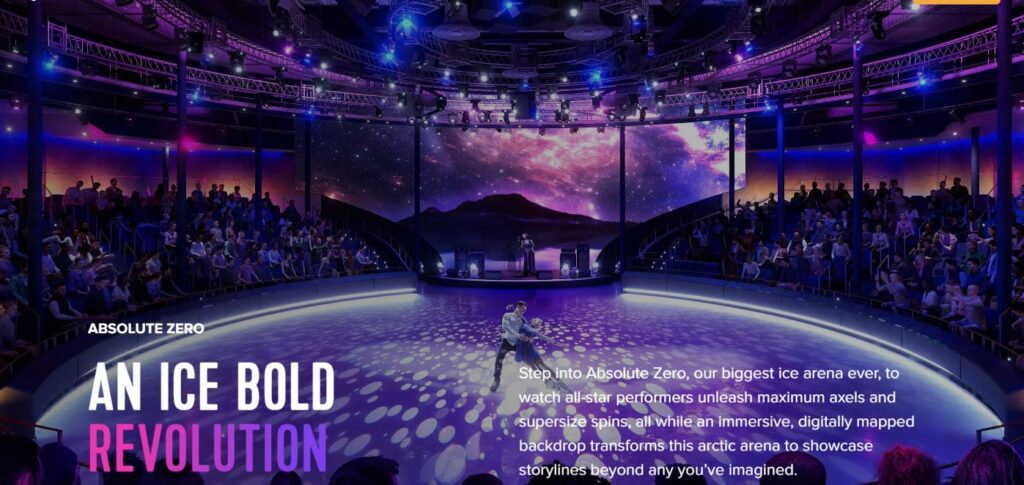 Experience a captivating fusion of technology and artistic mastery on the remarkable new Icon of the SeasSM, leaving you in awe of its grandeur. Prepare to be swept away by unparalleled innovation, entering a realm of extraordinary magnificence. Icons not only captivate your attention but also forever transform your perception of what is possible. In a realm where anything can occur, the only certainty is the unexpected. The new Icon of the SeasSM unveils the most remarkable innovations ever witnessed at sea. Witness astonishing ice skaters executing breathtaking double axels in our largest ice arena to date. Marvel at performances that push the boundaries of bravery beneath a captivating and ever-changing waterfall. And this is only the beginning.
A realm of sensory exploration awaits you at the AquaDomeSM, the most immersive spectacle at sea. Encounter a towering waterfall that shape-shifts and cascades into a diving pool, along with dining options that ignite your culinary curiosity. Step into Absolute Zero, our most expansive ice arena, and be enthralled as talented performers unleash maximum axels and mesmerizing spins. The immersive digital backdrop within this icy arena metamorphoses, transporting you into captivating storylines beyond your wildest imagination.
Night Life on Icon of the Seas
Elevate your entertainment experience to unforgettable heights with electrifying set lists and sensational performances, or immerse yourself in the lively ambiance of Dueling Pianos℠, a one-of-a-kind bar in the fleet. Ignite your team's competitive spirit with exhilarating rounds of darts, enjoy drinks while playing billiards or indulging in retro arcade classics. Alternatively, create an intimate party for two with romantic starlit sips accompanied by soulful classics before a side-splitting stand-up comedy show. Onboard the new Icon of the Seas℠, you'll encounter a night out like never before.
Prepare for an immersive nightlife experience featuring non-stop live music, hilarious stand-up comedy, and a plethora of new bars at every turn. Whether you're enjoying a night out for two or embarking on an epic bar-hopping adventure with your entire group, you'll be treated to a diverse range of performances, from high-energy rock covers to soulful piano classics. Each night deserves applause accompanied by a few rounds of drinks, and you'll have a front-row seat to the excitement.
With over 40 exceptional dining and drinking options, alongside breathtaking spectacles on ice, stage, air, and water, your date night transcends the ordinary dinner and show. Delight in handcrafted cocktails while feeling the gentle sea breeze and dance through the decades with captivating music. Every night onboard guarantees a memorable experience. Share a round of darts and drinks, team up for karaoke stardom, or compete in pool or foosball matches. Challenge each other to a wing-eating contest at Playmakers℠ Sports Bar & Arcade and enjoy a night full of winning moments.
Dining on Icon of the Seas
Experience a wide array of culinary delights onboard Icon of the SeasSM, offering over 20 dining options that foster moments of togetherness through delectable bites. Whether you're in the mood for a mouthwatering slice of the day, freshly rolled sushi enjoyed in the open air, or a delightful feast for your entire group, satisfying your cravings is just a few steps away. Each dish is meticulously crafted to tantalize your senses, served in captivating venues with visually appealing presentations and accompanied by live entertainment. Embark on a culinary adventure filled with flavors and discoveries, creating lasting memories while savoring extraordinary meals. The Icon of VacationsSM ensures that every meal is a remarkable experience.
Celebrate life's special moments with exceptional dining experiences aboard Icon of the SeasSM. Elevate your epicurean journey to new heights with innovative twists on familiar favorites, alongside new restaurants and VIP experiences. Delight in premium cuts of steak carefully selected for your pleasure, indulge in delicacies like caviar, and relish in the finest seafood offerings, from freshly shucked oysters to sumptuous whole lobster entrees. Immerse yourself in the pleasure of curated courses, exquisite dishes, and an unmatched ambiance that transforms every bite into a celebration.
Prepare for a lavish feast that creates unforgettable memories through exceptional cuisine. Witness the captivating showmanship of a hibachi dinner, indulge in a generous spread at a vibrant eatery in the heart of Surfside, and explore over 20 unique dining options catering to a variety of appetites, from the adventurous foodie to the most discerning palate. Thrill Island offers convenient walk-up windows with delightful provisions, while The PearlSM provides quick bites round the clock. Central Park® offers sushi and sake to-go, and the Royal Promenade boasts fresh-baked pizza by the slice and draft beer. When your group craves diversity, head to AquaDome Market, the fleet's first food hall, featuring five food stands offering a delightful selection to sample.
Source: Royal Carribean
Aston Martin Lucid partnership to manufacture EV's