Business
High Speed Railway: South East Asia's First in Indonesia
High Speed Railway: South East Asia's First in Indonesia.
Indonesia has unveiled the inaugural high-speed train in Southeast Asia, establishing a rapid rail link between two of its largest urban centers. This project, valued at $7.3 billion, is part of China's Belt and Road infrastructure initiative and received substantial funding from Chinese state-owned companies. Despite numerous delays and obstacles, the public was finally granted access to the train service on Monday.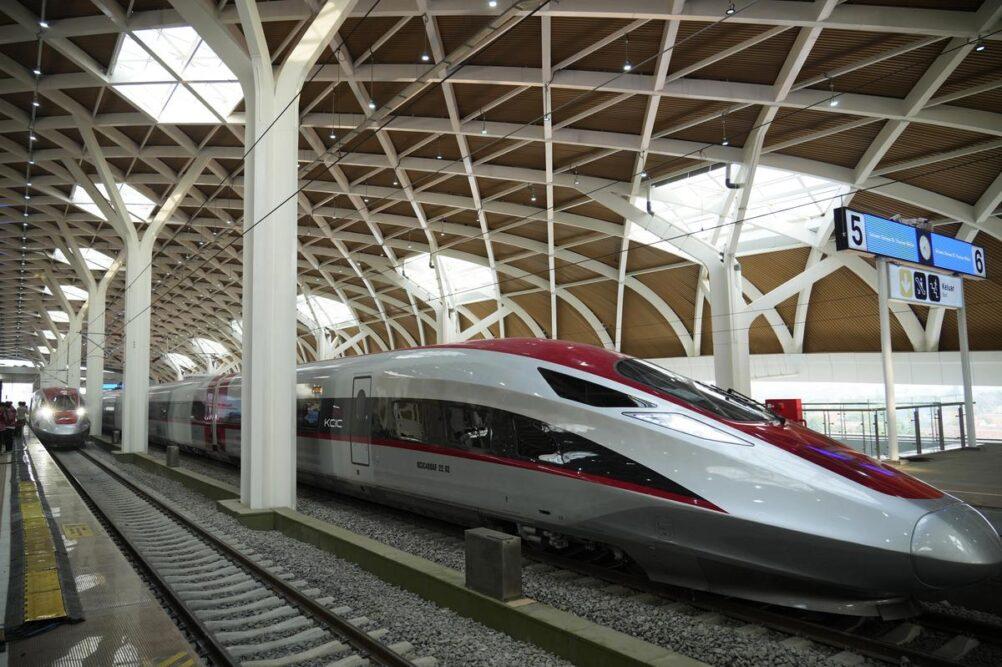 Originally intended to commence operations on October 1, a grand inauguration event took place at Jakarta's Halim railway station. The ceremony was attended by President Joko Widodo, First Lady Iriana, and several cabinet ministers. President Widodo proudly announced, "The Jakarta-Bandung high-speed train marks Indonesia's and Southeast Asia's first high-speed train, boasting speeds of 350 kilometers per hour." He then initiated the official service with a red alarm signal.
Luhut Binsar Pandjaitan, Indonesia's coordinating maritime and investment minister, emphasized the collaborative effort behind the project, stating, "This achievement is the result of strong teamwork involving the central government, local government, state-owned enterprises, private sectors, the public, and the Chinese government along with its affiliated companies."
Videos captured inside the train and shared on social media showcased spacious air-conditioned cabins and clear window views of the Indonesian landscape as the train zoomed along its route. The newly introduced bullet train will operate between the Halim railway station in East Jakarta and the Padalarang railway station in West Bandung, which is Indonesia's second-largest city and a significant center for arts and culture in the country.
The high-speed rail line, covering a distance of 86 miles (138 kilometers) and officially named WHOOSH (an acronym for "time saving, optimal operation, reliable system" in Indonesian), operates using electricity, producing no direct carbon emissions, and achieves a speed of approximately 217 miles per hour. According to officials, this reduces the travel time between Jakarta and Bandung from over three hours to under an hour.
PT Kereta Cepat Indonesia China (PT KCIC), a joint state venture, oversees this railway, which is well integrated with local public transportation systems. The trains have been adapted for Indonesia's tropical climate and are equipped with a safety system capable of responding to earthquakes, floods, and other emergencies.
Discussions are ongoing about extending the high-speed line to Surabaya, a significant port and the capital of East Java Province, as revealed by PT KCIC director Dwiyana Slamet Riyadi in earlier September during a ceremony covered by Chinese state media outlets. Plans for stops in other major cities like Semarang and Yogyakarta, known as the gateway to Borobudur, the world's largest Buddhist temple, are also in progress. PT KCIC's information indicates that the railway consists of eight cars, all equipped with Wi-Fi and USB charging points, accommodating a total of 601 passengers.
There will be three classes of seats: first, second, and VIP. Indonesia, the world's fourth-largest country and the largest economy in Southeast Asia, has actively sought investment from China, its largest trade and investment partner.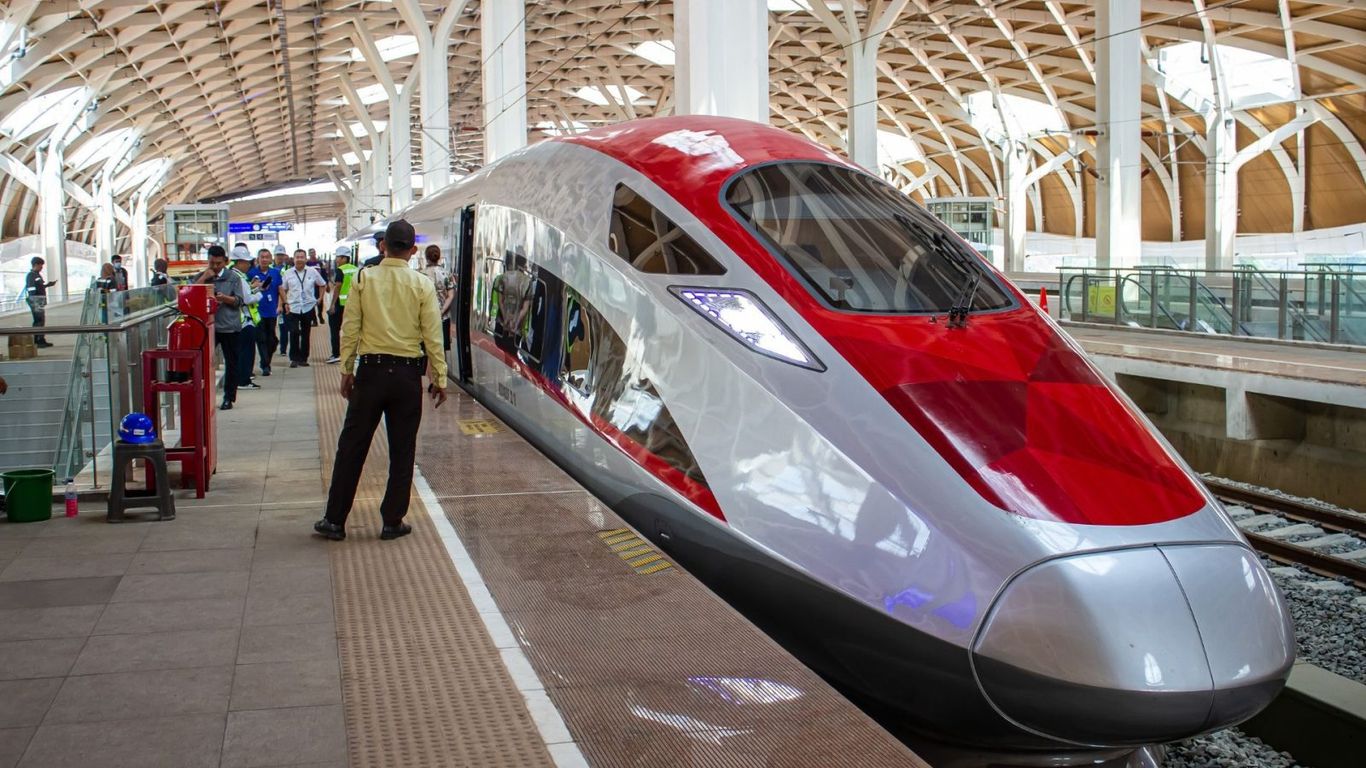 A high-profile meeting in July between Indonesian President Joko Widodo and Chinese President Xi Jinping unveiled several projects, including plans for a multi-billion dollar Chinese glass factory on Rempang Island in Indonesia's Riau Islands Archipelago, as part of a new 'Eco-City.' However, this sparked weeks of intense protests from indigenous islanders opposed to the destruction of their villages. President Widodo and Chinese Premier Li Qiang were photographed taking test rides on the new high-speed railway throughout September.
The train deal was initially signed in 2015 as part of China's Belt and Road Initiative, and construction commenced later that year. Originally expected to be completed in 2019, the project faced multiple operational delays due to the COVID-19 pandemic, as well as challenges related to land procurement and rising costs.
Dwiyana, PT KCIC's director, hailed the Jakarta-Bandung high-speed railway as an "exemplary instance of bilateral cooperation between Indonesia and China." He emphasized that it would not only enhance Indonesia's infrastructure but also "stimulate the growth of Indonesia's railroad and manufacturing industries." (Source: CNN)
Ticket prices for the high-speed train had not been confirmed as of the inauguration date. However, PT KCIC provided estimated one-way fares, which ranged from 250,000 rupiah ($16) for second-class seats to 350,000 rupiah ($22.60) for VIP seats. Passengers traveling to downtown Bandung will be required to take a feeder train from the Padalarang station, which will add approximately 20 minutes to their journey and is expected to cost around 50,000 rupiah ($3.20).
As part of a broader vision, the Jakarta-Bandung high-speed railway is just one component of a plan to establish a 750-kilometer (466-mile) high-speed train network spanning four provinces on Java, Indonesia's primary island. This network is envisioned to be extended to Surabaya, the country's second-largest city.
Source: Adda247
The World's First Hydrogen-Powered Train line in Germany
Osmotics SkinCare™ is a Global Anti-Aging Beauty Brand.