Business
HDFC Bank merger -This Is the largest in India's corporate history
HDFC Bank merger -This Is the largest in India's corporate history.
According to the India Today Business Desk, HDFC Bank, one of the leading private lenders in India, achieved a significant achievement on Monday when its shares surged to a record level after merging with Housing Development Finance Corp (HDFC).
As a result of the merger, HDFC Bank now ranks among the world's top 10 banks in terms of market capitalisation.
During early trading on Monday, HDFC Bank's shares experienced a notable increase of 3.3%, reaching an all-time high of Rs 1,757.50. Similarly, HDFC's shares also rose by 3.7% to Rs 2,927.40, marking their highest value since the merger was first announced in April 2022.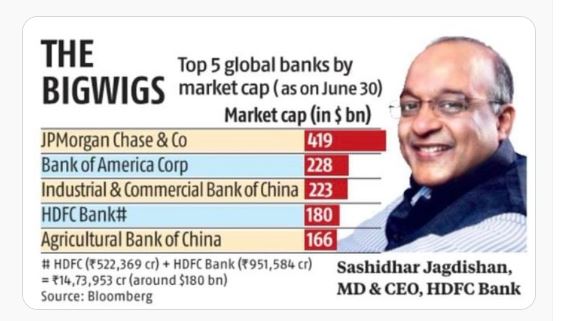 HDFC Bank merger -This Is the largest in India's corporate history
Having a market capitalization of around $157 billion, the merged entity has now surpassed prominent international banks like Morgan Stanley and HSBC Holdings. This merger, valued at $40 billion, represents the largest in India's corporate history and enables the newly formed financial powerhouse to finance larger loans, including those for infrastructure projects.
The merger has acted as a catalyst for both HDFC Bank and HDFC, as their stock prices have exceeded the performance of the benchmark Nifty 50 index. Since the announcement of the merger, HDFC Bank has seen gains of approximately 14.5%, while HDFC has experienced gains of over 17%.
According to market analysts, such as Morgan Stanley, the valuation of HDFC Bank is considered attractive due to the synergies resulting from the merger. The private lender now has access to a wide customer base and secure long-term retail mortgage products, which are expected to drive loan growth.
Morgan Stanley predicts that the merged entity's loan growth will accelerate to 17-18% in the upcoming quarters, surpassing the current rate of 15-16%. There will be a specific focus on mortgage loans.
Taking these factors into account, Morgan Stanley has resumed coverage of HDFC Bank with an 'overweight' rating and set a target price of Rs 2,110 per share. This target price suggests a potential upside of 26% from the bank's previous closing price.
Sashidhar Jagdishan, the managing director and CEO of HDFC Bank, expressed his positive outlook for the newly merged entity, highlighting the potential to establish a new HDFC Bank every four years based on their ambitious growth plans.
He emphasized that the merged entity, equipped with a strong distribution network, an expanding customer base, robust capitalization, and impressive financial performance, is in a favorable position to seize future growth opportunities.
To solidify their integration and mark the beginning of a new phase for the banking conglomerate, HDFC and HDFC Bank have designated July 13 as the "record date" for exchanging HDFC's shares with HDFC Bank's stock for its shareholders.
Source: India Today
HDFC Bank is set to become the second-largest company in India

After the merger with mortgage lender HDFC, HDFC Bank is set to become the fourth most valuable bank in the world in terms of market capitalization and the second largest company in India. According to Bloomberg data, the merged entity is expected to have a market capitalization of $172 billion, making it the most valuable bank after JPMorgan Chase, Industrial and Commercial Bank of China (ICBC), and Bank of America.
Currently, JPMorgan Chase holds a market capitalization of $417 billion.
After the merger, the combined entity of HDFC Bank and HDFC will become the second most valuable company in India, trailing only Reliance Industries, which had a market capitalization of $210 billion as of Friday. The global index services provider FTSE will replace HDFC with HDFC Bank in its indices following the completion of the merger. Currently, HDFC Bank is not included in the index. It's important to note that this change in index inclusion will not result in any immediate new investments or inflows, as there will be no alteration in weightage.
Source: Economic Times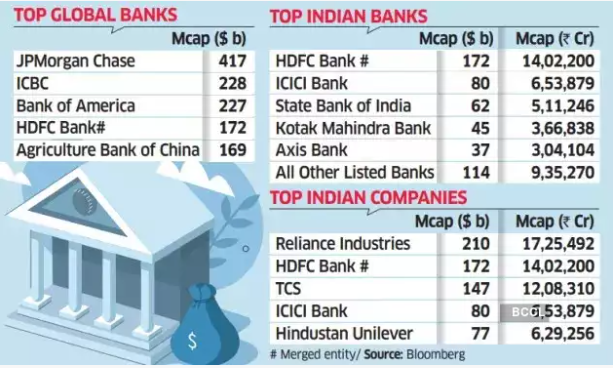 The merger of HDFC Bank Ltd. and Housing Development Finance Corp. will establish a homegrown Indian company among the world's most valuable banks, presenting a significant challenger to the top-ranking American and Chinese lenders. With a market capitalization of approximately $172 billion, the newly formed HDFC Bank entity will rank fourth globally, trailing only JPMorgan Chase & Co., Industrial and Commercial Bank of China Ltd., and Bank of America Corp.
Following the merger, HDFC Bank will expand its customer base to around 120 million, surpassing the population of Germany. The bank's branch network will exceed 8,300, and its employee count will surpass 177,000.
In terms of market capitalization, HDFC Bank will outperform banks such as HSBC Holdings Plc, Citigroup Inc., State Bank of India, and ICICI Bank. The bank is poised for significant growth, aiming to double in size over the next four years with a projected growth rate of 18% to 20%. The merger provides an opportunity to expand its deposit base by leveraging the existing customers of HDFC.
By offering in-house home loan products to its clients, HDFC Bank aims to enhance customer relationships and tap into untapped potential. The bank's performance has garnered investor confidence, as evidenced by the outperformance of its contingent convertible bonds compared to global peers. However, its stock performance has been more modest in the past year, with the growth of the loan book and return on assets being key factors influencing future stock performance.
Overall, HDFC Bank is poised to become a formidable global banking giant and a key player in the Indian banking sector.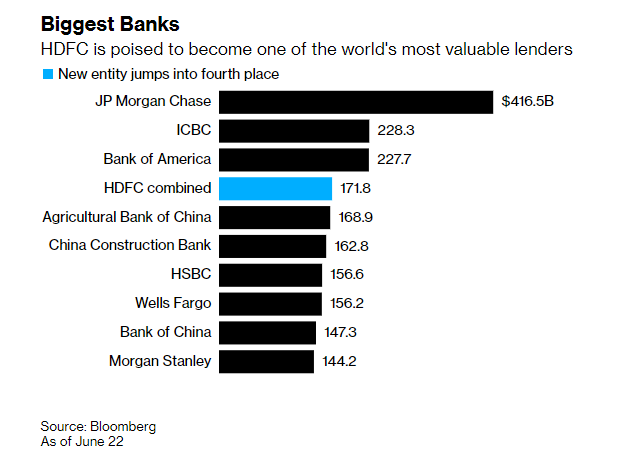 Source: Bloomberg
Largest Agricultural Cooperative In The World