Business
Habits Guide Hacks: The Art of Building Good Habits and Breaking Bad Ones
Habits Guide Hacks: The Art of Building Good Habits and Breaking Bad Ones. "From Struggles to Success: Real-Life and Celebrity Tales of Habit Transformation"
Introduction – The Art of Building Good Habits and Breaking Bad Ones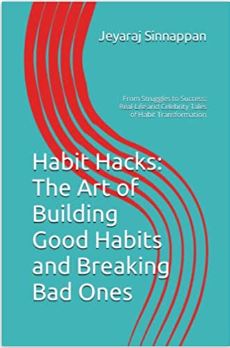 Habits play a significant role in our daily lives and are a major determining factor of our success and happiness. They can either propel us toward our goals or hold us back from reaching our full potential. Whether it's a positive habit like exercise, a healthy diet, or a productive morning routine, or a negative habit like procrastination, stress eating, or excessive social media use, they have a profound impact on our well-being and personal growth.
In "Habit Hacks: The Art of Building Good Habits and Breaking Bad Ones," we delve into the science of habits, exploring how they form, and the factors that influence their development. We provide practical strategies for building good habits, and breaking bad ones, and give you the tools to create a habit plan that works for you. This book is not just about developing good habits and breaking bad ones but also about understanding the underlying mechanisms that drive habits and how you can use that knowledge to your advantage.
We cover a wide range of topics, from setting goals and creating a plan, to tracking progress and celebrating success, to advanced habit-forming strategies that will help you overcome obstacles and maintain good habits for life. This book will provide you with a comprehensive understanding of habits and the knowledge and skills you need to build good habits and break bad ones.
So, whether you're looking to improve your health, productivity, relationships, or overall quality of life, this book is for you. Join us on this journey to learn the art of building good habits and breaking bad ones and discover the power of habits to shape your life and achieve your goals
Comprehensive Information & Strategies for Changing Habits
In this book, you will not only find comprehensive information and strategies for changing habits but also real-life stories of individuals who have successfully overcome their bad habits. From famous authors like Charles Duhigg, Tim Ferriss, and Gretchen Rubin to celebrities such as Lady Gaga, Dwayne "The Rock" Johnson, Demi Lovato, and Robert Downey Jr., the book showcases how these individuals transformed their lives through habit change. By exploring their journeys, you will gain inspiration and insights into what it takes to build good habits and break bad ones. Whether it's quitting smoking, improving one's health, finding happiness, or overcoming addiction, this book is packed with real-life examples that illustrate the power of habit change.
More on this site: Social Media Marketing – The Best Practical Guide
Click Link below for Habit Hacks.