Business
Gautam Adani Richest in the World No.2
Gautam Adani Richest in the World No.2. According to Forbes, the self-made billionaire's net worth increased by $4 billion overnight to $154 billion, placing him ahead of Jeff Bezos of Amazon and Bernard Arnault of LVMH.
Gautam Adani Richest in the World No.2
Indian billionaire Gautam Adani, chairman of the Adani Group, surpassed Jeff Bezos of Amazon to take second place in the world's wealth rankings. According to Forbes' real-time data, he is currently just behind Tesla CEO Elon Musk, who is still the richest person in the world with a net worth of $273.5 billion, according to LiveMint.
In 2022, the CEO of Adani Group increased his wealth by more than $70 billion (YTD). He passed Mukesh Ambani to become the wealthiest Asian in February, hit the billionaire mark in April, and surpassed Microsoft's Bill Gates to become the fourth-richest person in the world last month.
The largest port operator in India is a consortium of infrastructure companies located in Ahmedabad. The largest thermal coal producer and coal trader in India are both owned by the group. The year ending March 31, 2021, saw $5.3 billion in revenue reported by Adani Enterprises.
Gautam Adani's real-time net worth echoed the advance in the stock market as the Adani Group equities of Adani Enterprises, Adani Port, and Adani Transmission touched new highs on the BSE in Friday's early trades.
In February, Adani passed fellow businessman Mukesh Ambani of India to claim the title of the wealthiest person in Asia.
Microsoft's Bill Gates, who gave $20 billion to the Bill and Melinda Gates Foundation's endowment in July, would have remained in third place. He has stated his plans to drop "off of the list of the world's richest individuals." According to Bloomberg's ranking, Gates is presently the fifth richest person in the world, with a net worth of $117 billion. Source: CNN
Adani Group & Adanis Share
Adani's skyrocketing net worth is a result of his publicly traded firms' market capitalization booming as investors support the Adani Group's rapid expansion of both existing and new enterprises.
The billionaire owns 75% of the flagship Adani Enterprises, whose shares have increased in value by more than 2,700% since March 2020 and more than doubled during the last six months.
Adani Transmission, Adani Power, Adani Ports, and Adani Green Energy all experienced stock price increases, making Adani Group the largest conglomerate in India. According to analyst estimates, the market capitalization of Adani's seven listed companies briefly surpassed that of the Tata group on Friday morning.
Richest in the World-Forbes Realtime Billionaires List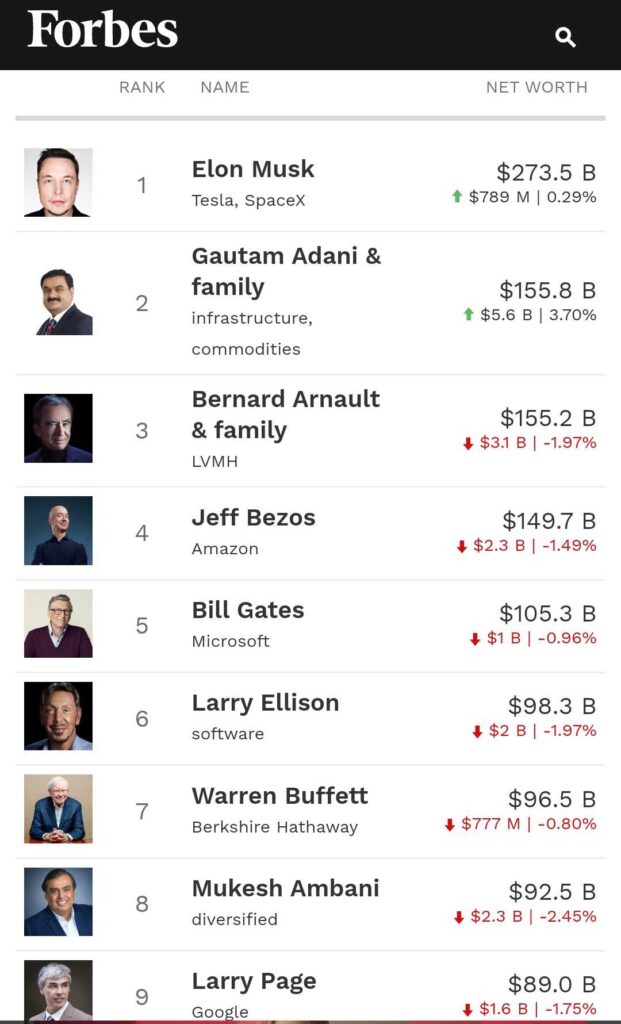 Gautam Adani's Investments
The major companies under Adani Group are
Adani Enterprises
Adani Green Energy
Adani Ports & SEZ
Adani Transmission
Adani Total Gas
Adani Power
Adani Wilmar
Other sectors of Investment include,
Edible Oils & Food
Real Estate
Financial Services
Housing Finance
Transport & Logistics
Incubation
Adani's Latest Investment in Cement
The price of a share of Adani Enterprises, the conglomerate owned by Adani, hit a record high yesterday of 3,749.15 rupees ($46), more than doubling from the previous year. In response to the soaring demand for power, shares of his Adani Power have increased by a factor of three in the last year, reaching 398.4 rupees ($4.9). Adani Green Energy, a provider of renewable energy, saw its share value nearly double in the previous year to 2,343.05 rupees ($29.2).
Adani's desire for growth has led to him taking risky steps to join new industries. The $10.5 billion purchase of the Indian division of Swiss cement company Holcim Group is now being finalized by the group.
Adani Group will buy shares in two publicly traded cement companies—a 63.11% stake in Ambuja Cement and a 54.53% stake in ACC—as part of this arrangement. These deals, for which open bidding was closed last week, would elevate Adani to the position of the country's second-largest cement manufacturer. Source: Forbes
Meet the Adani Team!
Gautam Adani Richest in the World No.2 – Latest Controversy
On August 22, 2022, the conglomerate of Indian billionaire Gautam Adani announced its intention to acquire a majority stake in the well-liked New Delhi Television (NDTV). The TV newsgroup claimed that this action was taken without the consent of NDTV.
One of the nation's most popular news organizations, NDTV is regarded as one of the few media groups that often takes a critical view of the ruling administration's policies.
Founders and shareholders of NDTV accused the Adani group of converting the debt into equity without consultation and consent.
According to Suhas Chakma, the New Delhi-based director of the Rights and Risks Analysis Group, NDTV is the only independent TV station in India. A takeover would leave the country with no independent broadcaster.

The pro-government Adani group is reportedly exploring other opportunities to invest in media.
The move is the latest in a series of government steps to silence critical media. Source: IfJ.org
Visit other trending news on this site: Plant-Based Milk: Your Best Investing Option.
shop now
Up To $40 Off Sitewide With Code: Summer40!