Business
Bernard Arnault Net Worth: The New Richest in the World
Bernard Arnault Net Worth: The New Richest in the World. Forbes Real Time Billionaires puts his net worth at US$ 181.5 billion (as of January 2, 2023), while Bloomberg Billionaires Index puts it at US$ 162 billion.
Arnault's fortune is derived from a 97.5% stake in Christian Dior, the luxury fashion house. Christian Dior controls 41.2% of LVMH, the world's largest luxury-goods maker. LVMH sells products including Louis Vuitton leather goods, TAG Heuer watches, and Dom Perignon champagne.
Bernault Arnault controls a large number of companies and brands, and we will look at the majority of them later in the article.
Biography of Bernard Arnault
Bernard Arnault was born in 1949 in the northern French town of Roubaix. He joined his family's company after graduating from Ecole Polytechnique in Paris with an engineering degree and persuaded his father to exit the construction business and focus on real estate.
In 1984, Arnault entered the luxury goods market when he purchased the bankrupt textile group that owned Christian Dior. He sold all of the company's other businesses and used the proceeds to acquire control of LVMH. Fendi, TAG Heuer, and Bulgari are among the other brands that have been acquired. He attempted and failed to acquire Sotheby's and Gucci, which he lost to rival billionaire Francois Pinault in 2010.
In September 2014, LVMH agreed to sell its 23% stake in Hermes to its shareholders, bringing an end to a four-year battle for control of the luxury label. He was the company's largest individual shareholder until July 2017, when he sold the majority of his shares in a $13.2 billion deal to consolidate his control of Christian Dior.
The billionaire and his second wife, concert pianist Helene Mercier, live on Paris's Left Bank. His modern and contemporary painting collection includes works by Jean-Michel Basquiat, Damien Hirst, Maurizio Cattelan, Andy Warhol, and Pablo Picasso.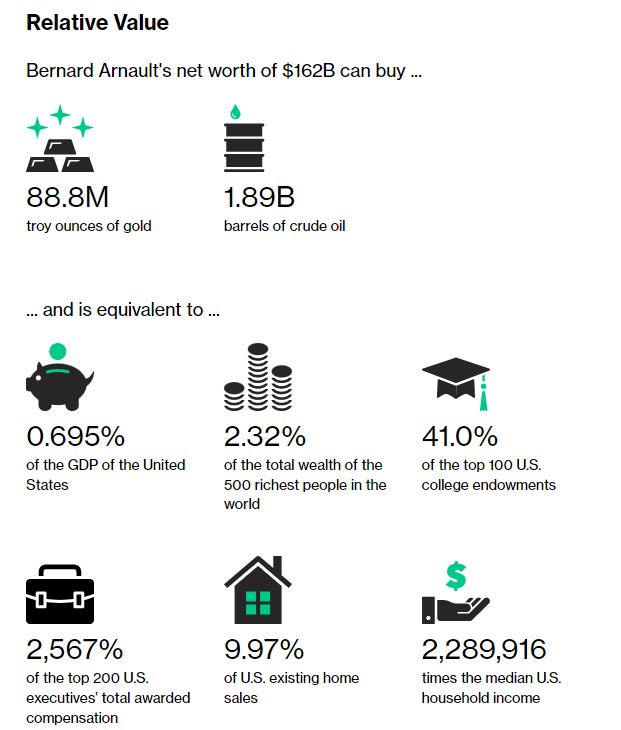 Source: Bloomberg
Forbes on Bernard Arnault
Bernard Arnault is the CEO of the LVMH empire, which includes 70 fashion and cosmetics brands such as Louis Vuitton and Sephora.
In January 2021, LVMH paid $15.8 billion for American jeweler Tiffany & Co, the largest luxury brand acquisition ever.
In 2019, LVMH paid $3.2 billion for the luxury hospitality company Belmond, which owns or manages 46 hotels, trains, and river cruises.
Arnault got his start by putting up $15 million from his father's construction business to buy Christian Dior in 1985.
Frédéric, Delphine, Antoine, and Alexandre, four of Arnault's five children, work in various parts of the LVMH empire.
Source: Forbes
About LVMH
Bernard Arnault, a French investor, had the idea to create a group of luxury brands in the 1980s. He co-founded LVMH with Mot Hennessy CEO Alain Chevalier and Louis Vuitton President Henry Racamier. Their successful integration of several well-known aspirational brands into a single group inspired other luxury firms to follow suit. As a result, the French conglomerate Kering and the Swiss-based Richemont have both developed extensive portfolios of luxury brands.
Make Up For Ever was founded in 1984 and was purchased by LVMH in 1999.
In 2011, LVMH announced the acquisition of 50.4% of the family-owned shares of the Italian jeweller Bulgari, as well as the intention to make a tender offer for the remaining publicly owned shares. The transaction was worth approximately $5.2 billion.
By 2012, LVMH had established LCapitalAsia, a continuation of its Asia-focused private equity arm. In 2012, the growth of LVMH's sales "decreased by about 10 percent from the growth rate in 2011", and in early 2013 LVMH expressed that it would "stop opening stores in second and third-tier cities in mainland China".
In 2014, LVMH formed a joint venture with the Italian fashion label Marco De Vincenzo, taking a 45% stake in the company.
LVMH announced in 2017 that it would acquire Christian Dior's haute couture, leather, men's and women's ready-to-wear, and footwear lines in order to integrate the entire Christian Dior brand within its luxury group.
Alain Chevalier, co-founder, died on November 1, 2018, at the age of 87.
LVMH launched the fashion house Fenty, stylized as FETY, founded by singer Rihanna, in Paris in 2019. It is LVMH's first new fashion house in 32 years, and she is the first woman of color to lead an LVMH brand.
In July 2019, LVMH announced a new collaboration to expand the Stella McCartney House.
LVMH announced its 55% stake in Château d'Esclans, the producer best known for the brand Whispering Angel, in November 2019. The acquisition was part of LVMH's strategy to offer a popular high-end rosé portfolio while also reaching customers worldwide.
LVMH in 2020's
Tiffany was purchased by LVMH in January 2021.
For an undisclosed sum, LVMH acquired a minority stake in the New York-based label Aimé Leon Dore in January 2022. The investment was made through the LVMH Luxury Ventures division of the conglomerate.
With a market capitalization of 261 billion euros as of late 2020, LVMH has the highest market capitalization of any company in France and the Eurozone.
Due to the Russo-Ukrainian War, LVMH announced the closure of its 120+ stores in Russia in March 2022. According to an LVMH spokesperson, the company will continue to pay salaries and benefits to its 3,500 employees in Russia.
In November 2022, LVMH announced the acquisition of the Piedmont-based jewelry manufacturer, Pedemonte Group.
Source: Wikipedia
LMVH into Hospitality
LVMH Mot Hennessy Louis Vuitton SE (LVMH.PA), the world's leading luxury group, and Belmond Ltd. (NYSE: BEL), owners, part-owners, or managers of 45 luxury hotel, restaurant, train, and river cruise properties, announced the completion of LVMH's acquisition of Belmond in 2019.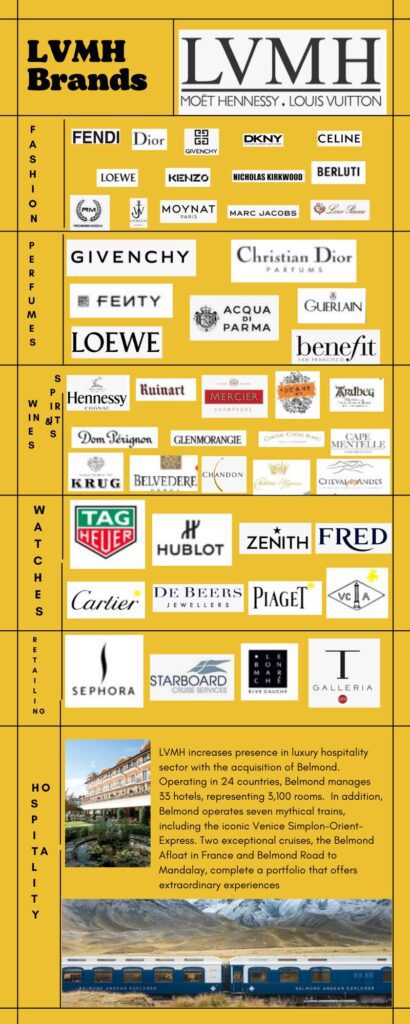 More trending news from this site: Why crypto market is down & Sleazy – Spotlight
Click below for VooGlam Trendy Eyewear
Vooglam Offical Website