Business
Richest Actors in the World & Their Wealth
Richest Actors in the World and Their Wealth. Jerry Seinfeld, an American stand-up comedian, actor, writer, and producer, is the world's richest actor, with a net worth of $1 billion. He is best known for his role as a semi-fictionalized version of himself in the sitcom Seinfeld. On the list of the 'Richest Actors in the World,' Seinfeld is followed by Tyler Perry, who has the same net worth of $1 billion, and Dwayne Johnson, who has $800 million.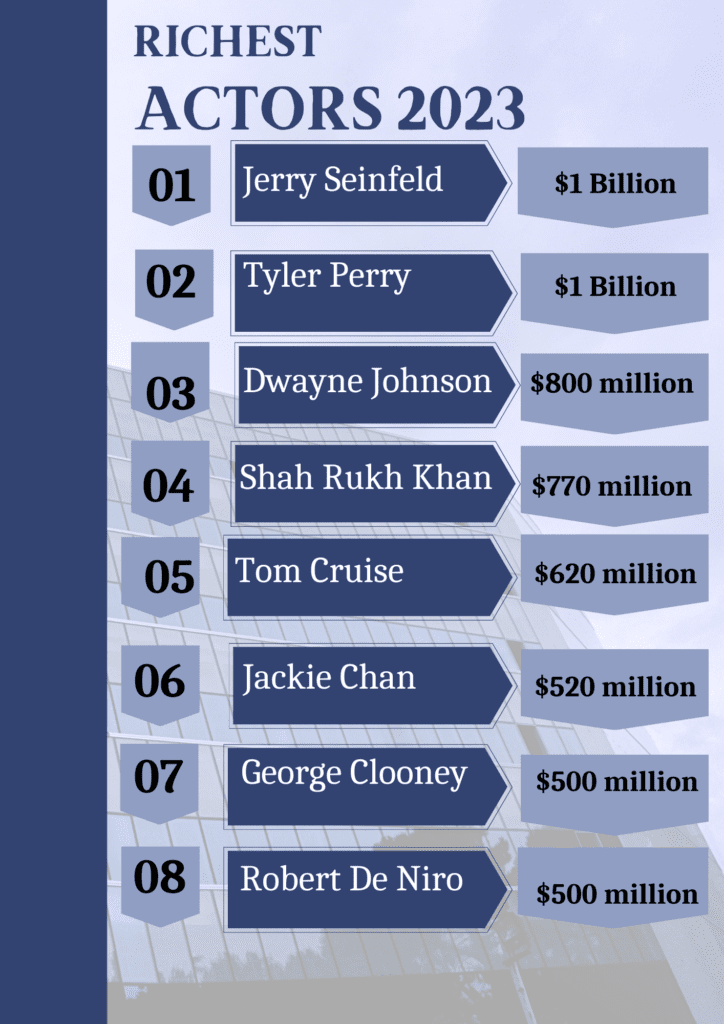 Richest Actor – Jerry Seinfeld
Jerome Allen Seinfeld (born April 29, 1954) is a stand-up comedian, actor, writer, and producer from the United States. He is best known for his role as a semi-fictionalized version of himself in the sitcom Seinfeld, which he co-created and co-wrote with Larry David. From 1989 to 1998, the show aired on NBC, becoming one of the most acclaimed and popular sitcoms of all time. Seinfeld specializes in observational comedy as a stand-up comedian. He was named the 12th greatest stand-up comedian of all time by Comedy Central in 2004.
The 2007 film Bee Movie, which Seinfeld produced, co-wrote, and starred in, was nominated for a Golden Globe Award for Best Animated Feature Film. In 2010, he debuted The Marriage Ref, a reality show that aired on NBC for two seasons. Comedians in Cars Getting Coffee is a web series created and hosted by Seinfeld (2012–2019). He has three children with his wife, author and philanthropist Jessica Seinfeld. For his work on Seinfeld and Comedians in Cars Getting Coffee, Seinfeld has received twenty Primetime Emmy Award nominations, as well as four Grammy Award nominations for his comedy albums.
Source : Wikipedia
Richest Actors No. 2 – Tyler Perry
Emmitt "Tyler" Perry Jr. (born September 13, 1969) is a film director, actor, playwright, author, songwriter, entrepreneur, and philanthropist from the United States. He created and portrayed the Madea character, a tough elderly woman. Perry's films range in style from traditional filmmaking techniques to filmed stage plays. Many of his stage-play films have been adapted into feature films.
Throughout the 1990s and early 2000s, Perry wrote and produced a number of stage plays. He also created several television shows, the most notable of which was Tyler Perry's House of Payne, which aired on TBS for eight seasons from 2006 to 2012. Forbes named him the highest-paid man in entertainment in 2011, with earnings of US$130 million between May 2010 and May 2011.
Perry has created several scripted series for the network, the most successful of which is The Haves and the Have Nots crime drama. During its eight-year run, The Haves and the Have Nots received some of OWN's highest ratings, and was hailed as "one of OWN's biggest success stories with its weekly dose of soapy fun, filled with the typical betrayals, affairs, and manipulations."
Perry has also played Admiral Barnett in Star Trek (2009), the titular character in Alex Cross (2012), Tanner Bolt in Gone Girl (2014), Baxter Stockman in Teenage Mutant Ninja Turtles: Out of the Shadows (2016), Colin Powell in Vice (2018), Arthur in Those Who Wish Me Dead (2021), and Jack Bremmer in Don't Look Up (2021). Perry has also provided voice work in animated films such as The Star (2017) and PAW Patrol: The Movie (2021).
Perry was named to Time's list of the 100 most influential people in the world in 2020. He received the Governors Award from the Primetime Emmy Awards in 2020, and the Jean Hersholt Humanitarian Award from the Academy Awards the following year. He was inducted into the Black Music & Entertainment Walk of Fame in 2022.
Source: Wikipedia
Richest Actors No. 3 Dwayne Johnson
Dwayne Douglas Johnson (born May 2, 1972), also known by his ring name the Rock[3], is a former professional wrestler and actor from the United States. He was instrumental in the development and success of the World Wrestling Federation (WWF, now WWE) during the Attitude Era, an industry boom period in the late 1990s and early 2000s. He is widely regarded as one of the greatest professional wrestlers of all time. Johnson wrestled for the WWF for eight years before turning to acting. His films have grossed more than $3.5 billion in North America and more than $10.5 billion worldwide, making him one of the highest-grossing and highest-paid actors in the world.
Johnson was an athlete before breaking out as a top-grossing actor in the 2010s. He eventually emerged as a standout on the football and wrestling teams at Freedom High School in Bethlehem Township, Pennsylvania, in the Lehigh Valley. His football abilities at Freedom High School led to him being ranked as one of the top ten high-school defensive tackle prospects in the country, attracting the attention of several NCAA Division I college football programs.
Johnson made his film debut in The Mummy Returns (2001). The following year, he starred as the title character in the sword and sorcery film The Scorpion King (2002). Since then, he has appeared in family films such as The Game Plan (2007), Race to Witch Mountain (2009), Tooth Fairy (2010), and Jungle Cruise (2021), as well as action adventure films such as Journey 2: The Mysterious Island (2012), G.I. Joe: Retaliation (2013), Hercules (2014), Skyscraper (2018), San Andreas (2015), and Rampage (2015). (2018). He has also appeared in the action comedies Get Smart (2008), Central Intelligence (2016), Baywatch (2017), and Red Notice (2017). (2021). He voiced Maui in the Disney animated film Moana in 2016. (2016)
Beginning with Fast Five (2011), his role as Luke Hobbs in the Fast & Furious films helped the franchise become one of the highest-grossing in film history. He later appeared in the spin-off Hobbs & Shaw (2019). Johnson also appears in two Jumanji films, Jumanji: Welcome to the Jungle (2017) and Jumanji: The Next Level (2019), and voices Bark Kent / Krypto / Superdog, Anubis, and Teth-Adam / Black Adam in the animated film DC League of Super-Pets (2022), before reprising his role as the latter in the live-action superhero film Black Adam (2022).
Johnson produced and starred in HBO's comedy-drama series Ballers (2015-2019), and he also stars in and produces the autobiographical sitcom Young Rock (2021). Johnson's autobiography, The Rock Says, was a New York Times best-seller in 2000. He co-founded Seven Bucks Productions, an entertainment production company, in 2012, and is a co-owner of the XFL, a professional American football league. Johnson was named one of the world's most influential people by Time in 2016 and 2019.
Source: Wikipedia
Richest Actors No. 4 Shah Rukh Khan
Shah Rukh Khan has proven yet again that he is a "million dollar personality," with his name ranking among the top five richest actors in the world. The 'King Of Romance' has been in the industry for over three decades and has accomplished what others have not been able to do in their lifetime. He is well-known not only in India, but also across countries and oceans. Shah Rukh Khan is the world's fourth richest actor, according to World Of Statistics data released on Sunday.
It's not surprising given that SRK and his family live in one of the most expensive bungalows. Mannat, SRK's mansion, is said to be worth Rs 200 crore. The actor's vanity van, on the other hand, is said to be worth Rs 5 crores. It is said to be one of Bollywood's most luxurious vanity vans.
In total, the actor endorses 14 brands, including some big names like ICICI, Byju's, BigBasket, Hyundai Tag Heuer, and Lux. He also owns Red Chillies Entertainment, a production company that has produced blockbusters such as Bard of Blood and Badla.
Shah Rukh Khan (born 2 November 1965) is an Indian actor, film producer, and television personality who works primarily in Hindi films. He has been dubbed the "Baadshah of Bollywood," the "King of Bollywood," and "King Khan" by the media. He has appeared in over 80 films and received numerous accolades, including 14 Filmfare Awards. The Indian government honored him with the Padma Shri, and the French government honored him with the Ordre des Arts et des Lettres and the Legion of Honor. Khan has a sizable fan base in Asia and the Indian diaspora worldwide. He has been described as one of the world's most successful film stars in terms of audience size and income.
Khan is the co-owner of the Indian Premier League cricket team Kolkata Knight Riders and the Caribbean Premier League team Trinbago Knight Riders as of 2015. He is a popular television host and stage show performer. Because of his numerous endorsement and entrepreneurship ventures, he is frequently referred to as "Brand SRK" by the media. Khan's charitable efforts have provided health care and disaster relief, and he has received the UNESCO Pyramide con Marni award in 2011 for his support of children's education, as well as the World Economic Forum's Crystal Award in 2018 for advocating for women's and children's rights in India.
No. 5 Tom Cruise
Thomas Cruise Mapother IV (born July 3, 1962) is a producer and actor from the United States. He is one of the world's highest-paid actors and has received numerous honors, including an Honorary Palme d'Or, three Golden Globe Awards, and three Academy Award nominations. His films have grossed more than $4 billion in North America and more than $11.1 billion worldwide, making him one of the most successful box-office stars of all time.
Cruise debuted as an actor in the early 1980s, with leading roles in the comedy film Risky Business (1983) and the action film Top Gun (1985). (1986). His performances in the dramas The Color of Money (1986), Rain Man (1988), and Born on the Fourth of July (1989) earned him critical acclaim (1989). In the latter, he won a Golden Globe Award and was nominated for an Academy Award for Best Actor for his portrayal of Ron Kovic. In the 1990s, he was a leading Hollywood star, appearing in several commercially successful films such as the drama A Few Good Men (1992), the thriller The Firm (1993), the horror film Interview with the Vampire (1994), and the romance Jerry Maguire (1996). He received his second Academy Award nomination and a Golden Globe Award for Best Actor for the latter. Cruise's portrayal of a motivational speaker in the drama Magnolia (1999) earned him another Golden Globe Award and an Academy Award nomination for Best Supporting Actor.
Since then, Cruise has primarily starred in science fiction and action films, establishing himself as an action star who frequently performs his own daring stunts. From 1996 to 2018, he played Ethan Hunt in all six Mission: Impossible films. Vanilla Sky (2001), Minority Report (2002), The Last Samurai (2003), Collateral (2004), War of the Worlds (2005), Knight and Day (2010), Jack Reacher (2012), Oblivion (2013), Edge of Tomorrow (2014), and Top Gun: Maverick (2022) are among his other notable roles in the genre.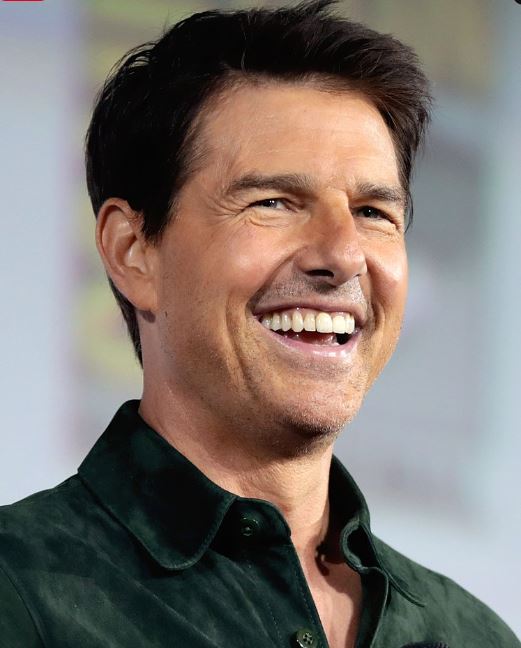 Source: Wikipedia
Read more trending news on this site: Bernard Arnault Net Worth: The New Richest in the World
Ship7 is a platform where international shoppers enjoy smooth international shipping to their doorsteps! More than 200,000 customers are getting their packages safely to their doors every day by removing boundaries!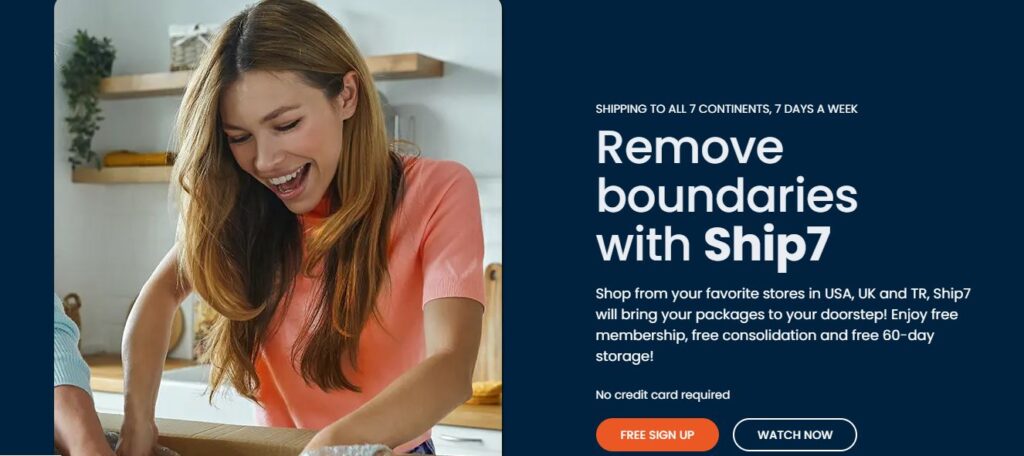 Click below for trending Eyewear
Vooglam Offical Website